In her studio, Holly Hendry towers over a scale model of her new sculpture that will sit atop Temple Tube Station on the banks of the Thames in London, contemplating its plasticine strands and cardboard walls.
'The best place to see the work is in the studio because it's in the process of being made, shaped and formed into circulations, veins, bowels and edges…' says the British artist, who lives and works in the capital.
Those familiar with Hendry's work will immediately understand the reference, the colour palette and the elements at play in the new work, which exposes a building spilling its guts, becoming undone and laid bare. Stemming from a dense 'bowel', sections of the sculpture are regulated and stacked, but towards its furthest limits, frayed, like threads of dead nerves.
"I'm addressing slow anxiety, rhythmic anxiety – interventions and reverberations at a glacial pace" – Holly Hendry
'The work started from thinking about the borders of the space, the concrete containment,' explains Hendry. 'The word 'temple' is originally a weaving term, meaning to keep things straight and in order. And the idea of edges plays heavily here. Working with the boundaries of what has been given each time – in this work, the edges of the Thames and the Embankment – and the gradual spreading – the final chop of the endings become the big thing.'
The exposure of Temple Station's rooftop site and its dense surroundings makes it an exciting but challenging space with many variables. Test pieces lie about the studio, and there's still a decision to be made on the colouration of the sculpture. 'It scares me, the thought of the colour choice. It's been going on for two months so far.'
The pace of producing new work can often be anxiety-inducing but is also a crucial element to its birth. But Hendry doesn't conform to the cliche of a tortured genius tormented by their inner artistic visions.
She says, 'I'm addressing slow anxiety, rhythmic anxiety – interventions and reverberations at a glacial pace.'
Looking down at the model of the installation, you can see how it could represent that regulated soundwave slowly graduating into the sound of an alarm or a siren as it stretches outwards into chaos.
But it's not always the obvious that causes unease. 'The stopping of the rhythm is sometimes more of an alarm than the alarm itself.'
"My public sculptures are about putting something big and ridiculous in the world, and the feeling that it's intensely important and also ridiculously outrageous" – Holly Hendry
Any city dweller can appreciate this. The sound of the traffic is a constant in London, the rhythmic heartbeat of the city that courses through our ears like blood through our veins. The sudden halting of this sound can be anxiety-inducing – ask the urbanites who fled to the country during the pandemic, only to find its silence too much to bear.
'My partner is a junior doctor, and for him, the cessation of a monitor is the very reason to be alarmed.'
As we're talking, the fitful buzz of a bumble bee creates its own tension in the room. It's caught in a spider's web, high on an out-of-reach windowpane. Occasionally it ceases its struggle, causing us to listen deeper.
While the intent of Hendry's work is serious, there is an obvious humour interlaced throughout. Bodily movements, residues and the flesh-coloured palette are ripe for playfulness and amusement. The engorged scale of these inner private parts also infuses joy and fun into the works.
'Humour comes from my approach to making sculpture. My public sculptures are about putting something big and ridiculous in the world, and the feeling that it's intensely important and also ridiculously outrageous – and that they're equally important. You don't really get to do that with many things,' says Hendry.
'I'm interested in that with architecture too, where a big dumb gesture becomes part of the way you interact and move through that space. So dumbness – and slapstick – are seriously important in that way. And scale becomes essential to that too.'
The danger of public art – especially in this manner – is that it often becomes simply entertainment. And the delicate balance of messaging, broad appeal and designing an object of attraction is a difficult harmony to achieve.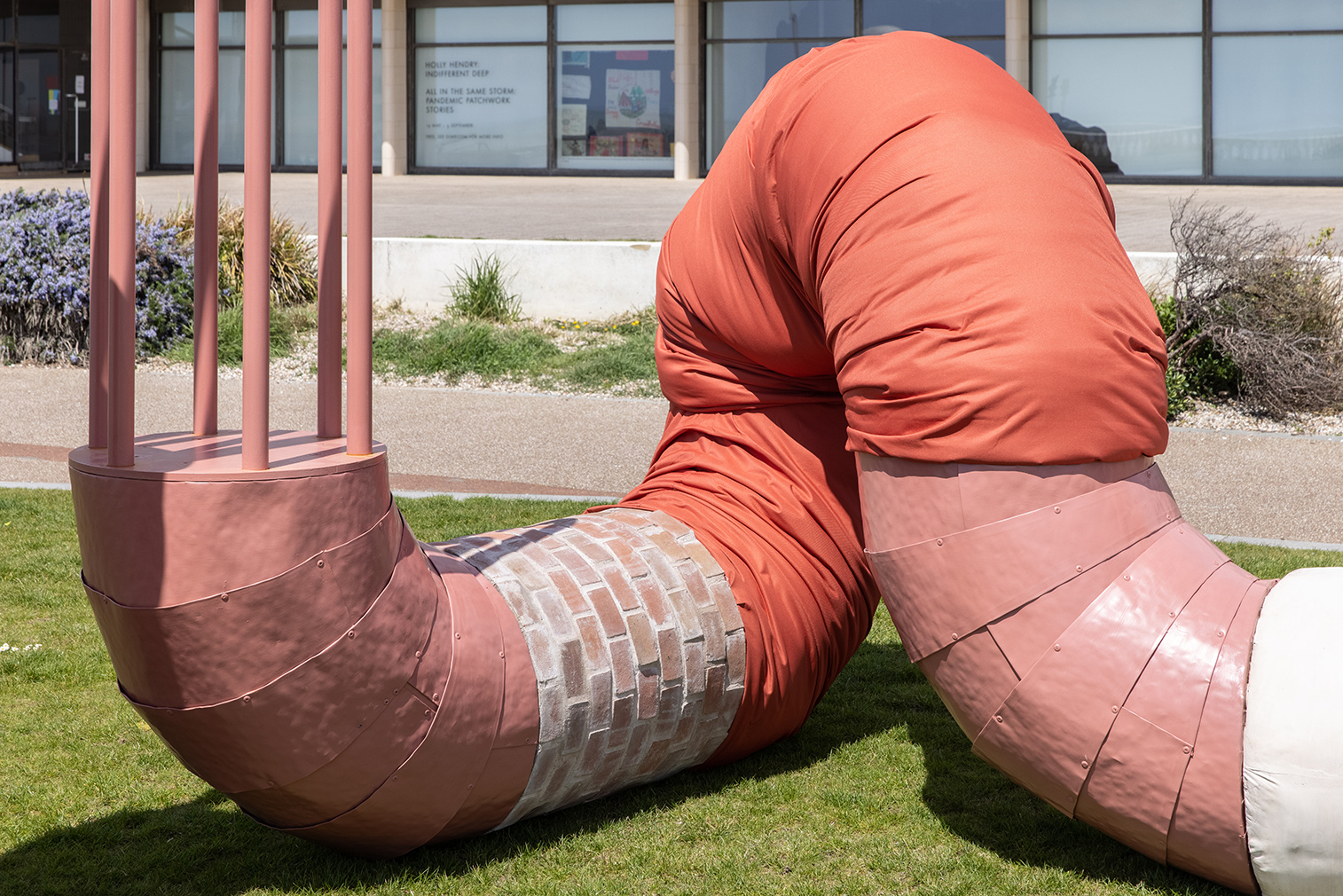 Take Jeremy Deller's, Sacrilege 2012, for example, a full-scale, inflatable replica of Stonehenge. The installation encourages human participation and is part of Deller's ongoing exploration of contemporary culture.
Deller produces social experiences through his work, creating sites of exchange and aggregation. However, the rush of fun carries a more serious message about place, heritage and current British identity. He achieves the point deftly without ever bludgeoning the viewer but with a subtle enticement to participate in the presence of the artwork.
'I welcome human interaction with the work, but there is a real curatorial consideration that needs to happen. This isn't advertising; this is art. It has a different function, and that's been important in the conception of the work so far . I'm not just going to paint it the brightest colour to bring people to the space; it needs to do the right thing.'
Humour is often our defence mechanism to hide something deeper, a way of coping with unease. There is always a sense of anxiety within Hendry's work, of inner workings on show, private, made public. It's the classic stress dream of public nudity, of being vulnerable and exposed – but also completely authentic, as psychologists will tell you.
Discovering this feeling is an essential part of truly experiencing the piece: 'I always make public work from this sense of anxiety. People haven't chosen to see art, and it's a responsibility or a dismissal of the responsibility of that role. It's something people see everyday and either the joy or the friction they get from that is anxiety.'
Hendry would like to (rightly) be considered an architectural artist. But she is also an archaeological artist.
Closer inspection of other pieces reveals eye-catching specks, worked from disinterred ideas and scavenged artefacts unearthed along the bank of the nearby Thames.
Horizontal layers of aggregate in the works, cut like slices of cake, reveal seams of colourful strata bedded together, much like the walls of the quarries she visits for inspiration. And as the plaster and aggregate set in the mould, it appears to fossilise.
Lately, water has become a consistent theme in her work. 'I have a strong relationship to the water – all of the studios I have been in have been close to bodies of water', she says. Her recent move to a studio near the Thames foreshore and the upcoming project at Temple have solidified this bond.
Most Londoner's relationship with the Thames is of the river as a barrier: a place to cross, get past or over. But sometimes the best way to navigate London is by boat and take in the scenery.
Of course, Hendry's works around water still have a thematic sense of unease.
She has been researching Hunger Stones, markers from the 15th century that noted historically low waterlines in receding lakes and rivers and served as famine memorials. They are engraved like tombstones carrying grim and prophetic messages of the times.
One example from Germany's Elbe River reads: 'Wenn du mich siehst, dann weine' – 'If you see me, then weep'. Many of these Hunger Stones were re-exposed in Europe for the first time during last year's scorching summer.
She is also drawing on early depictions of water, such as the final works of Da Vinci, who made a number of deluge drawings before he died. The inference is a realisation of the end of his life, a gushing of fluids, a letting out or even a ceasing of movement after a flood. The 'still' after the storm of his life.
We don't much discuss influences and a favourite artist, but Hendry is happy with references to Richard Deacon and Phyllidia Barlow in her work. It's always with awareness, though, not imitation. Hendry's work is best realised as a continuation of the lineage of both these giants.
Hendry still finds time to teach at Slade and recognises that Barlow (who passed away in March 2023) still has a strong presence at the school.
'When you're making to a scale, you can't help being influenced by her. A lot of us go back to her to have hope. She does it well, and there's a real generosity and intimacy with her work that makes it historically important already.'
Like Barlow's, Hendry's hand is always present in her sculptures, whether created from fun or anxiety, scored into the surface via her handmade moulds and gouged in paint marks.
Much like the anxious marks of history on the Hunger Stones.