While you've likely seen the work of British artist Michael Leonard, it's less likely that you've ever heard his name.
Leonard turns 90 this year and has a career spanning half a century. He's an intimate worker of space and the people who inhabit them, from the suburban sitting room to the urban construction site, all depicted in a style he boldly claims as his own.
Finding form
Leonard began his artistic education at St Martin's School of Art in the 1950s, where he studied Commercial Design and Illustration pragmatically, feeling that it would provide him with a better career than practising Fine Art.
Back then, St Martins was located on Charing Cross Road, running through the heart of London from Oxford Street to Trafalgar Square. Students were encouraged to keep daily sketchbooks, and Leonard found a huge source of material just outside the school's gate, recording the ebb and flow of life on the street. He'd return to this body of work decades later as an exhibiting painter, using the construction sites, parks and streets around London as his starting point.
By the time he left university in 1957, Leonard was already working as a freelance illustrator for Artist Partners, producing artwork for books, magazines and advertisements from a small studio in Ham Yard, Soho. On his lunch breaks, he'd visit the National Gallery, feeding a growing ambition to create a more personal body of work that could be experienced in its original form rather than as reproductions in a magazine.
At home, Leonard experimented with paint, drawing heavily on the world of myths as his subject matter while trying to find his personal style. He started in a naturalistic vein before switching to heavily textured work but was unsatisfied with this approach throughout the 1960s.
At this juncture, an approach to painting would reveal itself to him and ultimately form the style Leonard would become known for the rest of his life.
On one lunchtime trip to the National Gallery, Leonard stood before Nicholas Poussin's painting 'The Adoration of the Golden Calf'. His colleague, Roger Coleman, asked him for his thoughts on the artwork.
Leonard began to see the image in a new light, struck by something he hadn't noticed before. The wildly dancing and gesticulating figures revealed a satisfying balance and authority. The painting was not merely an image but an orderly sequence of forms and spaces – an order lacking in his own compositions. It was the 'lost' element he had been searching for since the start of the decade.
Taking this revelation as his cue, Leonard decided to prioritise formal structure in his work. This underlying 'order' would define his work through the 1970s and ultimately bring him the recognition he deserved within the London art scene and beyond.
Figurative structure
Michael Leonard found the contemporary London art scene hard to connect with in the 1960s, except for abstract expressionist Robyn Denny.
Denny's work was a reaction against the St Ives School of landscape-based painting, taking inspiration from American films, popular culture and urban modernity.
Borrowing Denny's use of close-toned rectangles, Leonard applied this technique to his newly structured figurative pictures, finding this tonal restraint served as an antidote to the high-key sensationalism of the commercial world he had been producing until he was almost 40.
"My pictures are about celebration – I hope they have enough intensity and inner life to persist in the imagination" – Michael Leonard
In 1969 he began his painting, 'Roger Coleman' – the friend who had prompted his spark of inspiration – which showcased his new techniques and in 1972, Fischer Fine Art included his paintings in one of their Group Shows. By 1974, Michael had his first solo show.
The constraint and the exemplification of the ordinary shown within this decade of work are where we discover some of Leonard's most intriguing characters.
Repeatedly, his subjects are placed in familiar 'real life settings', for example, 'Brigid On The Telephone' (1972) and 'Alan with the Dogs' (1972), capturing people sitting, silently contemplating in empty rooms or quiet repose on a park bench with their dog companion.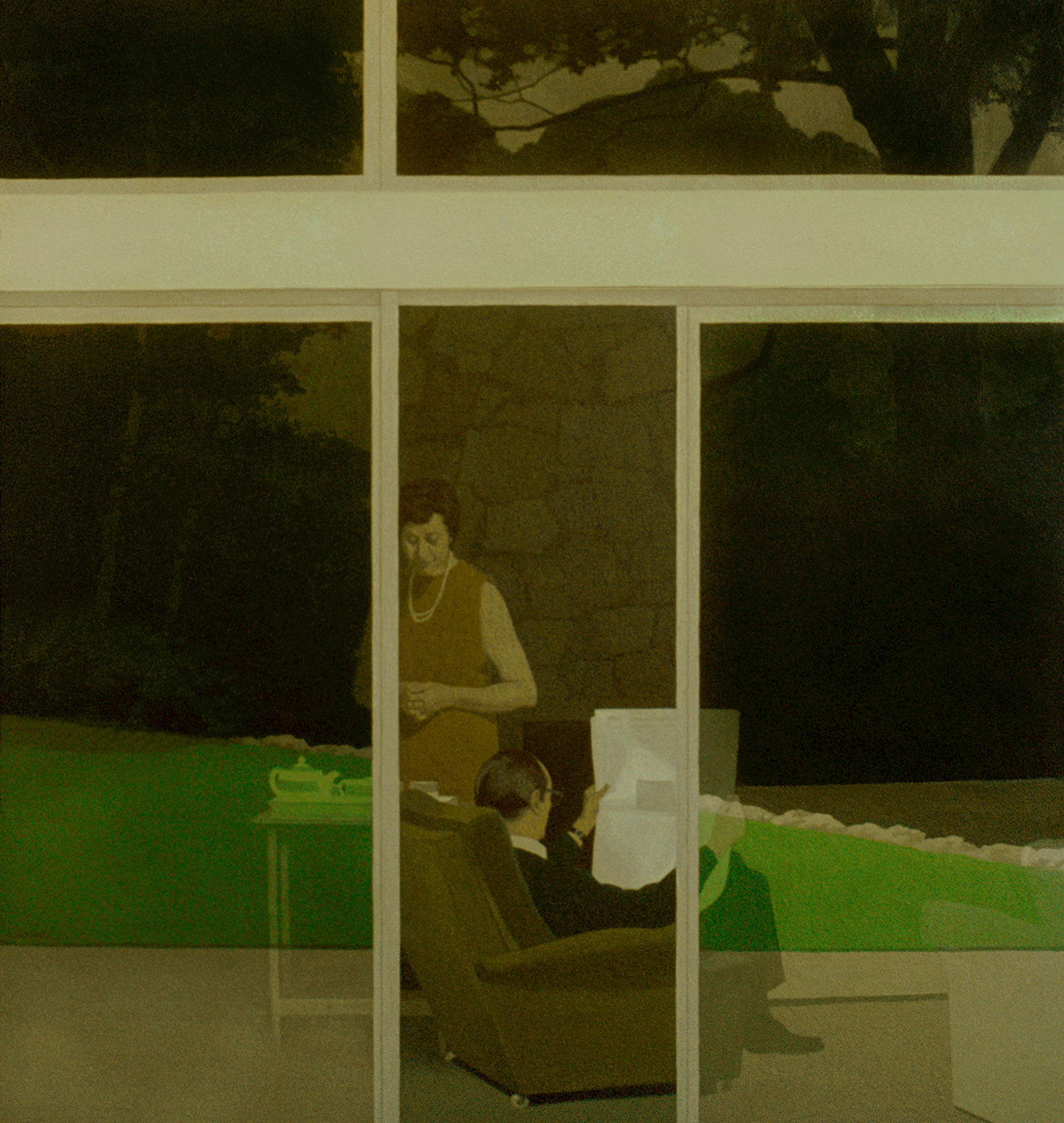 'The ordinary actions of the every day present endless pictorial potential,' says Leonard.
During this time, he was also drawn to the photo realist works of Richard Estes, a successor to the realist mainstream artists such as Andrew Wyeth and Edward Hopper (who also began life as illustrators).
Estes' plate glass window reflections of cityscapes inspired him to embark on a series of 'window' pictures of his own, but with the intention of simplifying the works and including figures within the architectural frame.
'Winter Cactus' (1973) and 'Afternoon Tea' (1970) both contain figures within reflections, whilst in 'Holiday House' (1973) and 'Tempest' (1973), his sitters are pictured sitting quietly indoors, half obscured by the reflections of the outside world.
Construction sites
His most striking work is of building sites, starting with his painting 'Scaffolders' (1978) and 'Passage of Arms' and 'Upon the Roof', both from 1979. These paintings embody Leonard's style through the 1980s of urban works capturing figures on the move or in transition, illustrating the subtle interactions of muscle, bone and ligament coming into play as a body moves.
A slight head turn or the passing of materials from one hand to the other trigger dramatic animations in the figures, charging them with a ripple of homoeroticism. Busy workers tug off their shirts in front of the hoardings of a building site, and others work with unconscious grace against a grid of scaffolding and the sky.
'With these references in mind, even the most routine activity acquires resonance,' explained Leonard.
Just the intention of movement can be read within his figure. The paintings capture unique but everyday moments overlooked by passers-by. But through the eye of the artist, their inherent drama is revealed – and immortalised.
'While my paintings are largely celebratory, I try to charge them with enough intensity and inner life to persist in the memory.'
The male nude now
Gallerist Henry Miller had been aware of Leonard's work since the 1980s, but it wasn't until 2017 that he met him in person for the first time. He recalls being first struck by the brilliance and beauty of Leonard's male nudes, moved by both their defiance and tenderness, which stood apart from much of the culture of the time, backdropped by the HIV/AIDS epidemic and wave of homophobia that followed.
In 2018, Miller held a much-deserved retrospective of Leonard's work at his home gallery, Henry Miller Fine Art in Walthamstow.
'Michael's work transcends his recognition as an artist,' says the gallerist. 'His work takes centre stage, with his name sometimes being forgotten.'
Leonard's nudes are included in a new exhibition at the Coningsby Gallery in Fitzrovia from 17-22 April 2023, curated by Henry Miller. The show draws from Miller's personal collection and spans many media types, from paintings and drawings to prints and photography from the 16th century to the present, with Leonard's work taking centrefold.
'Michael's work has an extraordinary breadth and depth, covering both commercial and creative fields, but often many people might only be aware of one strand of his work,' says Miller. 'Most are aware of his portrait of the Queen but may not know his male nudes. Others might have known his nudes, but not his commercial work.'
To quote Sir Roy Strong: 'It is a rare artist who can cite on his curriculum not only one of the best portraits of the Queen but also some illustrations for the Joy of Gay Sex.'
I recently managed to acquire one of Leonard's works at auction. It is a small pencil sketch for his painting, 'The Itinerants' – a work I have admired for many years, and to look at the detail and balance in this small sketch is mesmerising.
Moreover, it encapsulates Leonard's story-telling capabilities in miniature.
'The Itinerants' (1976) shows a rakish couple dressed in smart but unremarkable clothing, bags flung over their shoulders at the threshold of a room. Myriad storylines jump to mind: are they in fight or flight? They stare down the viewer, the man's hat pulled over his brow to rest on his glasses, the reflection in the lenses obscuring his intentions. The woman clings tight to the shadows behind his shoulders.
Perhaps they are leaving the bedroom at the end of an affair or dividing up the spoils of a bank heist at the hotel before escaping the law. Are they young lovers clutching their weekend holdalls and heading for the sun, packing the picnic bags to meet friends at the park on a lazy Sunday?
I know the work well – but I don't know their names.