Architect Frank Lloyd Wright designed some ​​1,114 structures throughout his long career, 532 of which were realised. But as prolific as he was, it's still something of a rarity when one of his residencies comes up for sale or rent. With that in mind, we've scoured the internet to bring you three Frank Lloyd Wright houses for sale or rent right now – plus one we just missed.
The Randall Fawcett Residence in Los Banos, California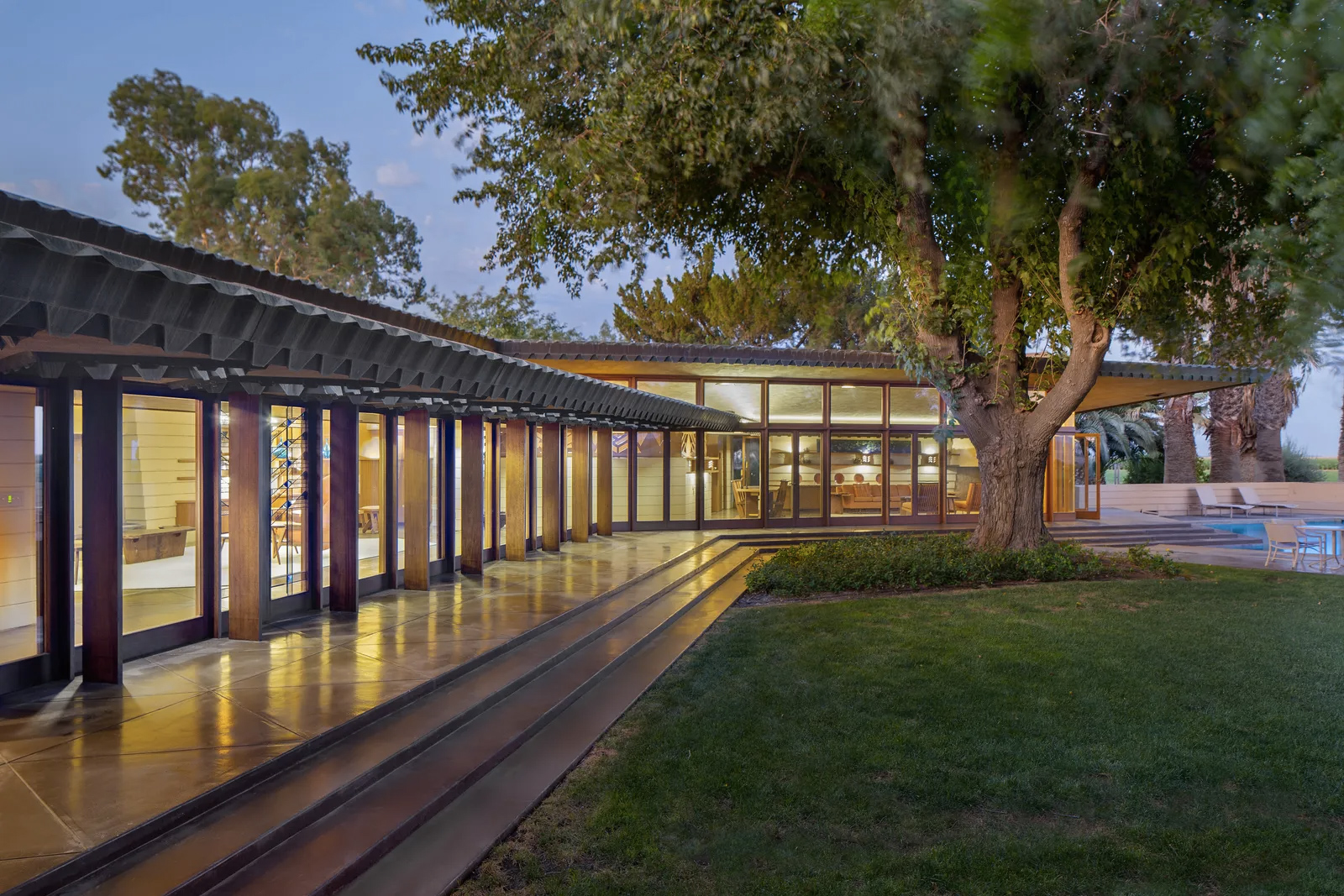 7 bedrooms; Crosby Doe Associates $4.25m
Located within 76 acres of rich farmland in the San Joaquin Valley, the Randall Fawcett Residence was commissioned at the end of Frank Lloyd Wright's career and completed posthumously in 1961 by the Fawcett family using the architect's blueprints.
The super-sized Usonian design is sprawling with seven bedrooms and six bedrooms to boot – larger than the more modest East Coast designs. But in every other way, the California property has all the classic Frank Lloyd Wright features, including walls of floor-to-ceiling glass, oversized heaths, geometric floor tiles, and lots and lots of wood.
The Randall Fawcett Residence's connection to Frank Lloyd Wright goes even deeper: his grandson, architect Eric Lloyd Wright worked with Taliesin associate architect Arthur Dyson on modernising and restoring the property for its current owners, in keeping with his vision. Fawcett Farm is now for sale via Crosby Doe.
Norman Lykes House – for rent near Phoenix, Arizona
3 bedrooms; rental price on application
Said to be Frank Lloyd Wright's last residential design, conceived before his death in 1959, the futuristic Norman and Aimee Lykes House in Palm Canyon riffs on the arid, rocky terrain of its desert mountain setting.
Architect John Rattenbury – who apprenticed under Frank Lloyd Wright and was involved with the house from its conception – was tasked with completing the 'sun house' in 1967. It comprises a series of interlocking concentric circles that flow across the rocky plot, and its design reflects Wright's work in the 1950s on the spiralling Guggenheim Museum in New York and Kalita Humphreys Theatre in Dallas.
The 3,200 sq ft desert house is built into the side of a mountain, and the circular motif continues inside via rounded windows and custom-built furniture designed to adapt to curving walls. There's also a crescent-shaped pool with views out towards Phoenix for cooling off under the desert sun. According to Zillow, it was listed for sale as recently as October 2022 but is currently only marketed as a vacation rental with rates on application.
Socrates Zaferiou House in Blauvelt, New York
4 bedrooms; $1.525m via Ellis Sotheby's International Realty
The Socrates Zaferiou House is a four-bedroom Usonian home that Frank Lloyd Wright designed for property developer Marshall Erdman in the 1950s. It's one of nine houses that make up the Clasusland Mountain Park development in Blauvelt, but it has a uniquely modified floorplan, adding an extra bedroom and walk-out basement with full-height ceilings.
The prefab house sits on the west bank of the Hudson River, surrounded by woodland and benefits from floor-to-ceiling windows that open onto the grounds. Other classic Usonian features include the quintessential flat roof, oversized floor tiles, brick fireplaces and bespoke built-in furniture.
And last but not least…
Keland House, Wisconsin
SOLD
In Frank Lloyd Wright's home state of Wisconsin, the Keland House just sold for $1.025m — $300,000 above its initial asking price. The Racine residence was built in 1954 for Karen Johnson Boyd, of the SC Johnson manufacturing company fame, and her husband William Boyd, and was in the family until their deaths. Frank Lloyd Wright had a longstanding relationship with the Johnson family, having designed Herbert Johnson's family home, Wingspread, in 1939, which is now home to the Johnson Foundation.  Read more about the home and sale on The Racine County Eye.