Thomas Phifer drew on a long history of glass houses to inspire this Fishers Island home in New York, which disappears into the landscape while framing ocean views.
Phifer designed the 4,700 sq ft island home in 2008 for former Whitney director Thomas Armstrong, who wanted to 'live in a garden with art'. The light, rectangular volume extends across a single storey and is positioned to capture ocean views from three of its four glazed sides. It sits on the site of Armstrong's family summer home, Hoover Hall, which burned down in 2003.
Armstrong wrote a book about the house he called Hooverness, published posthumously after his death in 2011, called 'A Singular Vision Art Architecture Landscape'. Locals nicknamed it 'the cube' or 'the glasshouse'.
Fittingly, Hooverness has gallery-like interiors with a minimal palette of glass, steel and black carbonised bamboo flooring. Walls are scaled to hang a hefty art collection, with half-a-dozen skylights set into the 11-ft-high ceilings overhead.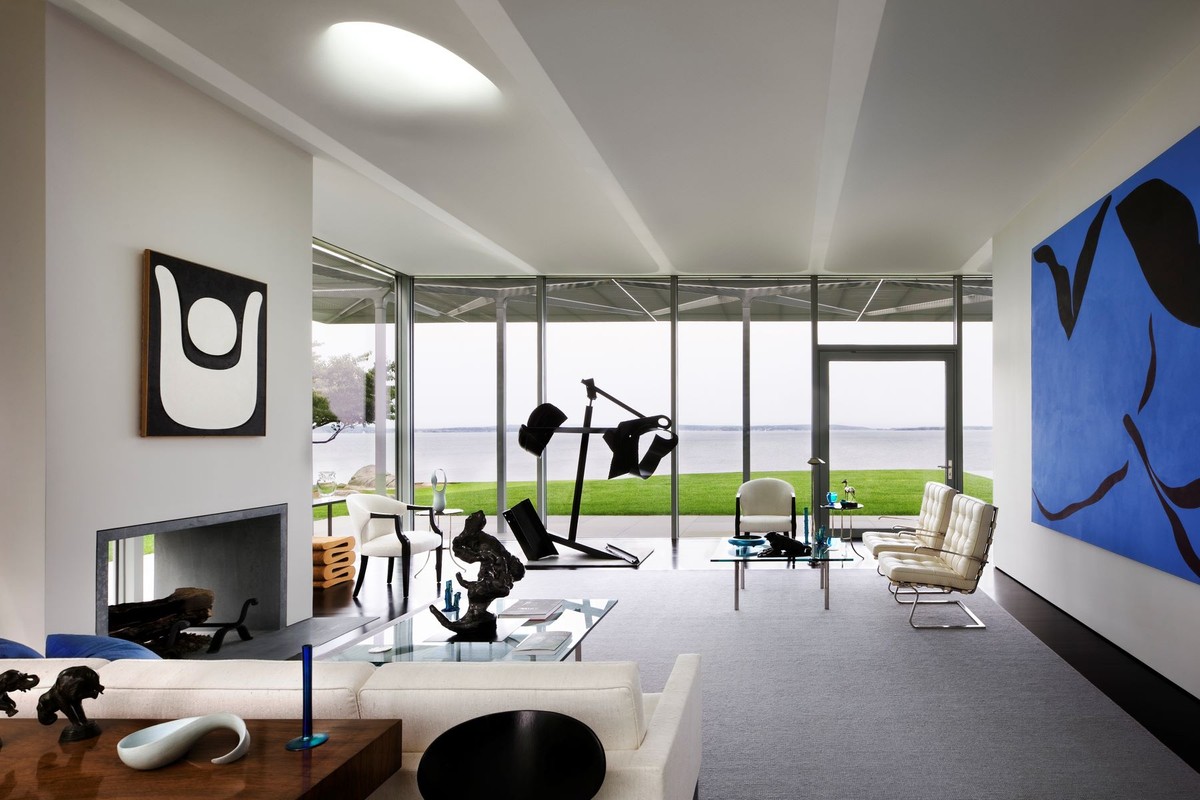 Though predominantly glazed, the New York property is geothermally cooled and heated, with the roof canopy extending around the structure's perimeter to provide a shaded overhang. Views of the Connecticut coastline are foregrounded by 3.15 acres of gardens, curated as 26 seasonal 'scenes'. Each offers seasonal drama, with a cast of flowerbeds brimming with colour courtesy of azaleas, peonies, Japanese irises and a staggering 40,000 daffodils. There are annual and perennial gardens, a rock garden and Japanese zen gardens decorated with historical fountains and 'furnished' with an apple tree, linden, maple and cherry blossom trees, like a giant park. (Armstrong's family regularly opened the gardens to visitors and hosted fundraising events there.)
A reflecting pool also runs the length of the terrace, surrounded by a moss garden, to reflect the building.
Fishers Island has long been favoured by 'old money', attracting the likes of the Rockefellers and the Roosevelts since the early 20th century with its unique oceanic climate. The island is sheltered at the eastern end of Long Island Sound, just 3 km south of Connecticut, meaning waters stay warm during fall and winter. Its proximity to Connecticut means it feels more like New England than other islands in the Long Island archipelago. And while its numbers swell in the summer as the island attracts weekenders from across the water, it is home to fewer than 250 people year-round.
These factors also add to its substantial price tag. Despite having a lone bedroom, the pavilion home is asking for $8.25m and is listed via Leslie McElwreath and Jim Reid of Sotheby's International Realty and Mystic Island Realty.