Food, art, music and nature combine in London this summer at Outcrop – an experimental social club designed to feed all five senses within the leafy courtyard of 180 The Strand.
The pop-up restaurant, bar and art space will run for three months and is founded by Daniel Willis and Johnny Smith (of Michelin-starred The Clove Club and Luca) and Secret Cinema alums. Outcrop is conceived as an inner-city oasis designed to connect guests with nature while spotlighting the best of British.
AngloThai's John Chantarasak helms the kitchen, showcasing Thai cooking made with British produce and a specially conceived wine and cocktail list inspired by low-intervention methods and hedgerow ingredients. Think line-caught fish, ultra seasonal vegetables, charcoal cooking and native breed meats. Cocktails, meanwhile, are curated by The Clove Club alumni Rob Simpson and experiment with British flavours: there's a pea vodka, tomato-infused Negroni, while the 'No Fly Zone' is made with barley eau de vie, London honey and gooseberry.
Creeping plants and living walls cocoon the restaurant's courtyard space, injecting greenery and obscuring the architectural surrounds of 180 The Strand. Modernist-style tables and chairs riff on the natural theme, built in wood with plump, mossy cushions, while oversized terracotta planters overflowing with sweetgrasses and native flowers bookend tables.
Helming the space is a colossal video installation by Marshmallow Laser Feast of a giant Ceiba Pentandra tree from the Colombian Amazon. The awe-inspiring immersive artwork brings the forest to life, accompanied by a low, reverberating soundtrack that taps into the innate rhythm of the human body.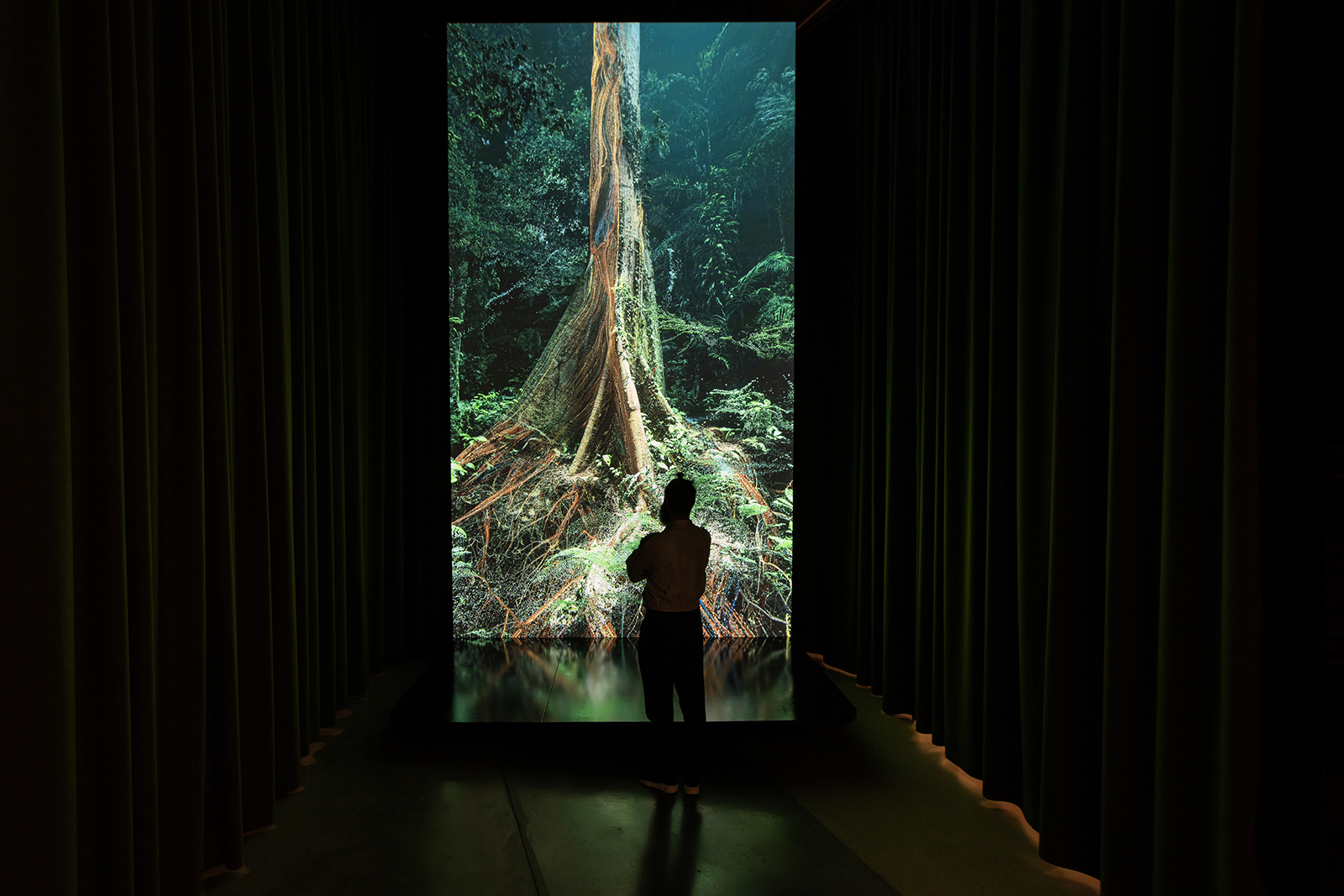 That's just one soundscape on offer, however.
Every bite is backdropped by a bespoke audio system, centring on three pairs of vintage Tannoy Lancasters, aka 'the sound of the 1970s'. Hifi specialists Audio Gold, Outcrop co-founder Daniel John Willis and sound engineer Jamie Harley (who's worked with Aphex Twin, Neneh Cherry, and James Blake, to name a few) curated the audio system. Outcrop will host a series of intimate 'musical journeys' produced by DJs and composers, including musical polymath Esa Williams – whose 6-hour set follows the migration of the Swallow from South Africa to the UK – John Gomez, Tase LC, Nadia Sdaiba and LOCAL.
Walk-ins and reservations at Outcrop are available until September, and each booking promises a unique experience that goes beyond the plate.
Outcrop, 1 Surrey St, Temple, London WC2R 2ND