Artist Holly Hendry has unveiled 'Slackwater' – her first public commission in London, an impressive snaking sculpture that sits atop Temple tube station in The Artist's Garden on the banks of the Thames.
'Slackwater' derives its name from the phenomenon that occurs when an incoming tide meets the fluvial flow, causing the water to be momentarily still, then whirlpool against the current before forging its path upstream. This natural rhythm and movement of the Thames is physically embodied by Hendry's sinuous sculpture, which integrates industrial-scale ducting and weaves and flows across the concrete paving of Temple's rooftop terrace.
'I am really happy with the outcome [but] it is a strange moment, working quite intimately on something for so long and then it becoming a tangible presence within the public realm,' ruminates Hendry. 'I feel really excited about this and the way it nestles into the city – it takes a while to see how it lives within the site.'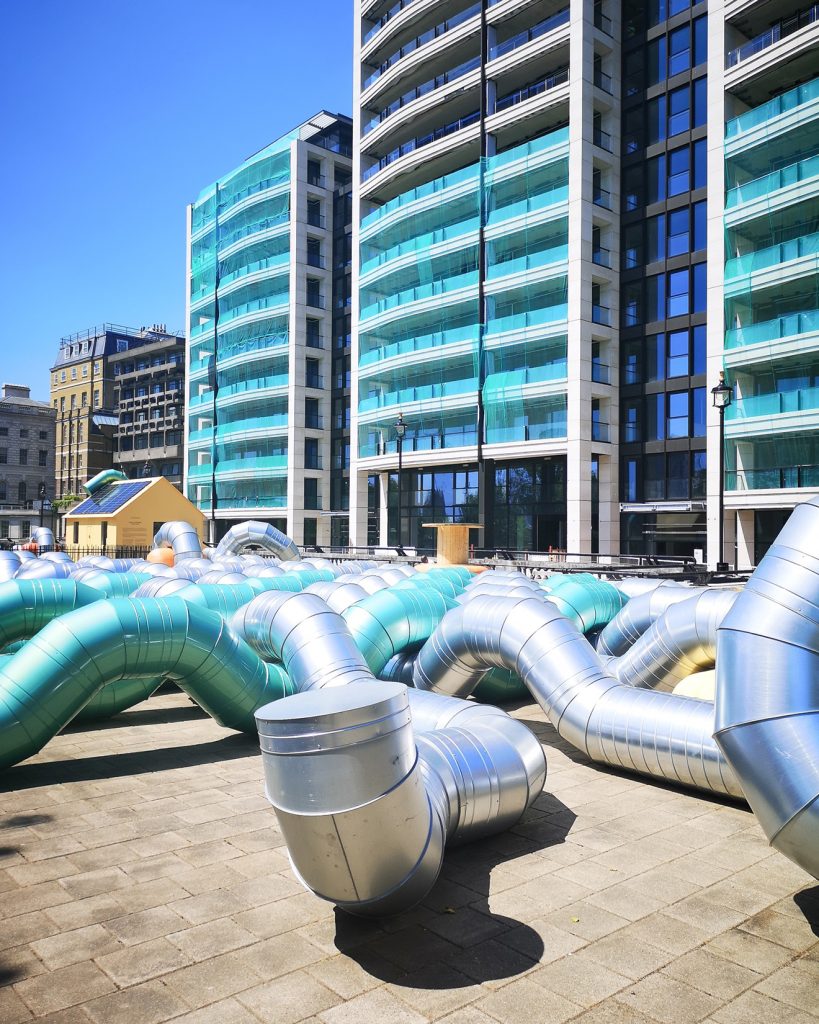 Located above street level, The Artist's Garden has become a premier destination for experiencing large-scale, 'life-affirming' interventions by women artists. With 'Slackwater', Hendry seeks to challenge preconceived notions of urban sculpture – and the dynamics of movement, interaction and existence – by embracing impermanence and defying traditional hierarchies.
Reflecting on the transition from ideation in the studio to the public realm, Hendry adds, 'It has been great to see bodies within and around the work. 'I have been thinking so much about this entanglement between bodies, rhythms, waters, cities and landscapes and how to verbalise this sculpturally, so this was a moment to see this happening.'
Within the sculptural composition, scientific motifs inspired by microscopic images of 19th-century Thames water (the 'monster soup') juxtapose cartoon-like proportions, backdropped by the burgeoning skyscraper apartments of 180 The Strand.
The incorporation of buoys and fenders, and her meticulous considerations of colouration, reinforce the connection to water and evoke a sense of dualism – combining realism and comedy. Just as the Temple tool provides stability and solidity, the fenders safeguard the water's edges, ensuring safety, and the buoys, a system of measurement and accountability.
'Slackwater revolves around the concept of edges and moments of mapping, interruption, and continuation. I am intrigued by how these measuring tools speak of boundaries, depths, and limits – both above and below, much like the intricacies of weaving.'
Hendry's final colour palette takes inspiration from microscopic water images and nautical sea monster maps, capturing a serpentine quality infused with a touch of whimsy. The result resonates with the patinated green copper hues of neighbouring Westminster roofs while reflecting the shimmering play of light on water.
'Slackwater' by Holly Hendry is in situ at The Artist's Garden, atop Temple Station WC2R 2PH until 1 September 2024. It was commissioned by the CoLAB in partnership with Westminster City Council.