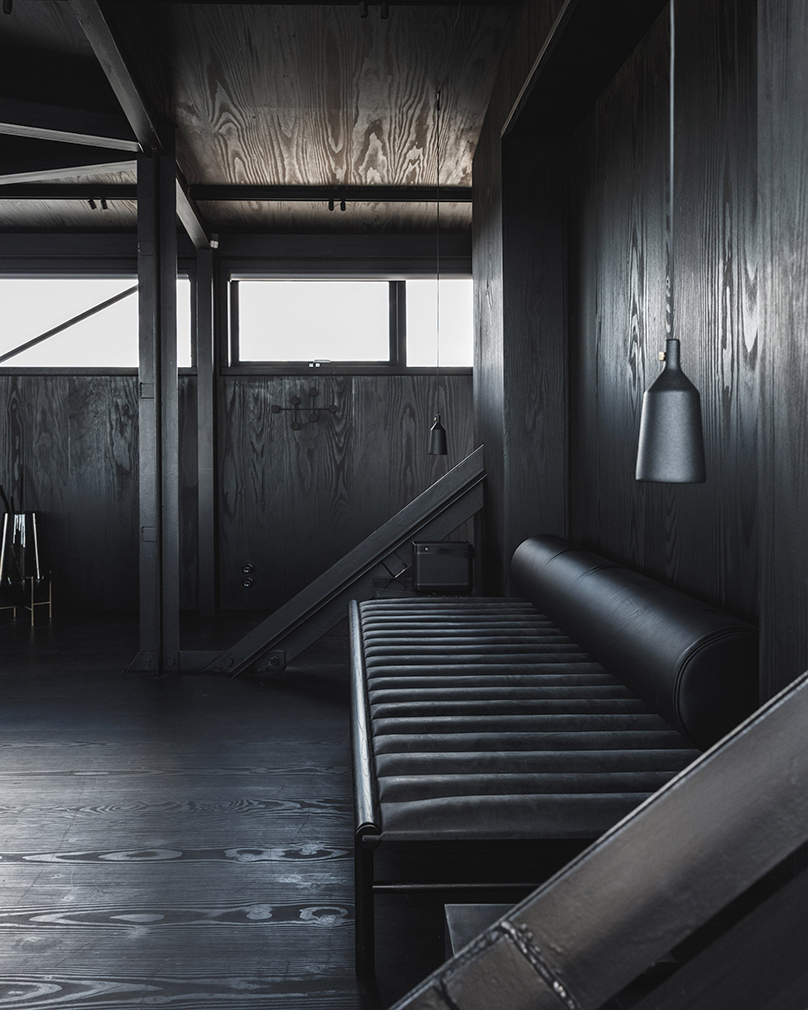 A former coal crane has been turned into a moody waterside retreat in Copenhagen, complete with a spa and terrace.
The Krane – designed by Arcgency – perches on the city's Nordhavn harbour front and features blackened interiors inspired by the raw material.
'Black plays a pivotal role in muting and minimising visual distractions so people feel almost enveloped in the interior,' says lead architect Mads Møller of Arcgency. 'There are hundreds of different shades of black. Depending on the time of day, you can see so many subtle nuances.'
Each tier of The Krane has been designed for a specific purpose, and can be hired independently. A 50 sq m hotel room crowns its top floor. Designed for two, it features black wood-panelled walls, floors and ceilings, as well as handcrafted furniture made from leather, wood, steel and stone.
The Krane Room spa on the level below is clad in grey stone. Its glass wall offers views of the surrounding water from two bath tubs.
'Natural light directly affects how we feel in a space and our happiness overall,' said Møller. 'So we optimised the inside to capture natural daylight and set the stage for the views of the water outside.'
Views can also be enjoyed from the first floor meeting room, dubbed Glass Box. It has wrap-around glass walls that pool the space in light, as well as rugged steel-grate ceilings. A ground floor reception room rounds off the pack.
The Krane is owned by Klaus Kastbjerg – the developer behind the adaptive reuse of Nordhavn's former silo into an apartment complex, and Harbour House, designed by Sydney Opera House architect Jørn Utzon.
Read next: 5 holiday retreats for couples