A slice of Scotland's magical West Highlands landscape is for sale on the edge of West Loch Tarbert, including planning for a remarkable country retreat designed by architect Mary Arnold-Forster.
The 2.36-acre plot is part of the Dunmore Estate and is an unspoiled parcel of grassed land bordered by woodland, with views of the Loch and the Isle of Gigha.
Arnold-Forster's design is inspired by the agricultural architecture local to Argyll and Bute and is a modern interpretation of the traditional West Highland Black House. The unbuilt house spans 2,000 sq ft and will 'perch' at the centre of the plot, a long barn-like pitched volume clad in silvery larch. This tawny, weathered skin will contrast light, Scandinavian-inspired interiors with large picture windows orientated to capture serene water views.
Soaring ceilings and skylights cut into the pitched roof will amplify light across the interiors with help from glass screens, diffusing light from room to room while helping maintain views across the Scottish property. Arnold-Forster's vision is simple, elegant and restrained.
But how do the numbers stack up?
The plot is for sale for £200,000 while estimates for building the Blackhouse run from £475,000-£570,000, according to The Modern House, which is marketing the Scottish property. That figure doesn't include the construction of a separate boathouse. However, planning has been granted for this outbuilding, which would be wrapped in corrugated metal and offer storage for boats, kayaks and outdoor equipment.
And while remote, the house is not entirely isolated: it will share access via a private road leading to 'Nether Auchans' – a scattering of four new homes on the Dunmore Estate.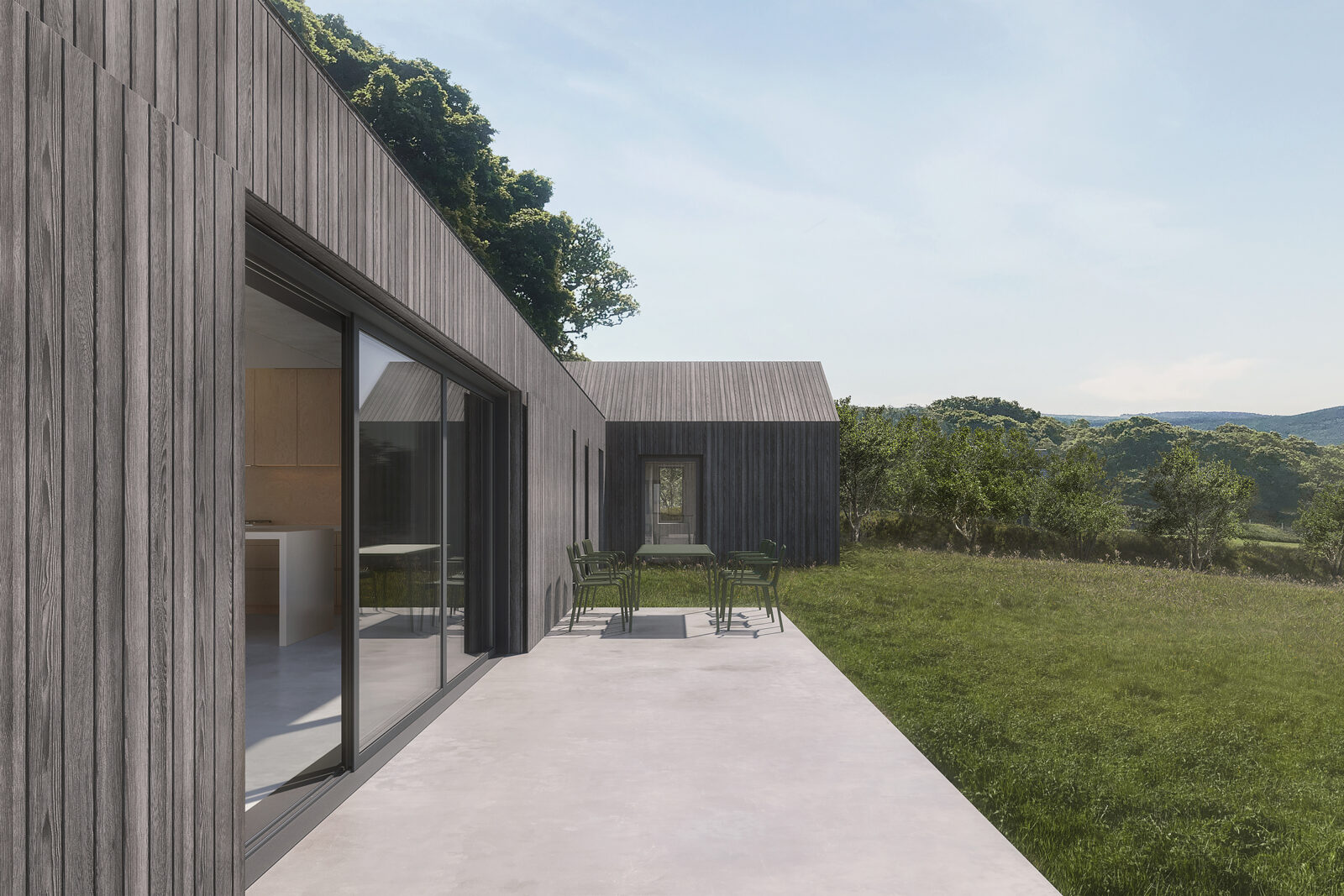 Dunmore is set in 900 acres of ancient woodland and hills along the side of West Loch Tarver and is famed for its wild swimming, fishing and kayaking. It's a protected stretch of Scottish Natural Heritage, home to sea otters, seals, humpback and even killer whales who hunt in its waters. On land, it's the gateway to the Kintyre Peninsula, home to hundreds of species of birds and wild deer.
The fishing village of Tarbert is seven miles away for the nearest shops, cafes and schools, while Kennacraig, where ferries run to the isles of Islay, Jura and Colonsay, is a 20-minute drive away.
Curious to see more? Take a look in the gallery and head to The Modern House for the complete listing.