Merlin Labron-Johnson brings the theatre of cooking to a homely setting at The Old Pharmacy café/shop and wine bar in Somerset, with an open kitchen, timber panelling and reclaimed detailing.
The twenty-something Michelin-starred chef has collaborated with bespoke kitchen design company British Standard (by Plain English) to create the space inside a 500-year-old building, inspired by farmhouse kitchens and Labron-Johnson's minimalist, slow cooking style.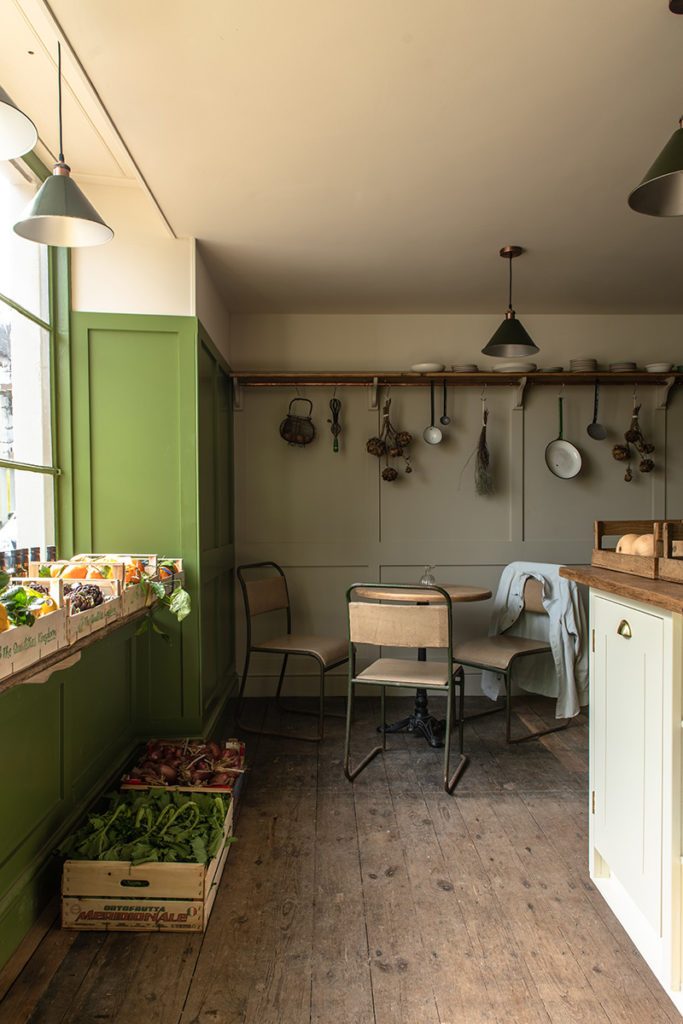 The cream and pea-green coloured Bruton eatery and wine bar centres around an island where foods such as fresh pasta are made, which gives The Old Pharmacy the comforting feel of a domestic kitchen. It has handcrafted cabinets with simple, clean lines and an abundance of open shelving for displaying produce. Decorating the panelled walls are vintage kitchen utensils and bunches of dried herbs and glass food storage jars, which nod to its former life as a pharmacy.
Devon-born Labron-Johnson – who also heads up farm-to-table restaurant Osip next door – says he wanted the shop to have a relaxed, family-like feel and 'capture the essence of a rustic country kitchen, where you cook slowly and cosily, but also adapt it to be comfortable and functional for us to work in.'
Furnishings include countertops made from wood reclaimed from old doors, a church pew and even an old pine table from the chef's home, which enrich the space with aged patinas and a sense of history. Green enamel lights from the Frome Reclamation centre hang from the ceiling while sage tubular metal chairs cluster around circular timber tables.
The Old Pharmacy has a seasonal, locally grown menu (currently take away only), including eclairs made with hazelnuts from Piedmont, a rhubarb and custard pastry and a brioche bun sandwich with venison pâté, cucumber pickle and cider mustard. The wine bar part will be in an adjoining room and is set to open soon.
3 High St, Bruton BA10, United Kingdom