Nature is the greatest architect, and its influence is felt keenly in contemporary design. Sometimes, organic silhouettes and biophilic ideas are translated directly from nature to the built world by architects, while others take 'looser' inspiration when crafting their designs.
As children, we turn trees into clubhouses and play imaginary games beneath their branches; we climb them, build from them and fashion them into new structures. Unsurprisingly, the tree has been a recurrent source of inspiration for designers across the globe, from Japanese practitioners such as Sou Fujimoto to Burkina Faso's maverick architect Francis Kéré.
Biomimicry is the science and philosophy of learning from nature – here are some examples of how architects are bringing nature into the built world, from its fractal geometries and dendriform structures to ideas around transparency, co-existence and light.
Francis Kéré's palaver-inspired designs
Diébédo Francis Kéré looked to the palaver tree at the centre of his home town of Gando, Burkina Faso, when designing his 2017 Serpentine Pavilion for London's Serpentine Galleries. The tree serves as a meeting point for conversation, village matters and ceremonies in many African communities, and doubles as a stage for performance and storytelling.
Kéré's Serpentine structure has a wide, canopy-like roof that is made from timber slats covered by transparent skin. It provides shade and filters light, similar to leaves while offering protection from the rain. The main body of the pavilion is made from steel, with a central void that channels water through an oculus opening in the 'trunk' of the structure. The perforated outer wall features a traditional pattern that allows for airflow and maintains sightlines through the space to the setting beyond.
The innovative bio-inspired design found a permanent home at Kuala Lumpur's Ilham Gallery where it is suited to the tropical Malaysian climes.
The tree is a recurrent theme in Kéré's subsequent work. Examples include his all-timber Tippet Rise pavilion in Montana, whose undulating design draws on the rings of a log and the form of a tree canopy, and his sculptural forest of 60-ft-tall baobab shelters at Coachella, which provided respite for concert-goers at the California festival.
Most recent is Kéré's monumental design for Benin's National Assembly was inspired by the African palaver tree and is slated for completion in 2023.
Sou Fujimoto's House of Music in Budapest
Japanese architect Sou Fujimoto was commissioned to create a concert hall in the centre of Budapest's City Park. He looked to the surrounding trees for inspiration and for its overhanging roof, which echoes the canopy of trees that surrounds the colossal building, which opened in January 2022.
A series of poles support the building's distinctive roof, which is punctuated by 100 holes – some of which function as light wells, and some of which create space for trees to pass through.
Fujimoto has covered the underside of the roof with metal 'leaves', creating a pixelated effect when seen from below. These continue inside the ground floor space of the new museum, which includes a pair of concert halls. Gallery spaces are located in the basement, as well as a domed space that will allow museum-goers to enjoy the 360-degree sound.
Santiago Calitrevos Allen Lambert Galleria in Toronto
Santiago Calatrava drew on the fractal geometries of the maple tree when designing this prominent Toronto landmark, which connects the city's financial and entertainment districts. The Allen Lambert Galleria was completed in 1992 and built with a steel frame, fully enclosed with glass.
Calatrava's design evokes a country road lined with maple trees and calumniates with a central square where the dendritic steel structures intersect to create a metal forest of swooping white arches. Overhear, the veined 'fronds' cast dramatic shadows across the interior space, activating the concourse throughout the day, while fracturing views of the skyline.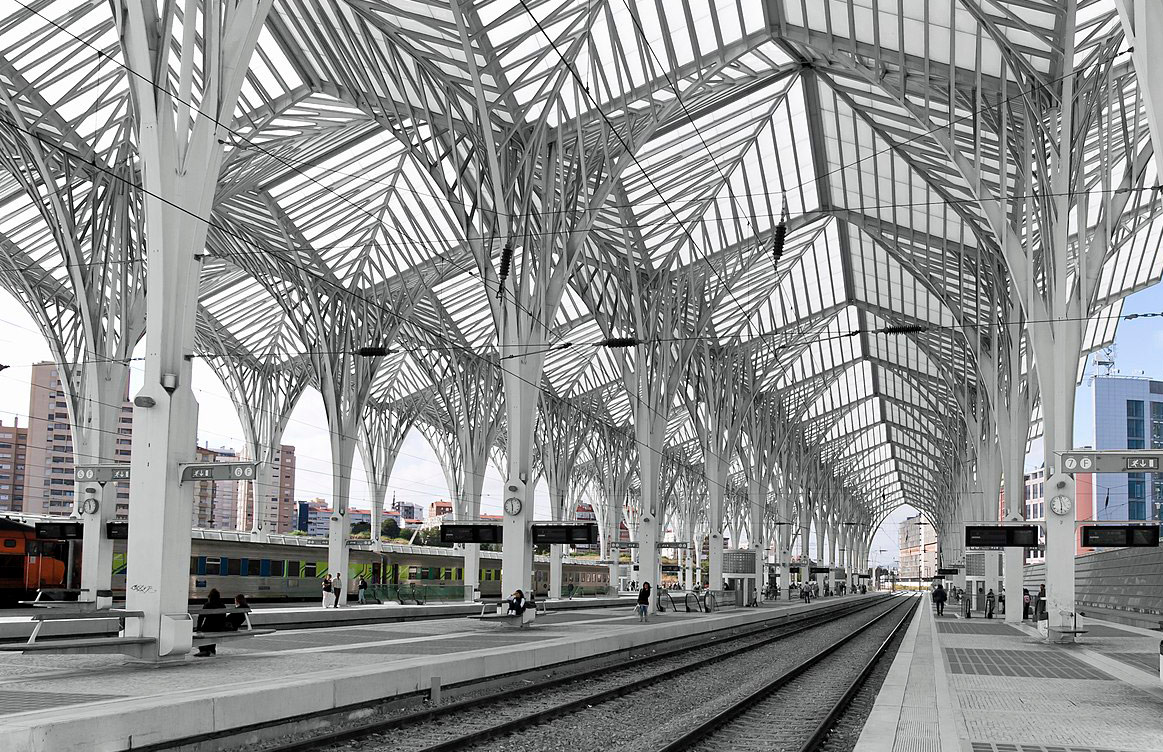 Calatrava returned to dendriform structures when designing Gare do Oriente station in Lisbon, which bears many similarities to his Toronto design. However, his Portuguese project is subtly influenced by gothic architecture of the site and super-sized in scale.
Snøhetta's Forest of Knowledge Library in Beijing
The fan-shaped leaves of the Chinese ginkgo tree inspired Snøhetta's winning design for Beijing's public library, the Forest of Knowledge. The building features a towering roof canopy of interlocking 'trees', whose leaves feature integrated photovoltaic panels to power the building, and an overhanging to provide shade and reduce solar gain. The columns of the trees meanwhile house the building's various tech systems – climate control, light, acoustic elements as well as rainwater harvesting and disposal.
Echoing the forest idea, the library has a stepped or zoned forest 'floor' beneath the roof canopy, with transparent glass walls allowing views across the building from street level.
Construction started on the building in 2018, with completion expected later this year.
Silk Tree Park in Tehran
At the other end of the scale is this organically-informed public park for deaf and hard-of-hearing users in Tehran, designed by architects Raha Ashrafi and Marziah Zad. Silk Tree Park is located next to Tehran's Sports Federation for the Deaf and Hard of Hearing and is purpose-built as a 'safe space' for the hard of hearing.
It features curving parasols that shade circular seating areas set at a radius of 2.8m-5.5m – the ideal distance for facilitating deaf visual dialogue. Entrances face the walkways, while the conversation areas themselves are cloaked by vegetation to discourage sudden approaches from angles that might catch deaf users off guard. Silk trees and vegetation further connect with the parasol pavilions, creating a patchwork forest of built and natural elements.
Bus Terminal Slavonki Brod, Croatia
In Croatia, SANGRAD+AVP architects' freshly completed Bus Terminal Slavonki Brod not only mimics the canopy of indigenous trees with its cantilever roof – it is built around the site's existing fauna. The transport depot features three elongated volumes that carry the canopy, with the eaves connecting to the previous terminal and the tall trees bursting through openings along the site.
'The platform is both a bench and a terrace, the eaves are both a roof and a tree canopy as are the wall's partitions and structure,' explains the architects. Like Snøhetta's library, transparency is also a key factor here, with walls of glass helping sight-lines across the site and its retail spaces to deter antisocial behaviour.
Super Tree Grove, Singapore
Technology and natural forms combine at Singapore's Gardens by the Bay development, where 18 super-tall mechanical trees act to create a man-made vertical forest designed by Grant Associates, and engineered by Atelier One and Atelier Ten. The structures are between 20 and 50 metres tall and mimic the form of trees while generating solar power, collecting rainwater, and acting as air vent ducts for the nearby conservatories. At night the canopy is illuminated with coloured lights, turning it into a popular tourist spectacle.
In addition to their technological function, the mechanical trees serve as a framework for growing plant life, with around 220,000 plants from almost every continent housed across its biome. Visitors to the botanical garden can also traverse the 128-meter-long aerial platform known as the OCBC Skyway, which is strung between the structures.