Art dealer Axel Vervoordt's Kanaal project – an ambitious cultural and residential complex near Antwerp – has finally opened to the public after 18 years in the making.
Kanaal takes over the red brick warehouses and grain-storage silos of a former malting distillery, built in 1857. Vervoordt enlisted Belgian architecture practices Bogdan & Van Broeck, Coussée & Goris and Stéphane Beel to mastermind their adaptive reuse into a 55,000 sq m 'city' in the countryside.
'It's a place where art, architecture and nature become one,' says Axel Vervoordt.
The site now includes 98 apartments (most of which have been sold), 30 offices, an artisanal Poilâne bakery, an organic food market, a restaurant, and multi-use auditorium, as well as the Axel Vervoordt Company's offices, workshops, showrooms, and exhibition spaces.
Kanaal started to take shape in 1998, when Vervoordt purchased his first plot on the site. In 2000, he installed Anish Kapoor's 'At the Edge of the World' there, a vast red dome-like structure that serves as the site's symbolic beating heart. After he acquired the entire site, the Kanaal project grew into a real estate development that bridges old and new – a wasteland that has been cleansed and given a new future.
Vervoordt's approach to the project is reflective of everything he does. 'I never have a distinct sense of what I'm aiming for,' he says. 'It starts with a feeling and I continue upon that. It's also important that the space itself can speak; that the architecture's soul returns. So much of today's architecture is the same – I think the dialogue with these old walls matters.'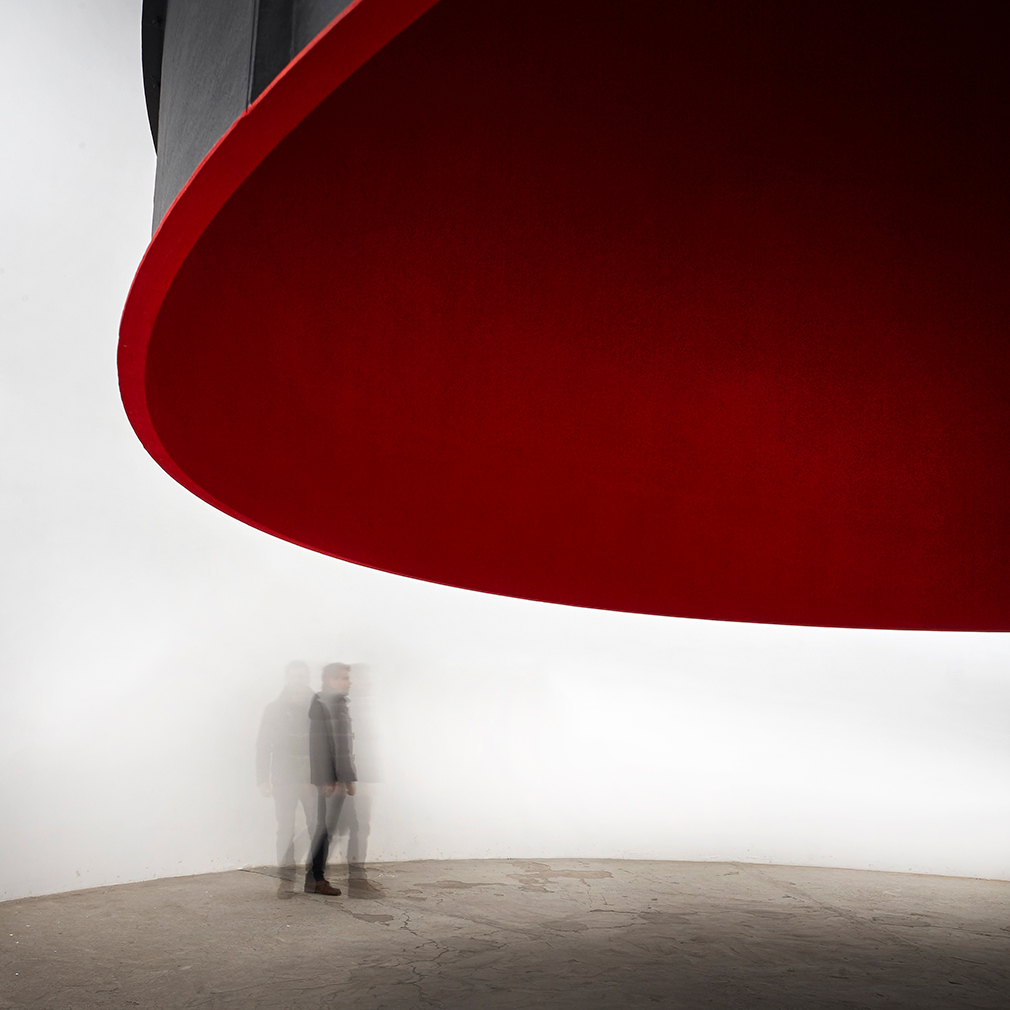 As much as possible of the old malting factory structures has been kept intact. In the Escher gallery, where Lucia Bru's exhibition is currently on show, large holes that used to house the grain silos are still visible through the floors of the second storey. In the Karnak space – devoted to permanent exhibitions from the Axel and May Vervoordt Foundation – solid concrete columns which used to support 60-metre-high silos stand solemnly among four Mon dynasty Dvaravati busts from the 6th to 8th century. Meanwhile, above the gallery are apartments, designed by Stéphane Beel.
'It's the power of the material that we feel so strongly', explains Vervoordt. 'And it has this very religious feeling to it. Industrial architecture is so interesting because it is what it is. It's been made to serve a purpose, it's not made to be beautiful. It's just there to serve. That makes it so touching.'
Other examples of adaptive reuse include a 19th century chapel – now home to James Turrell's 'Red Shift' from 1995 – and eight concrete silos which have been converted into circular apartments. Here, works by Marina Abramović, Otto Boll and Tatsuo Miyajima have found permanent residence on the lower ground floors.
Vervoordt himself masterminded the transformation of an old warehouse into a chapel-like exhibition space, with the help of his long-time friend and collaborator, Japanese architect Tatsuro Miki. Here, the art is exhibited in a meditative 'black cube', a technique Vervoordt prefers to the ubiquitous white cube gallery spaces.
'White walls draw a lot of attention,' he muses. 'Art is shown to its advantage much more with black walls; the light then emanates from the pieces themselves.'
In this gallery, named Henro I, Vervoordt has brought together an array of Gutai and Zero works, pieces by Lucio Fontana, a 13th-century Luohan monk sculpture and three majestic Shiraga warrior action paintings, amongst others. There's no real programmation in mind here, either, Vervoordt asserts: 'While working on this one, I already had another exhibition in my mind. I'm not thinking in terms of periods or artists, I just want to show what I feel.'
Read next: Inside Tate St Ives' new gallery space embedded in a cliff