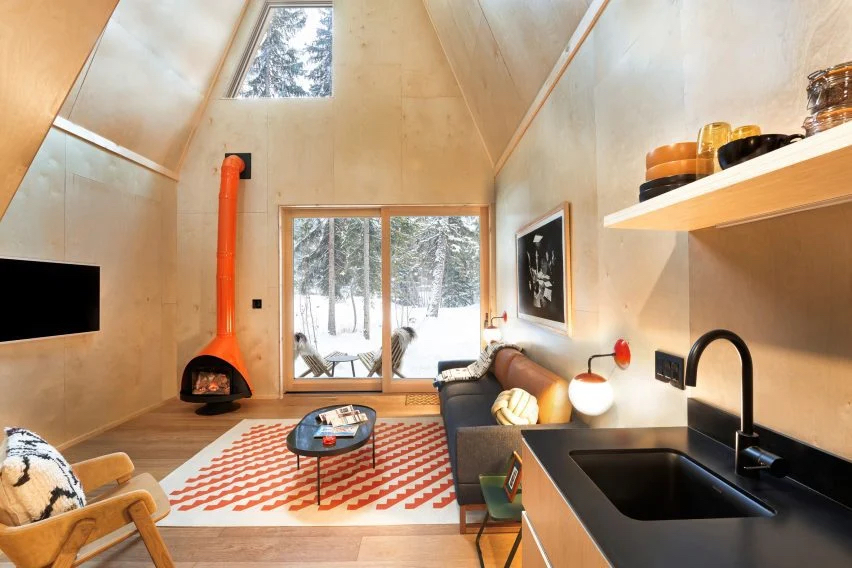 Cabin life gets an upgrade at this Colorado holiday park, which puts a midcentury twist on the classic American A-frame rental.
Located in the ski town of Winter Park, adjacent to the Fraser River, A-Frame Club comprises 31 holiday homes designed by Skylab Architecture and inspired by the heyday of 1970s American ski culture.
The standalone cabins were prefabricated in Los Angeles by Plant Prefabs and built on site atop raised 'piers'. These elevated pads minimise the impact on the forest floor while capturing views from each dwelling.
Each A-frame is connected by boardwalks that spread across the three-acre site between mature pine trees. From above, the plan looks like the arms of a snowflake, but each cabin is arranged so it has views of the surrounding woodlands and still feels private.
The dog-friendly winter getaways are available to rent for around $350 per night. Each boasts birch-wrapped interiors that heighten the 70s vibe, plus soaring ceilings, classic Malm fireplaces and deep soaking tubs to unwind after a day on the nearby slopes, located half a mile (or a ten-minute walk) from the gondola at Winter Park Resort in the Old Town neighbourhood.
Sleeping areas are tucked beneath the dramatically sloping roof, emphasising the feeling of being 'cocooned'.
Cabins have kitchenettes, but who feels like cooking after a long day in the snow? Luckily, the A-Frame club has a restaurant and 'saloon' – a decidedly retro bar and restaurant with inky walls, deep leather sofas and a hearty menu of classic cocktails and hearty dishes, including NY strip and ribeye.
A-Frame Club is a few blocks from the Winter Park Express Ski Train stop, which takes you to the mountains from Union Station and DIA.
1008 Winter Park Dr, Winter Park, CO 80482, United States