Love them or loathe them, bubble houses always cause a stir when they pop (excuse the pun) onto the market thanks to their unorthodox, organically-inspired design. It's hard not to smile at these architectural oddities, which push the boundary between architecture and sculpture.
From stone age to sci-fi in style, here are three outlandish bubble houses for sale across the globe.
The Palais Bulles in Théoule-sur-Mer, Provence-Alpes-Côte d'Azur
POA via Christie's International Real Estate
Maverick Hungarian architect Antti Lovag designed the Palais Bulles (Bubble Palace) between 1975 and 1989 for French industrialist Pierre Bernard. Still, the iconic home is synonymous with a different Pierre – the late futuristic fashion designer Pierre Cardin, who passed away on 29 December 2020 aged 98.
The holiday home in Théoule-sur-Mer, near Cannes, served as the backdrop for numerous editorial campaigns, music videos and films, and underwent an extensive five-year renovation by French architect Odile Decq before appearing on the market in 2017 with the staggering asking price of €350.
Lovag was a proponent of organic architecture, eschewing straight 'aggressive' lines for biomorphic shapes inspired by nature. His pink, alien-like bubble home has an undulating design said to be inspired by the beads of oil found in a lava lamp.
Palais Bulles boasts a dramatic reception, panoramic lounge opening to swimming pools and 10 bedrooms, each individually conceived by artists Patrice Breteau, Jerome Tisserand, Daniel You, François Chauvin, and Gerard Cloarec. There's also a 500-seat amphitheatre in its landscaped grounds.
Unal House by Claude Hausermann-Costy in Uzès, Gard, Occitanie
POA via Uzès Sotheby's International Realty
Organic architecture was all the rage in the 1960s and 70s when it dissolved the rigid boundary between art and architecture. Sculptor Claude Hausermann-Costy designed this Uzès bubble home for Jöel Unal in 1972, and he built it by hand on a rocky plot using a steel frame, sprayed with concrete.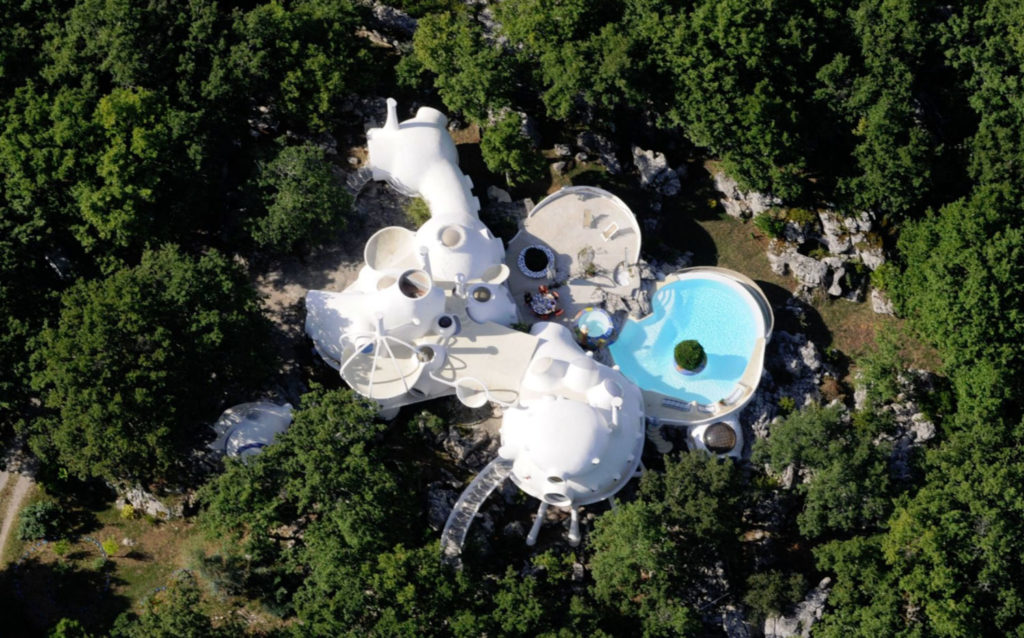 The 300 sq m French property was heritage listed in 2010 and put on the market last year. Its cavernous rooms have a neolithic Flintstones–esque vibe and are all curved or spherical, with rounded windows and skylights. All details are original, including the curving kitchen cabinets, built-in concrete cabinetry, mosaics and natural rock formations, which have been incorporated into the design.
Birchall's Bubble House in Karalee, Queensland
1.5m AUD via First National Action Realty
If Unal House feels stone age, this bubble home is positively sci-fi over in Australia. Architect Graham Birchall designed Queensland's Bubble House as his thesis project and then built it as his family home. Its intersecting circular rooms pay homage to mathematics, with 11 domes and 20 rooms set across three levels.
Rooms range from 4 metres to 8 metres in diameter and are screened from prying eyes via remote iris circular shutters. Fittings across the house (including the circular kitchen and library shelving) were designed custom by a boat builder. The unique property is located in the Ipswich City suburb of Karalee.