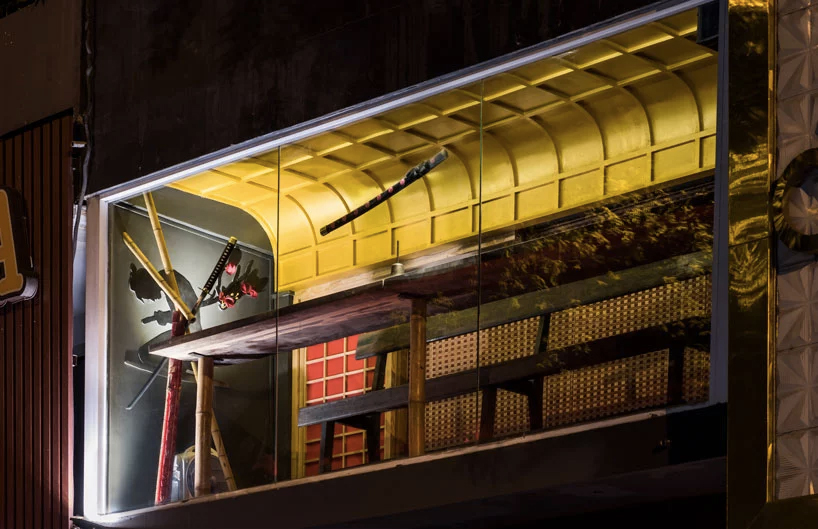 You've heard of tiny homes, but what about tiny restaurants? This miniature Japanese dining spot in Vietnam's Ho Chi Minh City clocks in at just 3.7 sqm.
Sitting on Le Thanh Ton Street in the capital's downtown, the dinky dining spot takes over what was previously a second-storey storage room and is the handiwork of designer Mamoru Maeda.
Says Mamoru Maeda: 'I wanted to enhance the value of the restaurant by modifying the facade and at the same time impact pedestrians.'
A glass facade offers views over the street, while Robata Dining An's interiors reference the Japanese theme 'tonosamat's harakiri' – tonosama being ancient feudal lords and harakiri the ritual of suicide by sword. A Japanese warrior is painted on the wall, bent over as he thrusts a sword into his chest.
If this all sounds a little macabre for an eatery, things are a bit more cheerful with the colour palette. Gold ceilings and red latticed walls inject colour and opulence (while also nodding to sadness and blood.)
An antique wooden table and communal bench take pride of place, and the overall effect (samurai sword and all) is an instantly instagramable bolthole.
Le Thanh Ton Street, Ho Chi Minh City, Vietnam
[h/t Architecture Art Designs]