As a tourist hotspot, Paris is bursting at the seams with hotels. But how do you separate the good from the gaudy?
From new openings that offer a fresh take on French style, to historic townhouses turned hotels, the city has no shortage of choice. We've found seven of the best, including a hidden mansion that offers a taste of bygone days, and a cache of iconic buildings that have housed some illustrious guests…
Hotel Bachaumont
Located in the Upper Marais, and a brief walk from some of Paris's biggest tourist hotspots, Hotel Bachaumont harks back to Art Deco's heyday. Dorothée Meilichzon oversaw the hotel's recently refurbed interiors, going heavy on monochrome patterns and dark painted walls. Guests are welcomed into the building's long marble hallway, before retiring to rooms with padded headboards, parquet floors and bathrooms in jazzy patterns. Rooms start from $199 per night.
18 Rue Bachaumont, 75002 Paris, France
Hôtel National Des Arts et Métiers
Industrial design meets Parisian chic at this Rue Saint-Martin hotel. Designed by Raphael Navot, concrete walls are set off by velvet seating, oxidised copper and black marble, with rooms following an inky grey and blue colour palette. Quirky pieces tie it all together, with hand-painted linen panels by Gael Davrinch surrounding diners in the Paris hotel's restaurant, and drinks mixed in vintage perfume bottles at the leafy Herbarium cocktail bar. Rooms start from $230 per night.
243 Rue Saint Martin, 75003 Paris, France
Hotels des Grands Boulevards
This 18th-century townhouse turned hotel blends minimalism and decadence, with dramatic fabric bed canopies rubbing shoulders with pared backlight fittings and furniture. Rooms are painted in dark colours, set off with rustic side tables and stools made of rough wood, but in cocktail bar The Shell, things have been given more of a polish. Guests sip cocktails under a blaze of lights, which reflect off the bar's burnished counter and metal stools. Rooms start from $188 per night.
17 Boulevard Poissonnière, 75002 Paris, France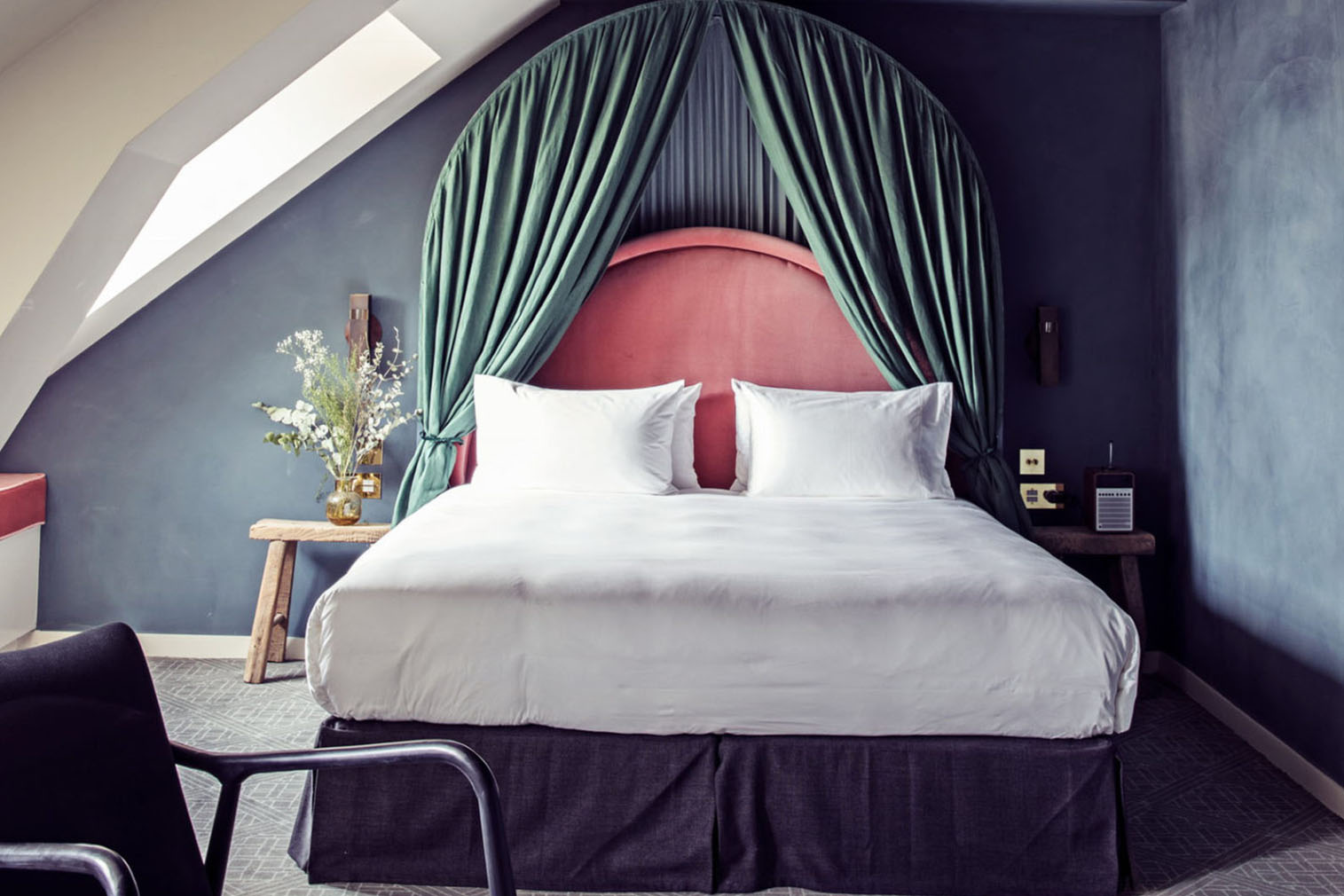 The Peninsula Hotel
More than one well-known name has stayed overnight at this 16th arrondissement hotel, which has had various roles over the years including serving as UNESCO's headquarters in the 1940s. After a four-year refurb, it reopened its doors in 2014, with many of its original features restored including gilded mouldings and painted ceilings. The rooftop restaurant offers views over the city, while the basement of the building boasts Paris's longest hotel pool. Rooms start from $978 per night.
9 Avenue Kléber, 75116 Paris, France
Les Bains
This iconic Paris nightclub may have been reinvented as a 39-room hotel, but it's still holding onto plenty of its former party spirit. It's bright and airy in the building's courtyard, which has been opened up to bring more light into the hotel, but things are enjoyably dark and moody in the hotel's bar and restaurant. Here, glossy red columns and ceiling dominate the room, towering over a black and white chequerboard floor which mimics a 1978 design by Philippe Starck. Rooms start from $304 per night.
Les Bains, 7 Rue du Bourg-l'Abbé 75003 Paris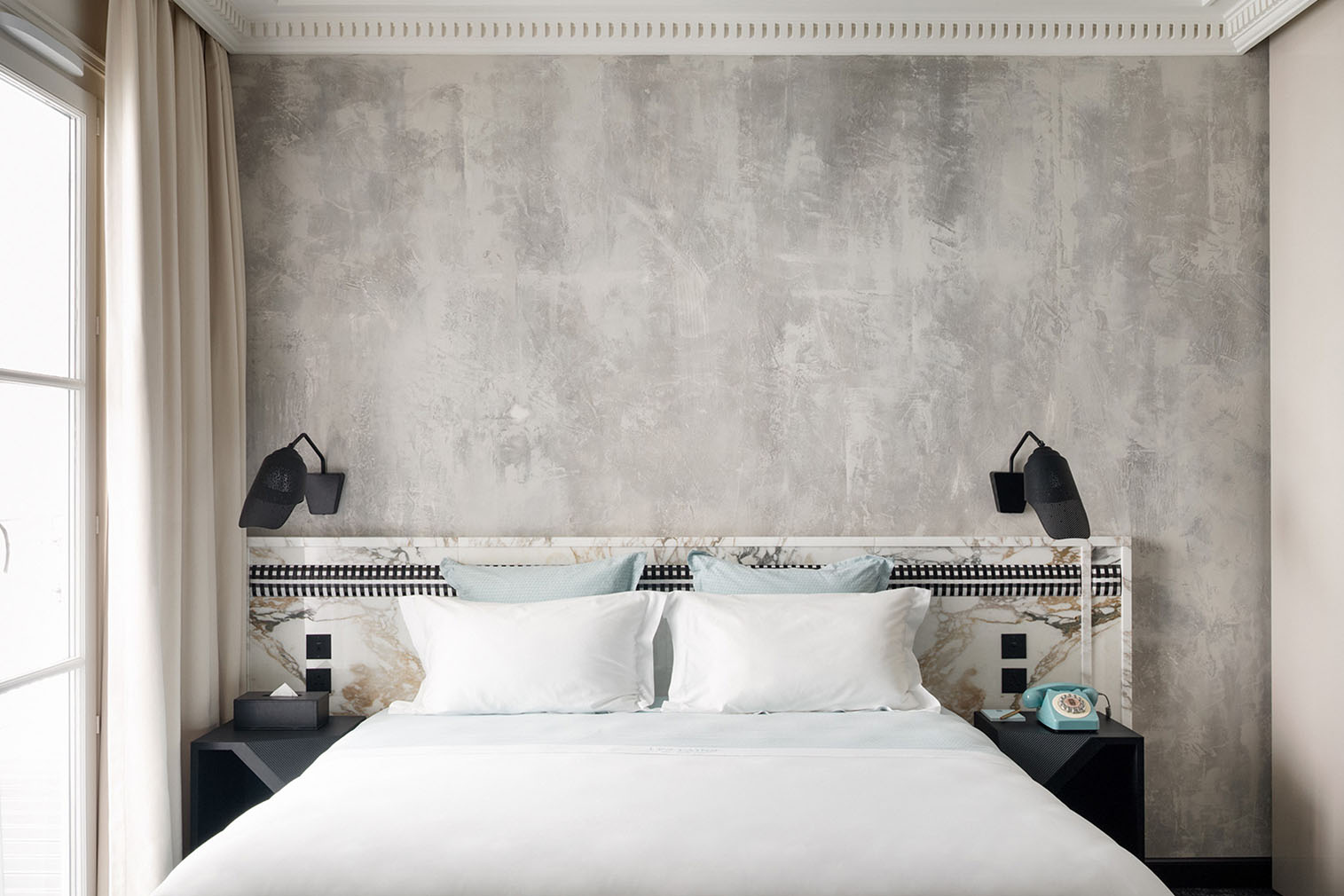 Hotel Particulier
Guests will feel far from the crowds of tourists at this 19th-century mansion, which is tucked behind a walled garden in Montmartre. Once home to the Rothschild family, the house has retained plenty of its grand aristocratic charm, with just five suites on offer – including a huge loft room with skylight views to the Eiffel Tower. The Sacre Coeur is a short walk away, but there's also the surrounding gardens to wander through as well as a pétanque court for warm evenings. Rooms start from $200 per night.
23 avenue Junot, 18th Arr, 75018 Paris France
Le Pigalle
There's a more laid-back atmosphere at this Quarter Pigalle hotel, which offers up a different take on Parisian style. Vintage furniture contrasts pieces made by local artists, and Parisian DJs also curate the hotel's vinyl library. Fans of music should book the suite, which comes with its own turntable. The Independent has dubbed La Pigalle 'the sexiest hotel in Paris' – which could be to do with its lip-shaped sofas and suggestive artwork, or perhaps the fact that every room comes with a pair of La Pigalle-branded condoms. Rooms start from around $130 per night.
9 Rue Frochot, 75009 Paris, France