London's reputation as a culinary capital continues to soar, and this cache of dining spots adds jewels to that crown. We join photographer and writer Louise Long on a culinary tour of the city's latest offerings as they blossom this spring. Among the mix? A judge's former dining hall, a floating spot on Regent's Canal and a zero-waste eatery with recyclable interiors.
APRICITY
From the former chef-owner of Covent Garden stalwart restaurant Tredwells, Apricity is Chantelle Nicholson's latest showcase of hospitality underpinned by values of seasonality, generosity and zero waste – from the design to the menu. The interior by Object Space Place reflects Apricity's circular economy ethos, with surfaces in foresso (timber terrazzo), a feature wall from the former retail-store staircase, and handpicked bathroom sinks. Ingeniously, every element is designed to be removed and reused at the end of its time in the space: we just hope Nicholson is here to stay!
68 Duke Street, Mayfair, London W1K 6JU
CAFE CECILIA
With a foreground of towpath promenaders and a backdrop of Victorian gasworks, Cafe Cecilia has little need to fuss with its interior. Blackboard menus, shelves lined with proprietary olive oil and an open kitchen counter laden with majestic daily bakes (treacle tart and flourless chocolate cake, the favourite staples) nod to chef Max Rocha's formidable yet pared-back offering.
And for all its people watching, inside and out, there is no shortage of warmth or charm; settle into a bread and butter pudding whilst the world enviably strolls by.
Canal Place, 32 Andrews Road, Hackney, London E8 4FX
JOSÉ PIZARRO at the ROYAL ACADEMY OF ARTS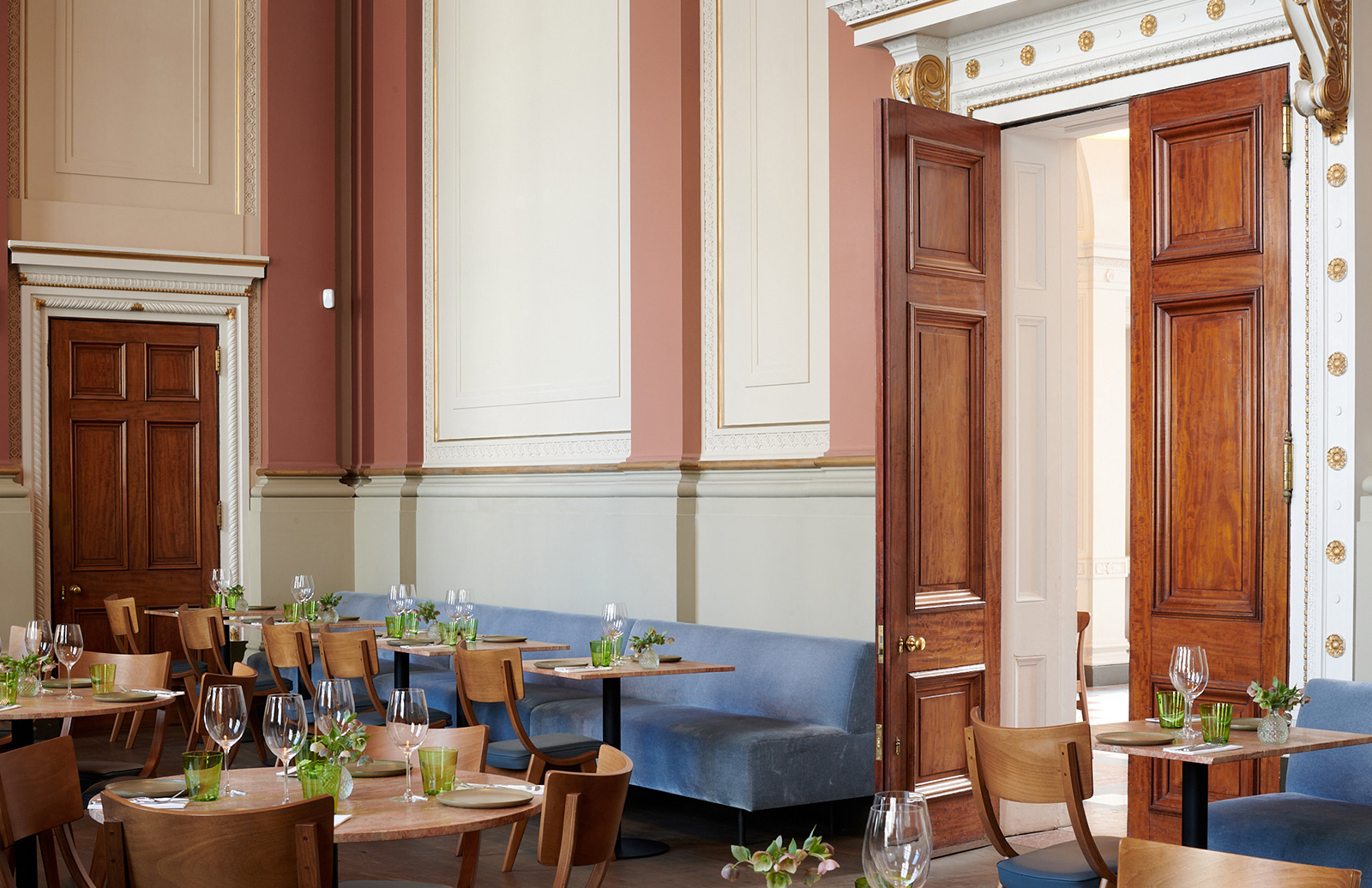 For food and art lovers alike, José Pizarro at the RA announces the Spanish chef's first foray into central London, at the heart of the Burlington Gardens Senate Room: a Neo-Classical spectacle of soaring ceilings and gilt Corinthian pilasters, twinned marble fireplaces and giant orchids. Lunch, tea and cocktails (enjoyed along the generous bar) are according to Pizarro's signature soulful style. Freshly sliced Jamón Ibérico, pickled aubergine with Manchego cheese, or confit leeks and truffle sandwich all sing with the colour and flavour of a Spanish summer.
Royal Academy of Arts, 6 Burlington Gardens, London, W1S 3ET
CARAVEL
The season's most unique setting, Caravel, is housed in a rustic, burgundy red barge floating (but moored) on Islington's stretch of Regent's Canal. Stepping off the pontoon, brothers Fin and Lorcan Spiteri have worked magic with their modern French and Italian menu and elegant, classic interior: white tablecloths off-set by velvet drapes, in the company of sesame prawn toasts and blood orange margaritas.
172 Shepherdess Walk, London N1 7JL
PLANQUE
Calling itself 'A wine drinkers' clubhouse', Planque is an ode to the wine bar, conviviality, and the best of railway arch design. Sit at the cobalt blue private dining table, or exchange tips on new wine releases at the space's epic, 10m-long oak Central Table – for any number of delicacies from the modern-French menu or buzzy wine list. The lounge area, book store of independent magazines and events programme complete the picture for members. Now there's no excuse not to drink well.
Arches 322-324, Acton Mews, Haggerston London E8 4EA
SESSIONS ARTS CLUB
A clandestine streetside entrance and sultry candlelit welcome desk have all the hallmarks of a serious dining destination, and Sessions Art Club doesn't disappoint. Opening into the double-height dining room of an 18th-century former courthouse, the restaurant oozes decadence and celebrity, the glittering love child of artist Jonny Gent and chef Florence Knight. Across the Clerkenwell restaurant, bar and terrace, gilt pilasters and salvaged antique rugs are in the company of upholstered seating and weathered stucco walls – the palette of renaissance churches. The latest rotating display of artworks is by Ann Craven, a colourful coterie of birds amongst the restaurant's greenery.
Old Sessions House, Clerkenwell Green, Clerkenwell, E1
LISBOETA
Translating as 'a person from Lisbon', Chef Patron Nuno Mendes' latest love letter from his hometown hails from Charlotte Street: a restaurant founded on the concept of 'belonging'. Across three floors of the townhouse, his friend and architect João Guedes Ramos has conjured a series of sleek and enticing dining spaces, brought to life by Mendes's plates of 'Petiscos' (small plates) or larger 'Tachos & Travessas'. The buzz and bustle of Portuguese urban life in the heart of London. See more on the London restaurant's design.
30 Charlotte St, London W1T 2NG
HACKNEY COTERIE
With its luminous orange banquette and bold contemporary artworks, soaring ceilings and brimming wine racks, Hackney Coterie has character and dynamism to fill its cavernous, rustic space warehouse in East London. The offering combines laid-back 'brasserie' dishes with a sharp wine list, thanks to sommelier Kelvin's expertise in biodynamic, organic, and minimal intervention wines. Even better is its roomy terrace – we just hope the news doesn't spread too far.
230B Dalston Ln, London E8 1LA, United Kingdom