Get back to nature and soak up the season's changing hues this fall by escaping to a cabin in the woods.
These seven forest-immersed retreats in the U.S. offer stunning natural scenery, a sense of solitude, and a stylish setting to snuggle up in.
Among them is a 1970s A-frame in Oregon with retro modern vibes and a striking glass-encased cabin beside a bay in Washington.
Basalt, Colorado
Live small in Colorado's big alpine landscapes at this tiny woodland home, half an hour from the Aspen and Snowmass ski resorts.
It has a salvaged-wood exterior finish while inside it's more modern and Nordic, with paler woods and oversized windows.
Guests can dine with pine views and stargaze from the skylight in the loft bedroom. The Roaring Folk Valley location is rich in bright gold Aspens lighting up the hill slopes and glacial lakes.
Sleeps three, at £175 per night
Mount Hood Village, Oregon
Soothe your soul at this 1970s A-frame, with a large deck overlooking the moss-laden forests of Mount Hood.
The asymmetrical black-wood house is a mix of midcentury loft and craftsman cottage, with polished-concrete flooring, tongue and groove ceilings and a sturdy staircase that winds its way up to serene bedrooms.
Mount Hood, in the Cascade Mountains of the Pacific Northwest, has plenty of autumn colour to seek out, set in vibrant contrast to its evergreen hemlock and fir.
Sleeps five, from $225 per night
Windham, New York
Take long afternoon walks and party all night at this nine-acre mountain home, an excellent gathering space with forest views in the Great Northern Catskills. The modernised 1980s home has a double-height living space with high windows, a disco ball and colourful mood lighting.
Its simple, flowing lines, soft Scandi hues and blonde wood accents nod to the natural setting. Eight miles from the roadside Five State Lookout, it gets views to the mountainscapes of New Hampshire, Vermont, Massachusetts, New York and Connecticut on a clear day.
Sleeps eight, at £476 a night
Tannersville, New York
The Hunter Greenhouse is a flat-roof A-frame in a Great Northern Catskills village, built in 1971 with lofted bedrooms. The timber mountain home has a glazed front elevation facing a vista of trees, where sunlight pours into the double-height space.
The boho decor includes macrame wall hangings, woven floor rugs, hanging rattan chairs, a bedroom hammock, a record player and plenty of houseplants. Nearby Hunter Mountain has a six-person chairlift offering views of mountains dappled in reds and golds.
Sleeps six, at £429 a night
Walton Park, New York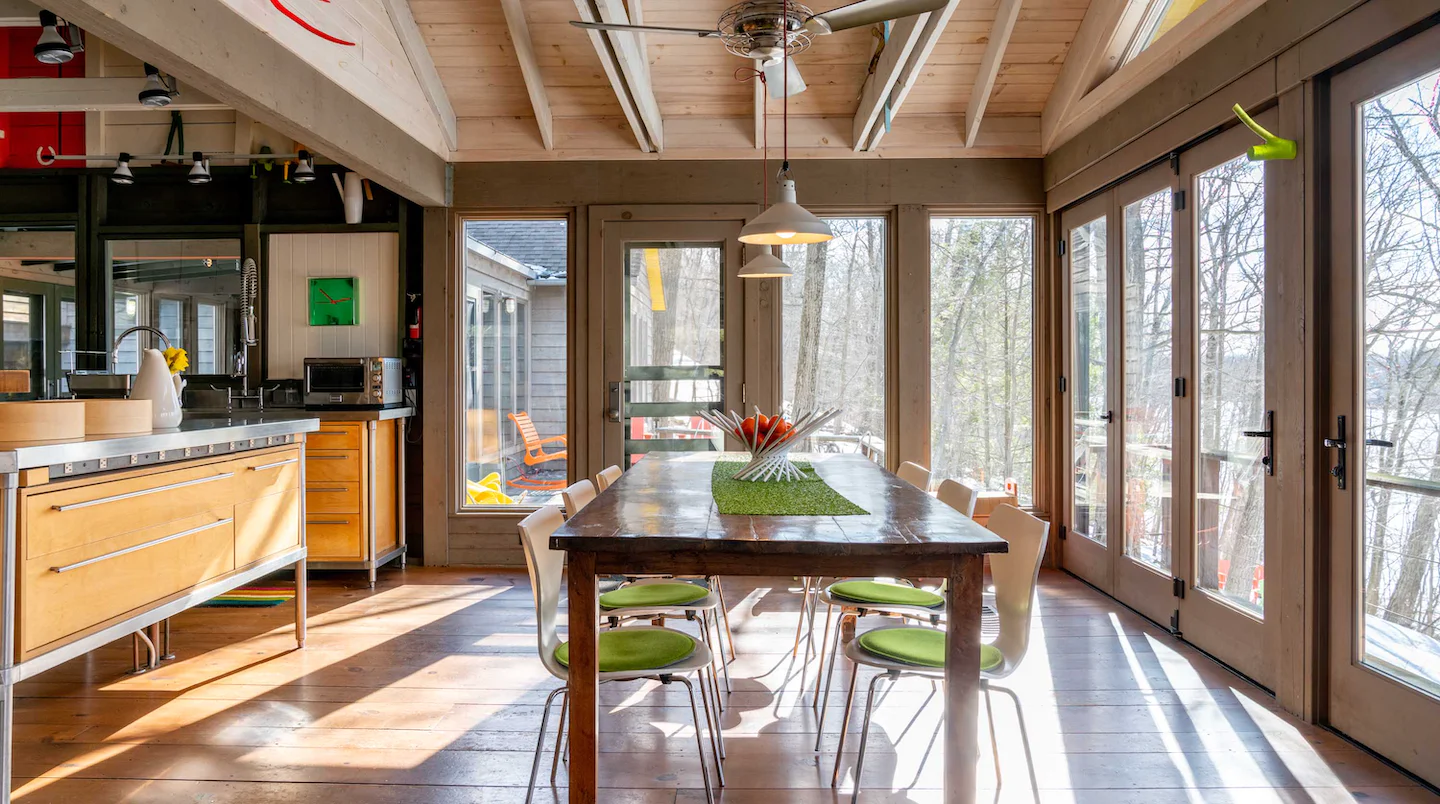 Pine's Reach is a treehouse-style three-bedroom property beside Walton Lake reservoir, with views of the tree canopy. Its open-plan, timber-frame living spaces have wooden floorboards and a soft-industrial style.
Sliding glass doors encourage traffic flow out to outdoor elevated walkways. Fun elements include table football and ping pong, kayaks for the lake and a Japanese-style soaking tub. An adjoining cabin has bedrooms in zesty lime and orange hues. Nearby Goosepond Mountain State Park is ablaze with orange foliage this time of year.
Sleeps 10, at £2,037 for two nights
South Royalton, Vermont
A Dutch couple has brought a blast of European design to rural Vermont with The Chalet, a Scandinavian-style cabin completed in 2020. The timber house centres on a sitting room with soaring 22ft ceilings and forest views through a two-storey window.
Textile rugs, low seating and a wood-burning stove counter the vast proportions. A one-bedroom studio cabin can be rented separately. The Chalet sits in South Royalton village, home of Vermont Law School, with classic New England looks and a vibrant landscape of sugar maples along the White River.
Sleeps six, at $1,287 for two nights
La Conner, Washington
In pine forests by Skagit Bay, this modernist glass house takes cabin living to a new level. Like a futuristic greenhouse, it offers spacious open-plan living with a gleaming pale-wood floor and glass walls that slide away to allow in light and the natural world.
The contemporary furnishings look at home among the geometric angles. A sleeping loft has skylights and treetop views. The Skagit Bay area is home to many indigenous peoples and provides views of the Olympic Mountains, offering plenty of autumn colour among the evergreens of Washington.
Sleeps five, from $400 per night