Location is king at this rustic, off-grid wooden pioneer cabin in Twentynine Palms, California, listed for $55,000 via Stephen Buchanan of 29 Palms Realty.
The Wonder Valley cabin dates from 1956 and is one of the famous five-acre 'Jackrabbit' homesteads within an hour's drive of Palm Springs and 150 miles outside Los Angeles. It stands at just under 300 sq ft, but its primary selling point is its 'desert back, desert front' views: beyond the cabin's five acres are another 460 acres of open desert.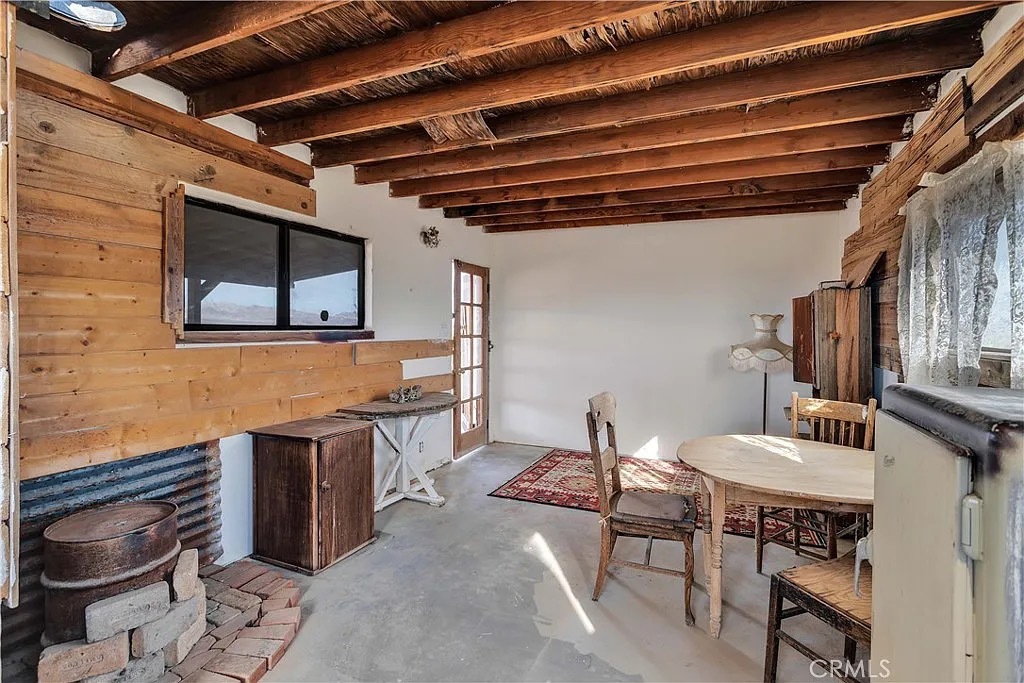 While the California property has no water, power or heating, the off-grid cabin is one of the area's best locations, directly beside the famous rustic roadhouse, The Palms. The restaurant has served the area since pioneer times, offering cold beer, pool and Sunday brunch – all useful when your nearest grocery store is half an hour in either direction.
The cabins around Twentynine Palms evolved from the 1862 Homestead Act, passed during the first Presidential term of Abraham Lincoln. When Paul Witmer took over the Office of Land Management in Los Angeles in the early 1930s, he saw a need for smaller homesteads than the 160 acres initially decreed, available at a lower price because of the land's inadequate water supply and unfarmable soil.
In 1938, the Five Acre 'Jackrabbit' Tract Bill became law. By the 1950s, it helped some 10,000 people into homesteads for as little as $10 an acre, and unsurprisingly, there was a population explosion of weekenders, mainly from the Los Angeles area, who benefited from cheap gas, the end of tyre rationing and the tarmacking of State Route 62.
Applications for homesteads peaked by 1960 when the Bureau had a backlog of 60,000 applications – what the Los Angeles Times called 'one of the strangest land rushes in Southern California history.'
Many new residents found the land too hard and neighbours too far away and abandoned their cabins and small homesteads to move back to the city. But those that stayed enjoyed their isolated surroundings, valuing peace more than the conveniences of city life.
Today's 'pioneers' tend to be a hip but niche LA crowd snapping up these desert outposts as quiet weekend retreats and extensions of their minimal living lifestyles.