Expect the unexpected in this bush home, designed by architect Richard Leplastrier in Australia's New South Wales.
Osborne House sits on a stretch of Pittwater only accessible by boat, and started out as a stilted shack and a cabin, built onto a sloping hillside surrounded by trees.
In 1994, Leplastrier was tasked with turning the rudimentary structures into a single dwelling. Rather than demolish the existing volumes, he decided to unite the disconnected structures via a sweeping wooden deck, and added a third structure to house the kitchen, turning the complex into a series of interconnected pavilions.
'Suddenly the whole place worked,' says Leplastrier. 'It's curious – it's like having a piece of music that's off the mark, with two instruments that don't go together. By putting a third one in, it suddenly turns into a wonderful piece.'
The kitchen pavilion is built from Sydney Blue Gum and Brush Box, recycled from a 19th-century warehouse, which helps bed the volume into its bush surrounds. It also acts as a hide, with porthole windows peeking out onto the surrounding National Park, a breeding ground for wallabies, goannas and lyre birds.
These glassless openings help to naturally ventilate the two bedroom Australian property – a feature employed across Osborne House, which is on the market via Modern House Estate Agents, with price on application.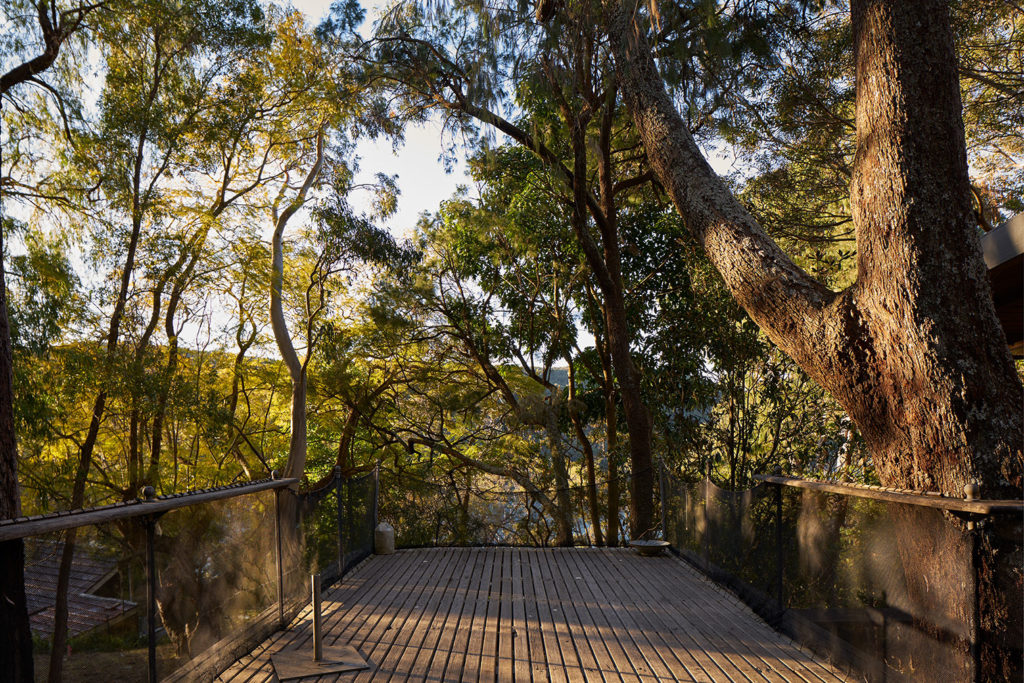 The large deck connecting the pavilions acts as an outdoor living space. Leplastrier's also ditched conventional demarcations of private and public across the two bedroom home, tucking a shower pod into the kitchen. The cabin meanwhile has been refashioned as a living room or study – complete with new custom cabinetry, original doors and windows.
Pittwater is 40 km from downtown Sydney, and is home to mangrove wetlands, saltmash, sandflats and bush. Leplastrier won the Royal Australian Institute of Architects' Gold Medal in 1999, and is among the country's most acclaimed architects.
Read next: Unyoked launches secret cabins for rent near Sydney