This Parisian loft comes with a soaring 10-metre-high atrium that bathes its industrial interiors in light.
The five-bedroom apartment is on the market via Patrice Besse for €1.68 million, and sits within the city's 18th arrondissement, close to the Neo-gothic Saint Bernard de la Chapelle church.
Formerly an industrial space, it's been refurbished as a five-bedroom home that unfurls across three light-drenched levels. A colossal glass roof funnels light down into the 215-sq-m Paris property, while its opaque glass façade diffuses light into the spaces behind it.
Bedrooms are found on the lower two floors and are set around the atrium, housing a Japanese garden planted with bamboo that reaches up towards the ceilings. Glass walls look on to this central green space, and a curved wooden staircase leads up to the living room on the first floor. Here you'll also find the dining room and kitchen, which overlook the garden.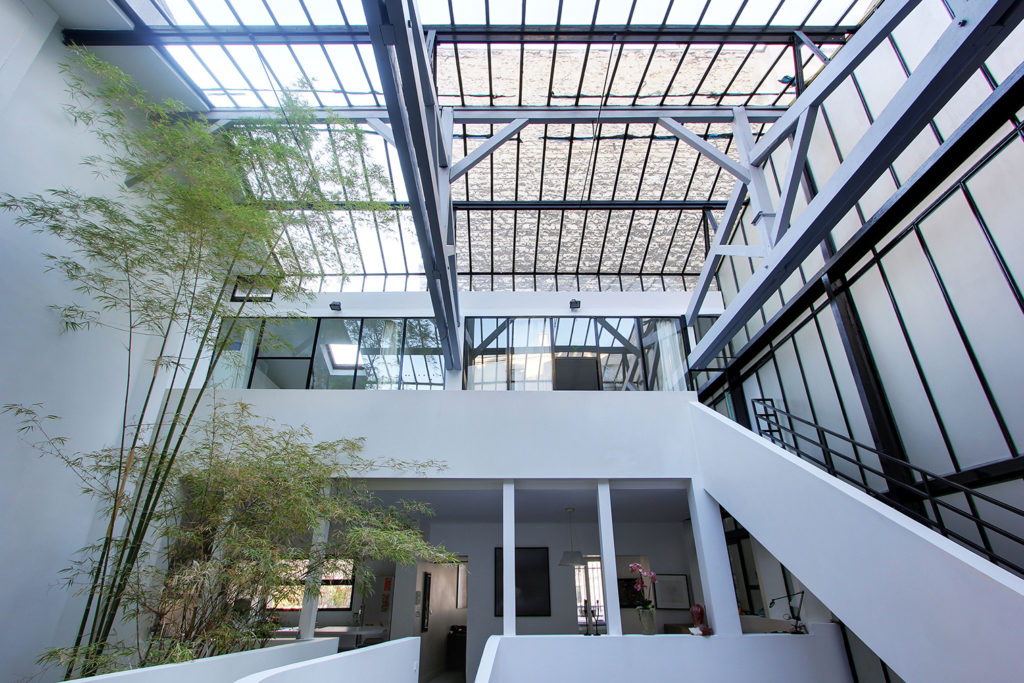 Across the Montmartre property, polished concrete and painted parquet floors have been paired with white walls and black steel window frames. A second metal staircase leads up to the third floor, and custom cabinetry has been installed during the building's recent refurbishment so there's plenty of room for books…
Completing the look are painted trusses and old pulleys which hang from the roof – a nod to the building's former life.
There's still potential to leave your own mark on the property: the adjoining studio flat is also for sale, and connects at the loft's living room level. If you'd rather extent up, plans are available (with purchase) to add an extra floor and outdoor terrace. Food for thought.
Read next: 5 of the best Paris apartments for rent