It's not just mega-mansions and countryside estates that got your fingers clicking this year – our readers couldn't get enough of Cold War relics awaiting radical renovation, converted water tower and historic follies with dubious pasts…
Here are 7 of the most popular (and unusual properties) we featured this year.
The Golf Ball in Kinross-shire, Scotland
£950,000 via Amazing Results
Kinross-shire's 9-acre SATCOM II Satellite Ground Listening Station was opened by Princess Anne in 1985 and is best known as 'The Golf Ball' for its colossal white fibreglass radome. It was originally a NATO spy base and housed a large dish antenna but has now been decommissioned and is being touted as a redevelopment project. The Cold War landmark could be a whopping adaptive reuse project – or somewhere to see out the zombie apocalypse.
Rapunzel-style Gothic tower in Kent, England
£2m via Strutt & Parker (sold)
Hadlow Tower was built by an industrialist in 1838 – supposedly so he could spy on his estranged wife who had run off with their neighbour. The 175-metre-high structure features gothic flourishes, including pointed arch windows and carved stone details, and is set over eight levels. Four bedrooms are tucked inside the unusual UK property, which is now off the market, with the master bedroom on the roof level.
Rare midcentury trailer in Oregon, USA
$250,000 via Flyte Camp
Mad Men fans will appreciate this fully restored 'Holiday House Geographic' 1960s caravan – one of only two in existence. Oregon-based Flyte Camp restored the four-berth trailer, including its original colour scheme and wood-panelled interiors.
Drake Island in the English Channel
€6m via Jones Lang LaSalle
Abandoned barracks and underground barracks cross this six-acre island off the coast of Plymouth. It is named for Sir Francis Drake, who launched his 1577 expedition to circumnavigate the globe from there, and while it is mostly uninhabited it comes with planning permission for a boutique hotel.
Converted water tower in Warwickshire, England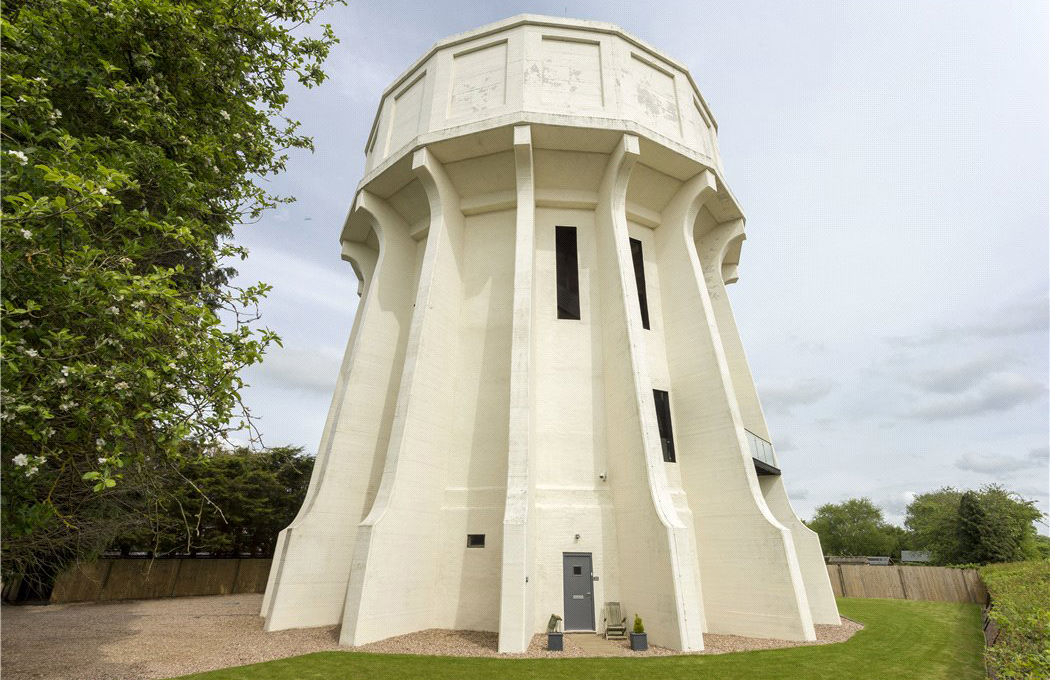 £1.5m via Knight Frank

Water towers are among the most coveted real estate and this 1930s one in Warwickshire has already been converted following its decommission in 2004. Rising to 75-metres high, it has solid concrete walls that are up to a metre thick in places and has been turned into a 6 bedroom country home.
A steel house on stilts near Paris, France
€1.7m via Espaces Atypiques 
This corten steel fortress sits atop stilts in the marshlands of Gif-sur-Yvette outside of Paris. Designed by architect Marc Held, it features a 6-metre-high warehouse style ceiling with metal framework and a raised library that sits under a domed skylight.
Viaduct home in London, England
£999,999 via The Modern House
This unusual infill home was built in disused space beneath a Victorian-era viaduct by practice Undercurrent Architects. The billowing home is wrapped in a cortex steel skin that matches the rugged industrial architecture alongside it, but the interiors are surprisingly light thanks to an all-white colour palette and cleverly placed skylights.
Read next:  Frank Sinatra's former LA home hits the market for $12.5m