A newly constructed office peeps through the historic brickwork of this iconic Brooklyn building as the Domino Sugar Factory opens its doors for the first time in almost 20 years.
The brick building has been a landmark on the East River waterfront for the last 140 years, used in the 1800s to accept deliveries of raw sugar, which was then refined and packed for sale. The factory shuttered in 2004 but achieved landmark status three years later.
It has since spent the last six years undergoing major redevelopment by Two Trees Management to a master plan by SHoP Architects and Field Operations that includes offices, apartments and a five-acre public park.
The old factory is the central piece in the project, with Partnership for Architecture and Urbanism (PAU) tapped to transform the structure for new use. However, because of the building's existing floor plan, PAU could not simply convert the original. Instead, it constructed an entirely new glass structure inside its iconic brick shell.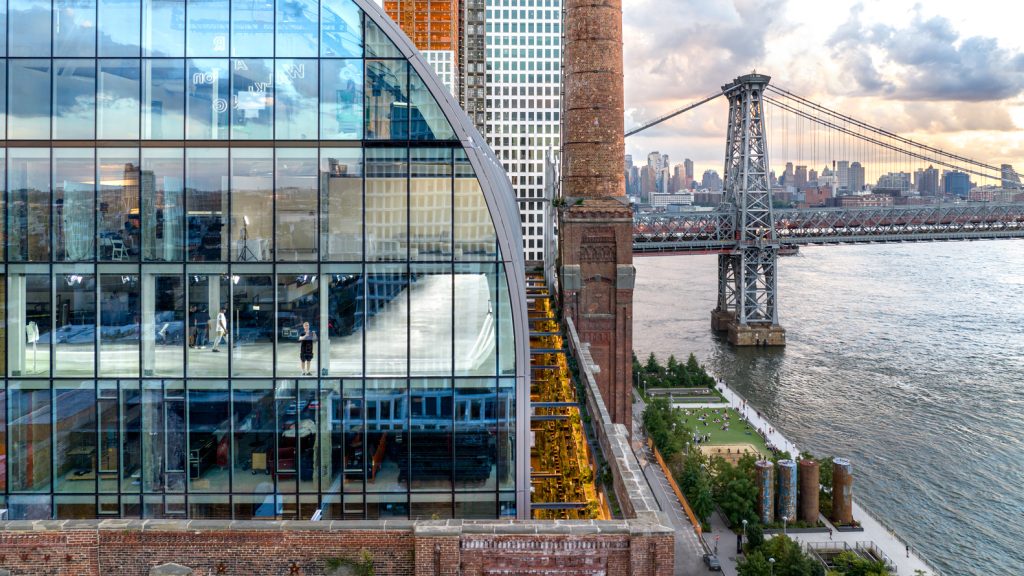 The Refinery's new glass walls are located 15 feet away from the listed brickwork, braced by steel and extended up and into a dramatic barrel-vaulted roof. Landscape architects Field Operations have used this gap to build an indoor garden, with plants and trees sandwiched between the arched factory windows and steel supports.
A curved atrium crowns the brick structure, offering 46,000 sq ft of prime office space – now available for rent. The prime space is the penthouse that sits directly underneath the glazed vaulted roof, with an impressive triple-height atrium on the ground floor. Other highlights will include an amenities floor with open office spaces, meeting rooms and a 40,000 sq ft fitness club with an indoor pool and full-service gym.
The entire Refinery project is slated for completion in 2027, when it will top up 600,000 sq ft of office and retail space with 3,000 apartments.