Columbus, Indiana is a self-effacing town. 'I grew up in the mid-West and I drove past the exit to Columbus many times,' says director Kogonada. 'There is nothing about that exit that suggests you're going to find a Modernist mecca after the bend.'
However this small city of just 45,000 people houses one of America's best collections of Modernist architecture, boasting buildings by Eliel and Eero Saarinen, IM Pei, Deborah Berke, James Stewart Polshek and Robert Venturi.
These buildings and their somewhat incongruous setting are the backdrop – and indeed the namesake – for Columbus, the first feature film by Korean-American filmmaker Kogonada.
The film brings together Casey (Haley Lu Richardson) and Jin (John Cho), two characters trying to make sense of their relationship with their parents, specifically their absence – Jin, whose estranged father is in a coma; Casey, a student preparing to leave her recovering addict mother behind as she heads off to college.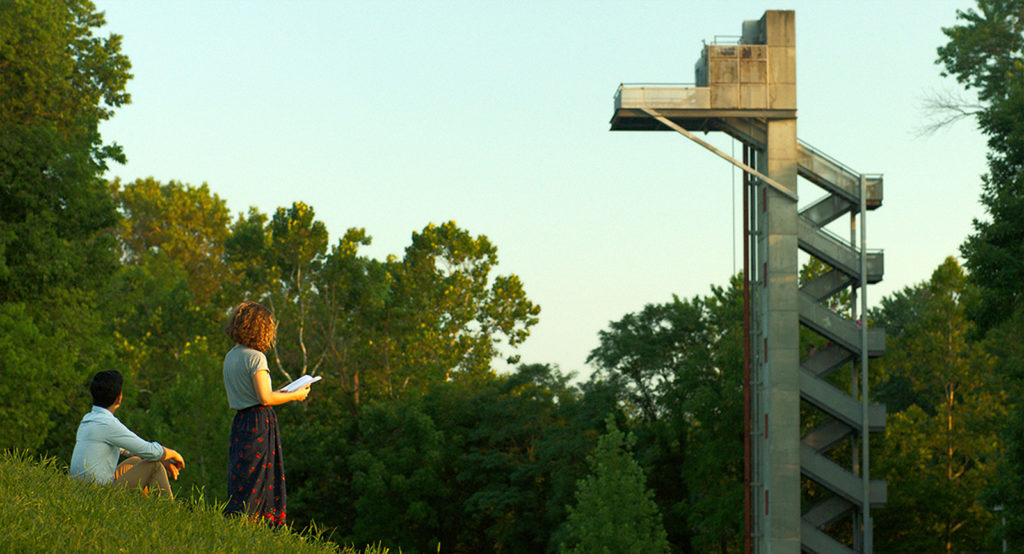 Kogonada – his name a pseudonym paying homage to the Korean screenwriter Kogo Nada – had been working on the narrative for a while, but it was a visit to Columbus that brought the story into focus. 'These characters were dealing with absence,' he says, 'and for me modernism is so much about trying to find meaning in absence both culturally and physically, by creating spaces and creating an aesthetic of emptiness. By the time I was eating lunch there, I knew it had to be the setting.'
The town's architectural heritage is rooted in local industry. In 1957, J Irwin Cummins, CEO of Cummins Engine Company and founder of the Cummins Foundation, made an offer to the city. The company would pay all architects fees for new public buildings, so long as the architects were selected from a shortlist of exceptional practitioners.
The results are astonishing – a church by Eliel Saarinen, a bank by Eero Saarinen, a library by IM Pei, a school by Harry Weese, newspaper offices by Skidmore, Owings & Merrill, a fire station by Robert Venturi. To date, seven buildings in Columbus are National Historic Landmarks, and more than 60 are significant to the Modernist movement.
Kogonada uses these buildings as central characters in his narrative, building the drama as Casey leads Jin through her list of favourite buildings. At the top is The Miller House and Garden, designed by the younger Saarinen for J Irwin Miller, with gardens landscaped by Dan Kiley and interiors by Alexander Girard. Since Miller's wife's death in 2008, the house has been preserved as a monument, only accessible to the public by private tour.
Number two on her list, Eero Saarinen's Irwin Union Bank branch, is now a conference centre. It begs the question – how does changing these buildings' purpose from functional city offices to monuments of modernism affect their role in the community? Just as the two characters are in a sort of limbo, so too are the buildings as they look towards an uncertain future repurposed as shrines to the past.
With its central characters wrestling with longheld pain and resentment towards their parents, the film's setting allows Kogonada to engage with James Stewart Polshek's concept of architecture as a 'healing art'. Architecture and emotion are positioned side by side as Casey and Jin share cigarettes in front of Deborah Burke's branch of the Union Bank; dodge the rain in front of Polshek's Mental Health Hospital; watch late night cleaners at work in the dazzling windows of Skidmore, Owings & Merrill's newspaper offices; and bid each other farewell in front of Eero Saarinen's improbable church spire. Does it help?
'Those two characters were both me in some way,' Kogonada says. 'There is a part of me that understands Casey, because I discovered art at a very serious moment in my life and I don't know if it healed me, but it definitely shaped me. But Jin is another version of me, when criticism turned to cynicism and I began to lose my ability to see the things that were really profound.'
'So I have this conversation in my head, because there's a part of me that wants to believe in art, to believe that forms matter, but also "healed" is such a strong word. Perhaps the most I can say is that I want to believe that it has healed and it can heal. I don't know for certain, but I want to believe it.'
Read next: Inside the beguiling film sets of 'Call me by Your name'