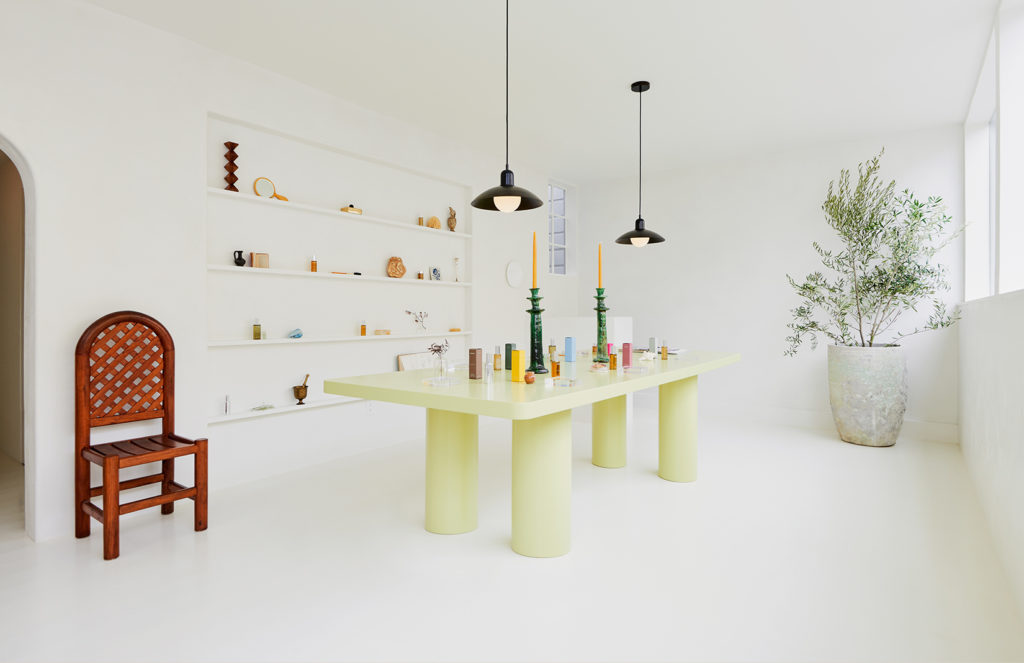 The minimalist architecture and wild flora of the Cycladic islands inform the interiors of Monastery's new skincare studio in San Francisco.
Inspired by the Greek heritage of the brand's founder, Athena Hewett, designer Jacqueline Sullivan has put together a white-washed interior, punctuated with colourful objects and sculptural furniture.
A chartreuse lacquered display table designed by Los Angeles studio Waka Waka provides a focal point in the storefront, while lighting has been created by the likes of Rich Brilliant Willing and In Common With. Shelving is thoughtfully filled with small objects, including ceramics, stones, and candlesticks taken from Athena's ancestral home in Greece.
Athena's introduction into aromatherapy came from her grandmother, who would press skin-healing oil from their home-grown herbs and plants, and this informed Monastery's ethos and approach to skincare. Keen to reflect their use of natural ingredients, Sullivan installed a dried flower sculpture against the backdrop of a white wall, creating a dramatic sprawl that harks back to those sun-soaked landscapes.
4175 24th Street, San Francisco, CA 94114 USA