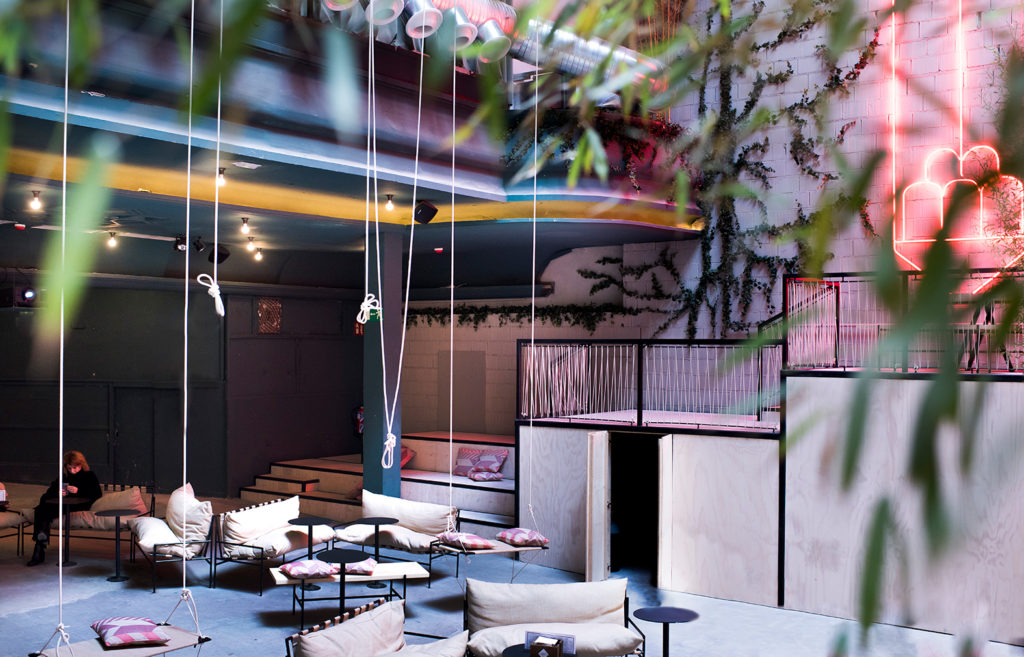 An old adult cinema in Madrid has swapped erotic movies for pleasures of the gastronomic and cultural kind…
Sala Equis started life in 1913 as the headquarters for newspaper El Imparcial until the political rag closed in 1933 and it was turned into the Alba cinema. By the 1980s, the picture house had stopped screening Hollywood blockbusters in favour of X-rated films, which it showed almost exclusively until its closure in 2015.
Now Madrid's last porno cinema has been revived as mixed-use culture hub by the creative collective behind the nearby El Imparcial restaurant – journalist Daniel Fernández Cañadas, political scientist Laura Suárez, and restaurateurs Cristina Rodríguez, Marie Jennings Camissa and Nacho de Padrón.
'Reviving the old cinema was a part of the project from the very beginning,' says de Padrón. 'We always thought that the cultural life that existed in El Imparcial would grow into the cinema. We just didn't have the funds to do it all at once.'
Following the success of their restaurant, the collective enlisted architects Paco Genovart and Sergio López's practice Payser, along with interior firm Plantea Estudio to phase 2 of the project. They transformed the defunct Alba into a new bar, restaurant, performance venue and boutique cinema – minus the X-rated movies.
Payser has preserved the building's façade and gallery, as well as walls and original floors inside its covered terrace, which overlooks the Duque de Alba. Here, low tables and seatings are designed for casual gatherings and meetings.
In the Sala Plaza – the heart of the 700 sqm complex – the Alba's original bar has been retained and the space is capped by a large skylight. Vines climb the walls, and the practice has installed custom-built bleachers, swing sets and chairs into the hall. Patrons can grab a beer and a bite to eat while watching movies on a projector screen, or catch a live acoustic performance, with offerings including shrimp wraps with kimchi and oxtail baocatas.
Sala Equis offers monthly film cycles – February includes 'New Visions of Cinema in Madrid' and a 1970s Robert Evans' season, with hits Marathon Man and Harold and Maude among others – as well as directors talks and events.
The old cinema room has been given a spruce: its original 55 seats have been reupholstered in plush red velvet and the space has been given new lighting. But in a nostalgic twist, the room's acoustics reproduce the classic film sounds of yesteryear.
Sala Equis, Duque de Alba 4, 28012 Madrid
Read next: Madrid restaurant Rómola offers guilt-free dishes in sumptuous surrounds