More people than ever are exploring sustainable ways of living and are looking to implement more ethical environmental practises into their day to day lives. And where better to make an impactful change than opting for an eco-friendly home.
When it comes to eco-homes, there are different types: some are certified green buildings, while others are existing structures, souped-up with eco-features ranging from insulation to sustainable flooring, non-toxic paints, energy-efficient appliances, and even air filtration and circadian lighting systems – meaning there're something for every conscious approach. Here are seven eco-homes for sale in London right now.
Redberry Grove by architect Ian McChesney
4 bedrooms; £1.59m via Mundays
This newly-built detached eco house by architect Ian McChesney is located in the southeast of London, on one of Sydenham Park Conservation Area's principal streets. The 2,000 sq ft property has a modernist appearance due to its reflective black glass panels and prefabricated timber-frame construction and to Passivhaus principles – the leading international design standard for low energy, comfortable, high quality, affordable buildings.
Helios Road by Bill Dunster, ZEDfactory
2 bedrooms; £360,000 via The Modern House
Architect Bill Dunster's practice ZEDfactory is a leader in zero-carbon design. It builds homes with low running costs and a reduced carbon impact, collaborated with environmental agency Bioregional and Arup engineers to produce the Beddington Zero Energy Development (BedZED) – the first environmentally friendly housing development of its kind in the United Kingdom.
This innovative two-bedroom home in the London suburb of Hackbridge is part of BedZED, which won the RIBA Housing Design Award for sustainability in 2001 and was shortlisted for the prestigious Stirling Prize in 2003.
Woodlands by Proctor & Shaw
3-4 bedrooms; £275,000 via Aucoot
This off-plan design from award-winning studio, Proctor & Shaw, is situated on a plot in Surrey – in the outskirt of Greater London – and comes with planning permission for a new-build, three or four-bedroom detached house. Keeping sustainability at the forefront, it will be built to Passivhaus standards, offering a considered use of materials, high-quality glazing and a mechanical ventilation system.
Kings College Road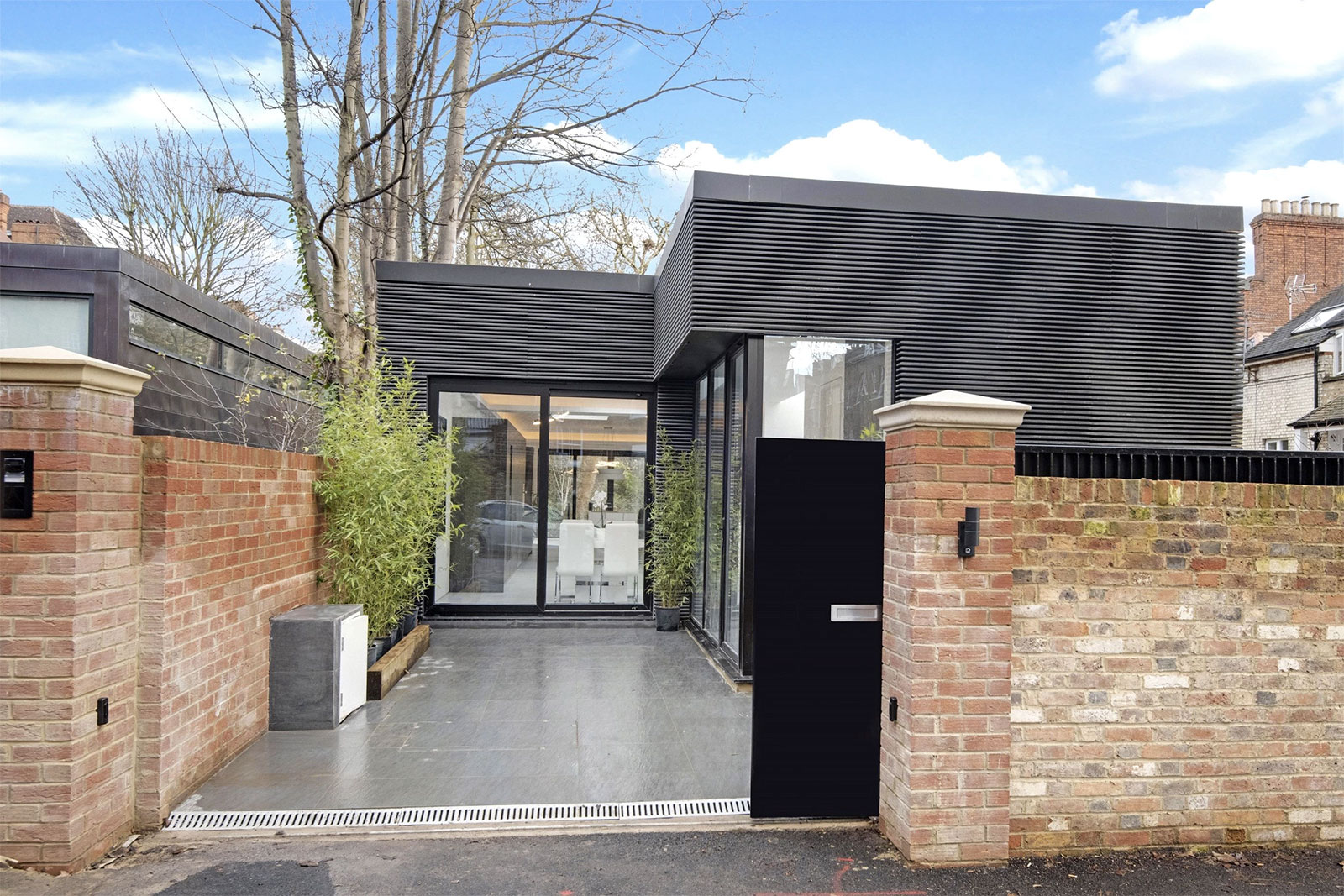 4 bedrooms; £3.3m via Goldschmidt & Howland
Contemporary yet sustainable, this newly built ecologically friendly four-bedroom home in West London's Belsize Park boasts a rain-water harvest system, solar panels, and a Sedum grass roof. And although it features oversized windows and glass walls, it offers ample privacy due to its below-ground construction. Note the stand-out spiral staircase with access to the garden from all floors.
Treehouse II by Constructive Individuals
1 bedroom; £1.15m via The Modern House
Practice Constructive Individuals collaborated with the previous owners to design Treehouse II on the border of Clapham and Brixton. It is one of a very small number of houses in Britain designed to be energy self-sufficient, generating as much energy as it consumes.
There is a strong emphasis on raw materials and an unrelenting commitment to sustainable principles; the one-bedroom home seamlessly combines contemporary consciousness with 'green' construction.
Jutland Road by architect Mark Hood
1 bedroom; offers over £155,000 via Kallars
This Southeast London-located development features plans to build a larger-than-average one-bedroom detached, two-storey house (including basement). Architect Mark Hood's proposal boasts a sleek and modern design, with large industrial doors and windows, a sophisticated open plan living and dining space, and a green grass roof and walls enhancing its eco-home credentials.
Bernard Gardens
5 bedrooms; POA via John D Wood & Co
Bernard Gardens offers a five-bedroom family home in the charming and sought-after location between Wimbledon Village and Wimbledon Town. Recent years have seen the five-bedroom house undergo a comprehensive extension and refurbishment, ensuring that the semi-detached period property now incorporates high-quality fittings throughout, Cat 5 wiring points, and energy-efficient installations alongside its deft design.