They say Londoners never interact with strangers and avoid eye contact on the Tube at all costs. But French-Lebanese architect Lina Ghotmeh's interactive design for the 22nd Serpentine Pavilion invites strangers to sit beside each other – and perhaps even start a conversation.
Dubbed À table, the pavilion is open to the public from today, 9 June, until the end of October. Its biophilic design resembles a timber umbrella with a zig-zagging roofline and walls made from glulam spruce columns and folded plywood, with the roof inspired by the structure of a palm leaf.
Ghotmeh's design is deliberately low-carbon, using bio-sourced materials with a shape inspired by the canopies of the trees around Kensington Gardens. It also nods to togas: structures found in Mali, West Africa, traditionally used for community gatherings to discuss current issues while offering relief from the heat. (Francis Kéré similarly sought inspiration from the great tree in his hometown of Gando, Burkina Faso, to design his 2017 Serpentine Pavilion.)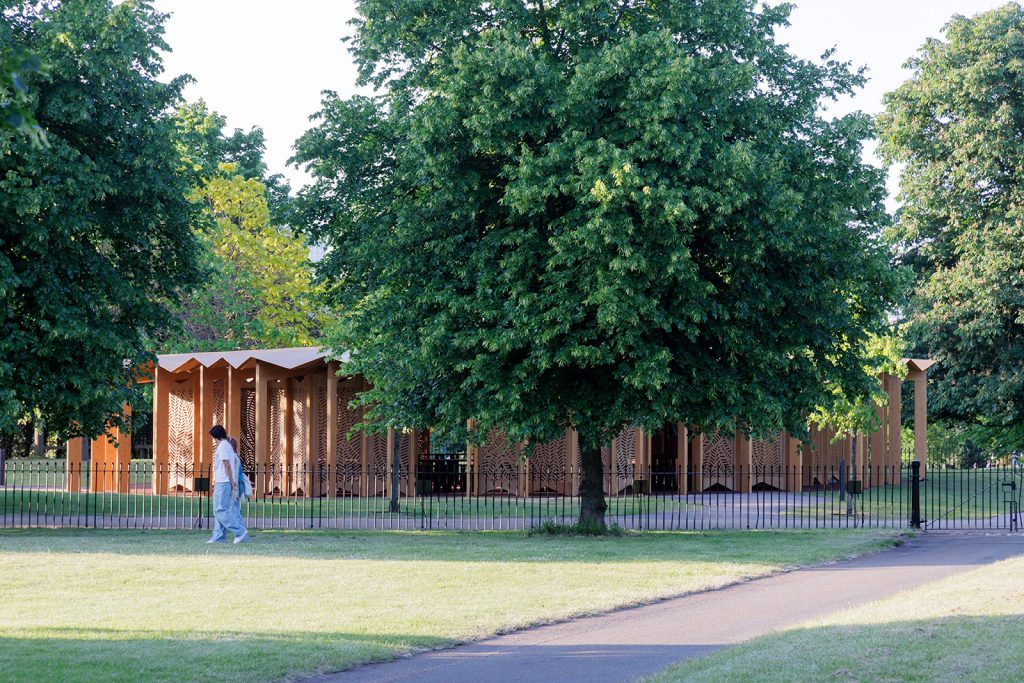 Inside, a circular table along the perimeter invites visitors to convene and celebrate exchanges that enable new relationships to form.
'Rethinking what and how much we eat – how we 'consume' and how we weave our relationships to one another and the living world – moves us towards a more sustainable, eco-systemic communion with the Earth,' says Ghotmeh.
The Serpentine Galleries' South building, adjacent to the pavilion, was originally a teahouse before it was converted into a gallery in 1970. Ghotmeh has drawn on this history and incorporated the pavilion's café menu into her design, offering Mediterranean-inspired dishes made with local and seasonal ingredients.
À table will host events, dinners and discussions through the summer until 29 October and is free to attend.
Kensington Gardens, London W2 3XA, United Kingdom