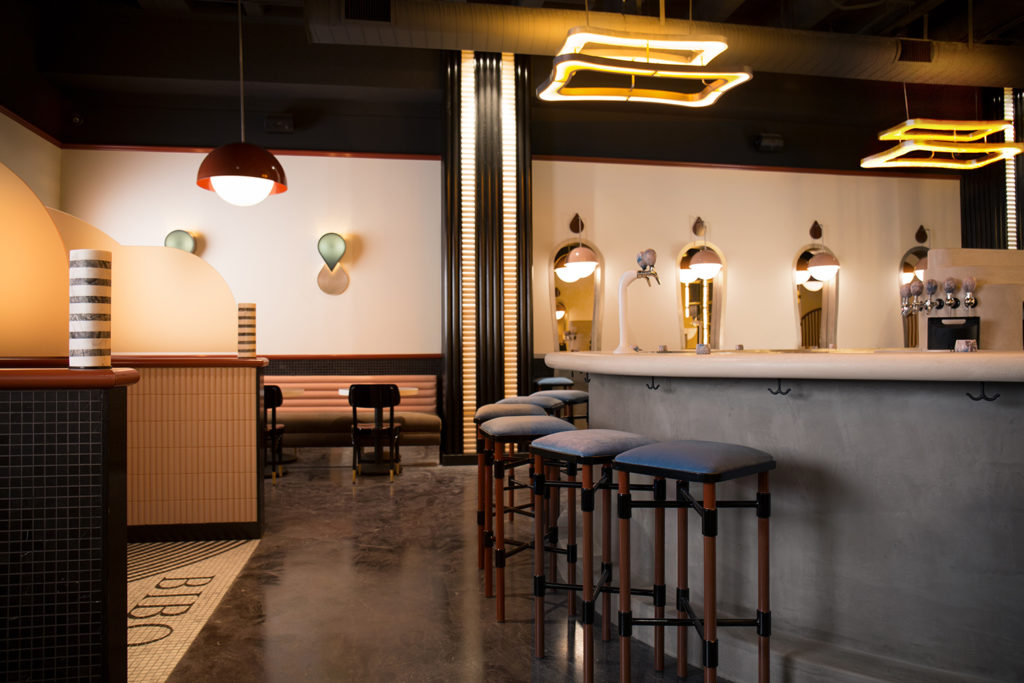 Los Angeles bar Bibo Ergo Sum has eschewed minimalist clean lines for shapes that Ettore Sottsass would have been proud of…
New York firm Home Studios oversaw the interiors, which are decked out in millennial pink, with contrasting blue accents.
'It's Memphis meets Secession,' practice founder Oliver Haslegrave told SightUnseen.
Home Studios drew upon film sets for inspiration, choosing everything from The Graduate to Stanley Kubrick's 2001: A Space Odyssey, as well as film posters, and the design works of Alvar Aalto. Furniture and fixtures in Bibo Ergo Sum, except the chairs, have been designed by the practice, including pink globe-shaped pendants and striking teardrop-shaped wall lights.
Haslegrave adds: 'Everything from the rigid symmetry of the space, to the strict color palette, to the tinted lighting and glass, as well as the blacked out ceiling are meant to create an experience as transportive as a trip to the cinema'.
Squidgy corner banquettes provide enclosed seating areas, marked out by striped wall decorations. The pattern is repeated in sections of flooring, tiling, and in miniature entrance columns, apparently inspired by a trip to the Siena Cathedral. Door arches are emphasised by raised moulding.
The centrepiece of Bibo Ergo Sum – which is on Los Angeles' Robertson Blvd – is a curved grey counter, which displays its bottles on glass shelves lit by tubular lights.
Read next: See some of the best new bar openings across the world