Buckminster Fuller coined the term 'geodesic' dome and popularised them across the US in the postwar period. But dome homes have always been something of a novelty and few come to market.
This 1982 Los Angeles dome home by architect William King has become an architectural landmark comprising earth-sheltered spaces crowned by an innovative 250 sq m 'yurt' dome.
The LA Domestead was used as a creative hub from 2000 and has free-flowing living spaces stacked across three levels. The lowest level is built into the side of the hill, with natural stone rubbing shoulders with poured concrete to create a sleek brutalist space with a raised living area and translucent front.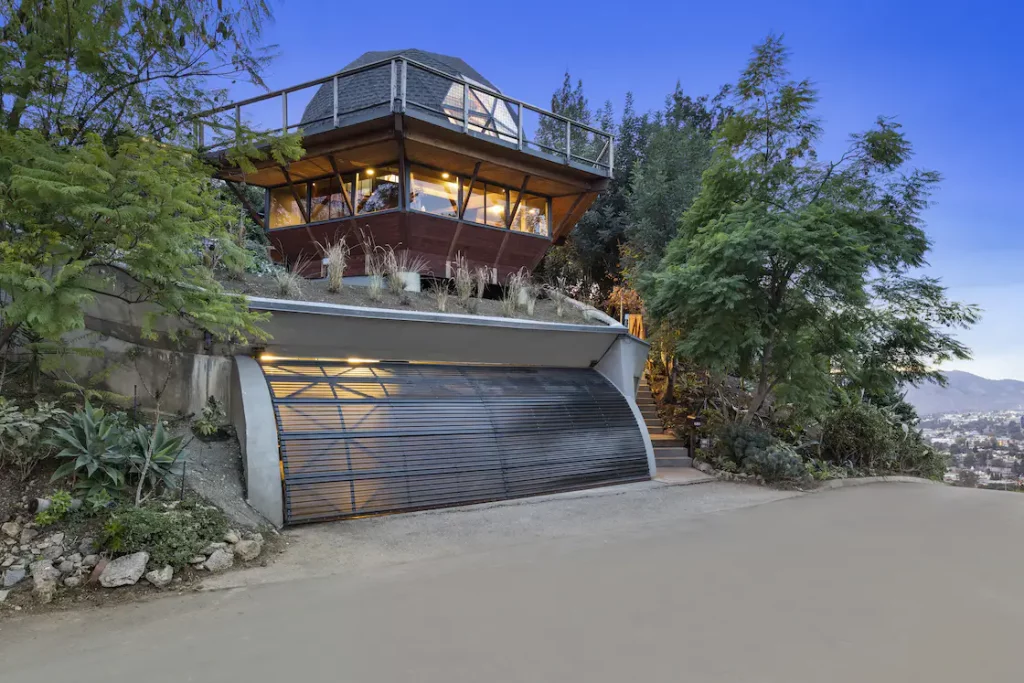 Above is a 'cabin' level which houses the redwood framed kitchen. On top is the heavy-duty canvas geodesic dome, which sits atop a wraparound timber deck, peeking out over the city and the San Gabriel mountains in the distance.
A circular staircase connects the levels and their free-flowing spaces. Rooms are unorthodox in shape, with curved edges and triangular windows. Their use is dictated by feeling and aspects, with 0.25 acres of mature native gardens – planted with low-water succulents and native and fruit trees – enveloping the house and giving it an otherworldly feel.
The two-bedroom Los Angeles property is billed as the 'ultimate artist's retreat' and is listed with Molly Kelly and Susan Irving of Nourmand & Associates.