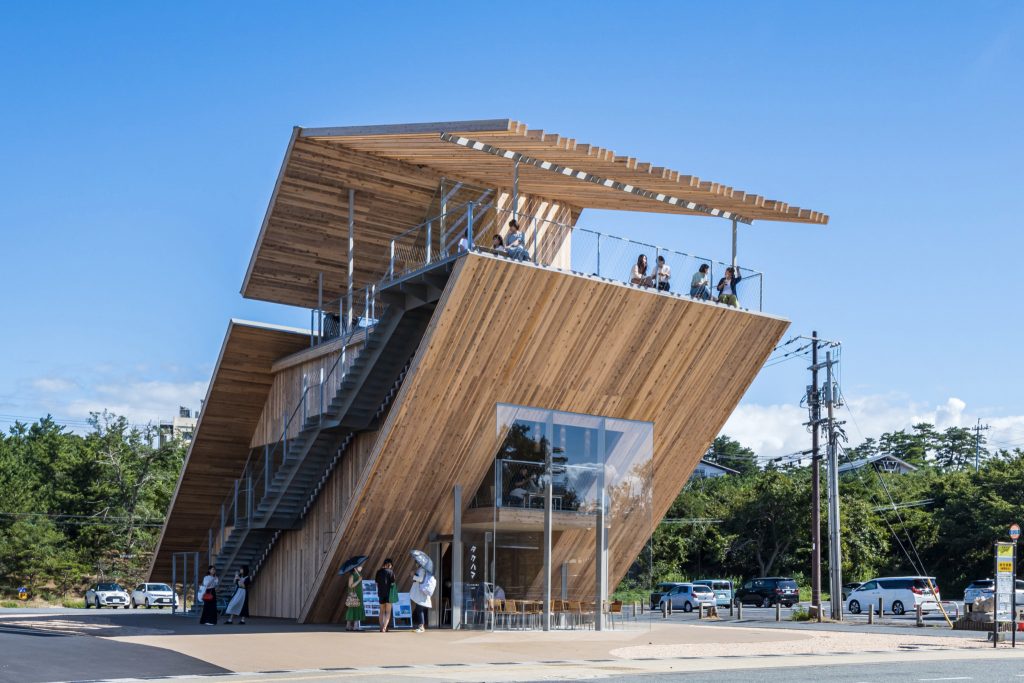 Timber and concrete come together in harmony for a new observatory and cafe overlooking the dunes of Japan's Tottori.
Kengo Kuma and Associates designed the two-storey Takahama Cafe to swoop dramatically upwards, elevating visitors to the perfect spot for views of the city's rolling shorefront – a key draw for tourists to the area.
The cafe is built using cross-laminated timber (CLT), which emphasises the long lines of its sloping roof and echoes the sandy tones and textures of the nearby dunes. It ensures the building stands out amidst the surrounding tarmac of the adjacent roads and car parks.
Kuma tapped into Tottori's reputation for local craftsmanship for the cafe's interiors, installing light pendants made of Washi paper sprinkled with sand and glazed bathroom sinks made by a nearby pottery workshop. The versatility of CLT is also evident inside, where it's been used to create seating as well as an undulating counter.
Visitors reach the upper observatory via a reinforced concrete staircase, with the top floor of the building filled with wooden benches overlooking the shore.
2164 Fukubecho Yuyama, Tottori, 689-0105, Japan