Australian designer Nic Graham drew on the Hunter Valley's industrial heritage and celestial cycles to craft the colourful interiors of hotel QT Newcastle in New South Wales.
QT Newcastle takes over the former David Jones department store on Hunter Mall in the city's East End. The 113-year-old heritage building has been reimagined by Graham – a longtime QT collaborator – retaining its handsome shell and reimagining its interiors through a theme of lunar phases.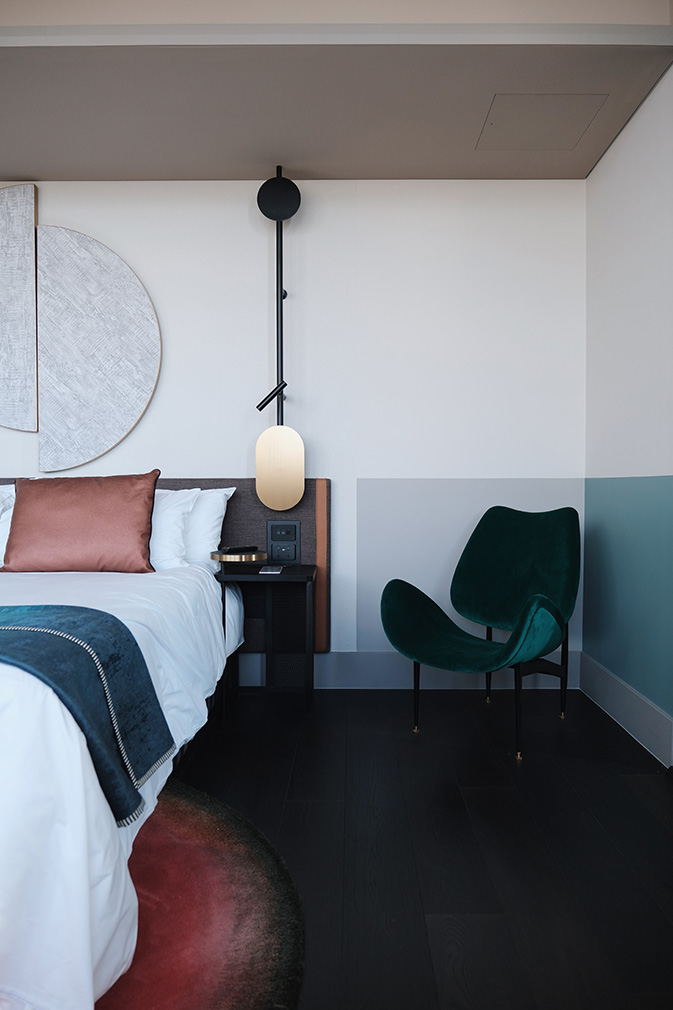 Says the practice: 'The idea behind the moon is the regeneration of the moon cycle and the regeneration of an old heritage building. The many references to the moon and lunar eclipses elevated through playing with light and reflection are among the highlights of the design. We have created a cocooning interior through colour blocking and juxtaposing textures, which evoke the history of Newcastle.'
The Newcastle hotel's 104 bedrooms have renovated floor-to-ceiling windows. The coastline and the city's steelworks heritage,are repped via dusty pinks, sea foam green and aqua bathroom tiles, and red and charcoal colour pops. A stand out space is the Clock Suite, which sits beneath the building's glass dome and has views across the harbour from behind the building's restored clock face.
Each suite features artworks by contemporary Aussie artists, including Susie Dureau, Kate Banazi, Daniel O'Toole and Ryan Hoffman – all curated by Sydney gallerist Sophie Vander of Curatorial+Co.
Michelin star chef Massimo Speroni leads the hotel's restaurant, Jana, which is crowned by tin ceilings and a sculptural moon pendant that hangs above the diners. Up on the ninth floor, Rooftop at QT makes the most of the building's harbour views. Moon-shaped orbs and glistening brass accents illuminate the bar's emerald green interiors.
185 Hunter St, Newcastle NSW 2300, Australia