Winter is here, which means Northern Lights season is upon us.
This spectacular natural phenomenon is dependent on solar activity, meaning predicting how and where you can see the Aurora Borealis is an imprecise science. Your best chance of catching the cosmic light show in all its glory, however, is between January and March, when the nights are at their longest.
They're more commonly sighted closer to the Arctic circle, in northern parts of Canada, Sweden, Norway, Finland and Iceland. Here are eight of the best places to enjoy Northern Lights this season.
Arctic Bath spa retreat in Harads – Swedish Lapland
This floating nest complex by architect Bertil Harström and Johan Kauppi is set to open in spring 2019 and is anchored on the Lule River, 30 miles outside the Arctic Circle. Sauna and treatment rooms circle a central cold-plunge pool, while bedrooms are set across in six outlying cabins. Starting from £505 per night, they sleep two and are designed with couples in mind. Interiors are pared back to the very basics: expect a wood-burning stove, a bed and skylight for star-gazing.
7th room, The Treehotel in Lapland, Sweden
Lapland's Treehotel was set up by Kent and Britta Lindvall in 2010. The couple has commissioned a slew of Scandinavian architects to design each of the seven treehouse suites, including Snøhetta, whose '7th Room' is the tallest to date, sitting 10 metres above the ground.
Up to five guests can stay at 7th Room, which has a large living room and two double bedrooms. Beds have been sunk into the floor beneath skylights so guests can look up at the night sky – and capture a glimpse of Aurora Borealis.
Kakslauttanen Arctic Resort in Lapland, Finland
Kakslauttanen Arctic Resort is a hotel with a difference – its 'rooms' are actually glass-roofed igloos. The structures can sleep two people and are bedded into the snow, which helps provide privacy inside the transparent pods. While they're pretty 'no frills', each has a toilet, and a separate building houses showers and saunas. The glass igloos can be booked from 24 August until the end of April, priced from around €621 per night.
Fordypningsrommet Retreat in Fleinvær, Norway
Sitting within the Arctic Circle, Fordypningsrommet is the world's 'northernmost' creative retreat, founded by jazz musician Håvard Lund. He enlisted TYIN Tegnestue Architects and their mentor Sami Rintala to create a cluster of cabins which they've embedded into the rocky landscape of the Fleinvær archipelago.
Clad in Kebony wood, the arctic cabins sit on angled steel feet, and include among them a sauna, kitchen house, studio, bathhouse and a 'tower for big thoughts'. Artists can apply to stay for free, but regular joes can expect to stump up around 30,000 NOK per week for a group of 12 people and have the island to themselves…
5 Million Star Hotel in Reykholt, Iceland
Iceland's 5 Million Star Hotel lets you star-gaze from the comfort of your bed. The futuristic retreat comprises five transparent 'bubbles' – dubbed Una, Asta, Thorunn, Valdis and Maria – that are dotted across a wild stretch of woodland, a 90-minute drive from Reykjavík.
The bubbles are inflatable, and a noiseless ventilation system keeps them warm throughout winter. Each dome sleeps two people, with prices starting from IKS 28,900 to 29,900 per night.
Fogo Island Inn in Newfoundland, Canada
Canada's Fogo Island is a rugged patch of land and something of an architect's playground – dotted with beautiful art studios designed by Bergen-based architect Todd Saunders. Back in 2013, Saunders also designed Fogo Island Inn, a 29-bedroom hotel that sits on stilts close to the island's dramatic rocky coastline.
The X-shaped building is set over four storeys and features two intersecting volumes which are clad in timber. An art gallery, library, cinema, gym, dining areas and meeting rooms are tucked into the smaller end of the building, with bedrooms – which start from $1,675 CAD per night – peering out to sea from the other.
Manshausen Island Resort in Norway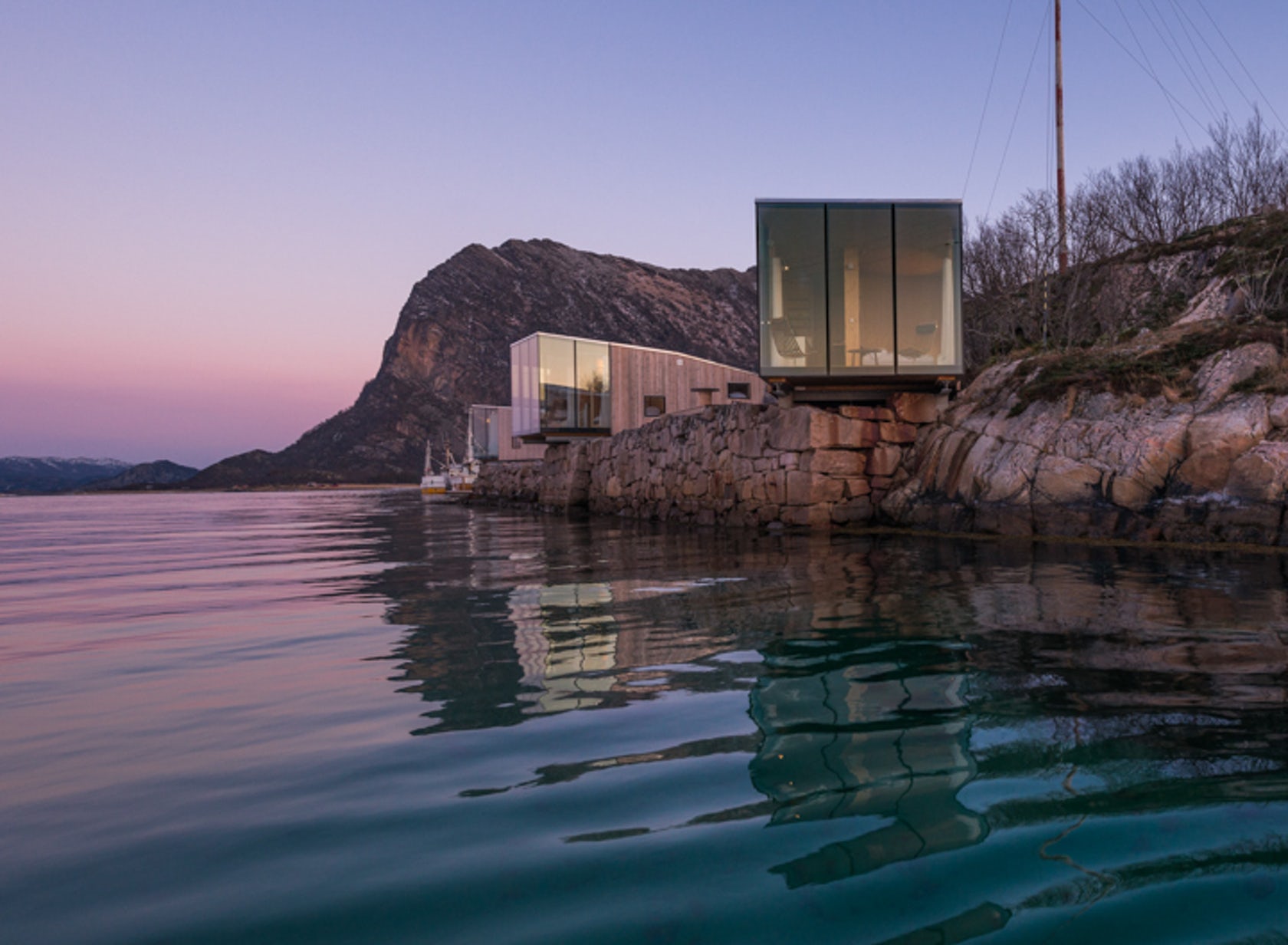 Architect Snorre Stinessen designed the Manshausen Island resort in 2015 for polar explorer Børge Ousland. It comprises a string of timber cabins that teeter above the sea, with views of the Lofoten mountains framed by floor-to-ceiling glass. The cantilevered cabins sleep 2-4 people and are clad in larch, which will take on a silvery hue as it ages. Inside, floors, walls and ceilings are all made with pale wood. Manshausen is a favoured spot with Northern Lights hunters, and bird watchers: the island is home to a thriving group of sea eagles.
Ocean Sound Recordings in Giske, Norway
A favourite with musicians looking to get away from the bustle of the city, Ocean Sound Recording is perched on the northern edge of the island of Giske in Norway. It comprises two green-roofed timber cabins – booked with price on application – and the bolt holes have four bedrooms between them, as well as two recording studios, and a communal living room with ocean views. Artists running dry on inspiration can step out of its front door and see the Northern Lights swirling overhead.
Read next: 8 havens for artists, writers and musicians