Early American and modern styles merge at this New York farmhouse, which has a cantilevered, creek-side veranda that appears to 'float' over the surface of the water.
The 1820s Floating Farmhouse was rebuilt by Tom Givone who is known for his experimental period renovations. The American designer/architect has introduced concrete, glass and steel elements to the historic New England-style house while exposing parts of its structure to create luminous, airy spaces, which have been styled by Juliette Hermant of Maison Bergogne.
The 3,400-sq ft Catskills property sits in a forest clearing within an 8.69-acre parcel of land in Sullivan County and is for sale via Esteban Gomez / @TheCreativesAgent and Annabel Taylor of Four Seasons Sotheby's International Realty for $2.875m.
In its cathedral-like kitchen, a glass-and-steel gable wall frames views of the winding creek. Meanwhile, hand-hewn timber beams, polished concrete flooring and a rusted steel column (complete with a woodburning pizza oven), hand-bathed in acid over many months to create a rich patina, add texture to the space. Glass doors flow onto the veranda, which has ample space for soaking up the views, nature and reflections.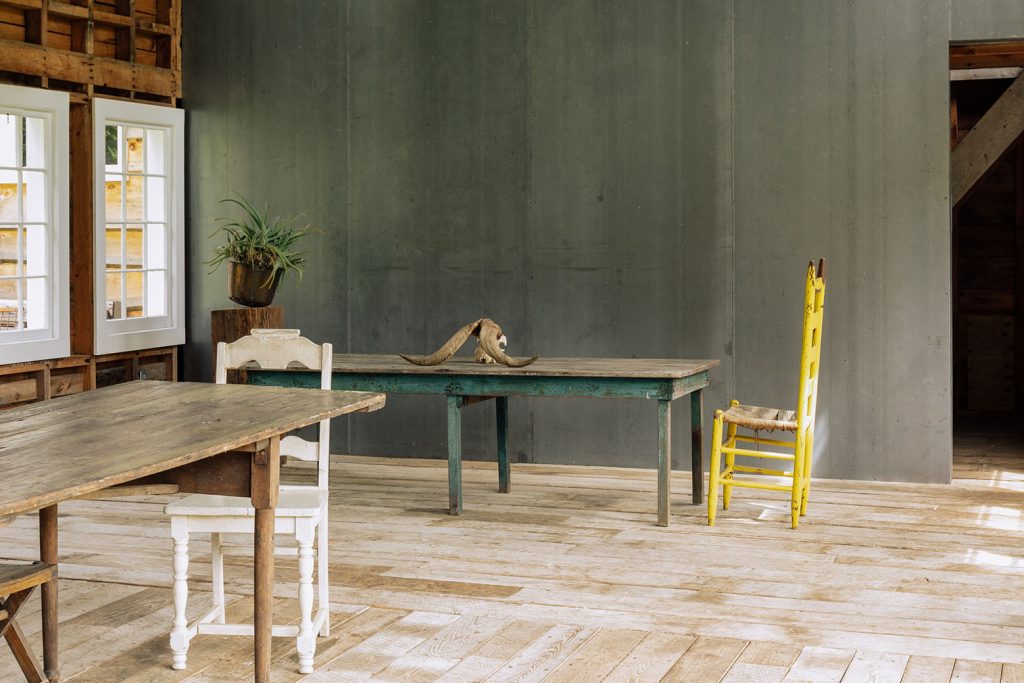 Also on its idyllic grounds is the 'MacBarn' – a party barn reimagined with translucent panels of anodised aluminium (most commonly used for Apple Macbooks) – a swimming creek and waterfall, open fields, apple orchards and a virgin pine forest.
Take a tour in the gallery above.