Modernist architect Arthur Degeyter originally designed this Bruges loft for his fashion designer daughter Frieda Degeyter, who gave its interiors a 1970s-inspired makeover.
Known as the De Clerck factory, the building dates from 1928 and was a tinplate printing and painting factory in the pre-war period. The industrial, central Bruges complex was converted to residential lofts in 1999 but retained its original structure and material palette. And its colossal shed roof, complete with iron trusses, lattice girders and a red brick chimney, still looms large.
Living spaces spread beneath the roof, inset with north-facing glass sections. They illuminate the cathedral-like living room and dining room, which opens onto a leafy courtyard oasis and is decorated in a 1970s style, with an 'optical conversation pit' and colour blocks that extend up the white-washed walls.
Half-height walls also help maintain the sense of volume and light across the space while providing privacy.
A gigantic extractor hood hangs above the kitchen island – recovered from the factory and a nod to its industrial past. Meanwhile, the bathroom and bedrooms are housed in a more enclosed, private area at the front of the Belgian property.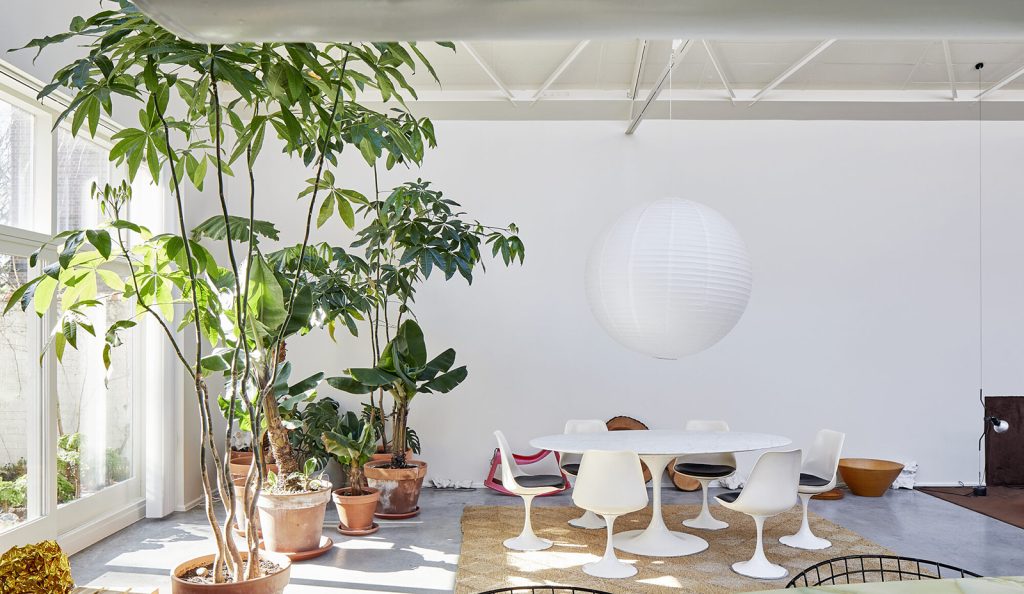 The Antwerp Fashion School graduate has been collecting furniture for decades, and rooms are filled with iconic design pieces by Le Corbusier and Saarinen.
"I am not averse to a bit of kitsch and I am fond of a kind of ugliness as a counter-reaction to perfection,' she told De Morgen in an interview prior to listing the Bruges property with Architecten Woning for €925,000.
'I like to combine mismatched furniture or take objects out of context. Every interior needs an eye-catcher. Just look at my homemade wig lamp that was given a prominent place in the sitting area. He is so ugly that he becomes beautiful again. But the filtered light is super cozy.'