Want a chance to snoop around the homes of the rich and famous? Mexico City's house museums give visitors the opportunity to explore the dwellings of late actors, artists, architects and even political exiles to see how they lived and where they slept, cooked and relaxed.
Architecture lovers will find plenty of inspiration behind the walls of these homes, which range from 16th-century haciendas and early Functionalist buildings to the 'emotional architecture' of Luis Barragán.
Frida Kahlo's Blue House
You can wander the lush gardens within the blue walls of the artist's home and explore her studio, kitchen and bedroom. Kahlo's love, pain and myriad of inspirations come alive in the Blue House. Despite the artist's huge character, you might be struck by her tiny four-poster bed, on which her death mask lays.
Londres 247, Del Carmen, Coyoacán, 04100 Ciudad de México, CDMX
The houses of Luis Barragán
Across the city, there are a number of houses designed by revered Mexican architect Luis Barragán. Casa Barragán in the Tacubaya neighborhood is where the architect lived and worked.
In the nearby area of San Miguel Chapultepec sits the brightly coloured, Casa Gilardi, Barragán's final completed project, while further south is Casa Pedregal, where Barragán incorporated the volcanic landscape of the area within the architecture. All of these houses can be visited by appointment.
Casa Barragán: General Francisco Ramírez 12-14, Ampliación Daniel Garza, 11840 Miguel Hidalgo, CDMX. Casa Gilardi: Calle General Antonio León 82, San Miguel Chapultepec I Seccion, 11850 Ciudad de México, CDMX. Casa Pedregal: Avenida de las Fuentes 180, Jardines de Pedregal, 01900, CDMX
Diego Rivera and Frida Kahlo's House and Studio
In one of the first Functionalist buildings in Latin America – designed by Mexican-Irish architect Juan O'Gorman – Diego Rivera and Frida Kahlo lived and worked in two seperate houses divided by a bridge. Kahlo resided in the blue side of the house for six years until she discovered Rivera's affair with her sister and moved out to live alone in the centre of the city. Rivera, however, remained living in the house until his death in 1957. Diego Rivera and Frida Kahlo lived and worked in separate spaces that were connected by a walkway. Visitors can cross the bridge to follow Rivera and Kahlo's footsteps.
Calle Diego Rivera s/n, San Ángel Inn, 01060 Álvaro Obregón, CDMX
Leon Trotsky Museum
Leon Trotsky came to Mexico in exile, living first with Rivera and Kahlo at their Blue House. But it wasn't long until Trotsky and Kahlo's affair caused a split with Rivera, prompting Trotsky and his wife to seek out their own home in Mexico City's Coyoacan neighbourhood. The front façade of the building – now a museum – is painted a socialist shade of red. Bullet holes from assassination attempts can still be seen in the walls and Trotsky was ultimately killed in his study in 1940. The couple's ashes are encased in a tomb in the backyard.
Río Churubusco 410, Del Carmen, 03340 Benito Juárez, CDMX
Dolores Olmedo Museum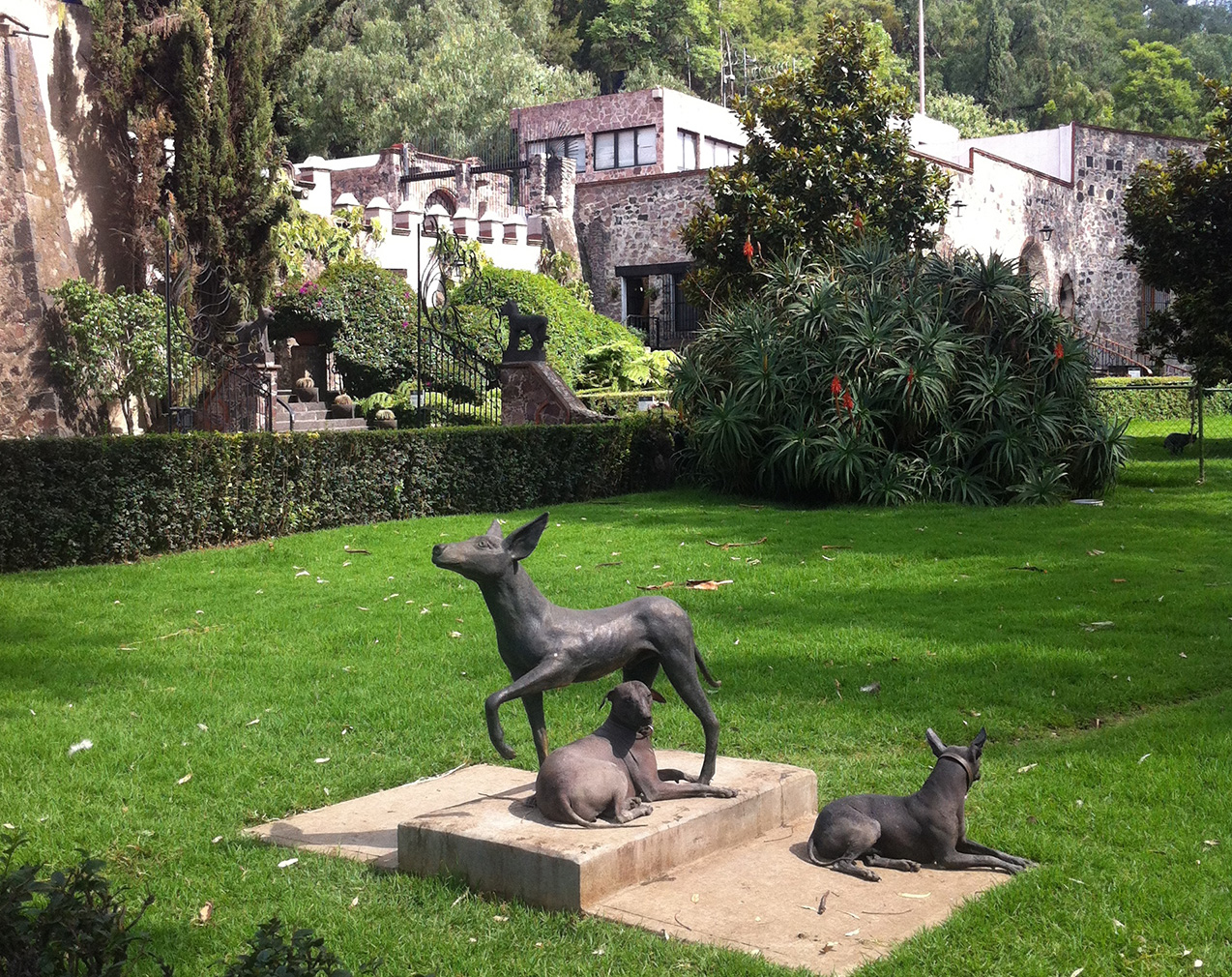 Far south in Mexico City – in the neighbourhood of Xochimilco – lies a 16th-century stone hacienda that was once the home of Dolores Olmedo. The art lover and businesswoman was a great friend of Diego Rivera and her collection boasts pieces by both Rivera and Kahlo, Russo-French painter Angelina Beloff, as well as popular art pieces in ceramic, wood, tin, lacquer and papier-mâché. The lush grounds are also home to numerous Mexican hairless dogs and colourful peacocks.
Av Mexico 5843, La Noria, 16030 Ciudad de México, CDMX
Casa de Emilio 'El Indio' Fernández
The house of iconic Mexican actor Emilio 'El Indio' Fernandez – designed by architect Manuel Parra – is especially worth visiting during the Mexican festivities of Day of the Dead, when it is decorated with altars to different film stars and artists.
Baptismal fonts and religious statues salvaged from Puebla convents also dot the space. The actor's home itself was built in mid 20th century from volcanic stone.
Calle Ignacio Zaragoza 51, 04010 Ciudad de México, CDMX
Robert Brady Museum
Just outside of Mexico City, in Cuernavaca, is the home of American artist and collector Robert Brady. Once part of the monastery within the Recinto de la Catedral, the house is a vibrant testament to Brady's larger-than-life personality, filled with artefacts collected from all over the world.
Rooms are festooned with carvings, textiles, antiques and folk arts, as well as pieces by the man himself.
Netzahualcóyotl 4, Centro, 62000 Cuernavaca, Mor.
Read next: 12 incredible artists' homes you can visit across the world