The alpine aesthetic used to mean rustic plaids, shaggy sheepskin and knotted pine. But these days, designers are using the chalet as a testbed for a new type of mountain minimalism.
This trio of ski chalets, for rent in Europe, offers the best of minimalist mountain living without all the fuss.
Nossenhaus in Andermatt, Switzerland
4 bedrooms (sleeps 14); from 3,100 FR for seven nights
London-based practice Jonathan Tuckey Design transformed a dilapidated building in the Swiss Alpine village of Andermatt into minimalist chalet Nossenhaur. The structure dates back to the 1620s when it housed animals and people alike across its ground floor stables and cramped attic rooms. Tuckey's team stripped the building back to its bones to craft its contemporary, pale wooden interiors and reconfigure the space.
Rustic, historic beams cross the chalet and have been paired with contemporary furnishings and new timber surfaces. Windows have been updated, framing views of the town's cobblestone streets, and the practice also installed a 'celestial' pine balcony that offers views of the mountains. It's designed to weather over time and will blend with the historic structural elements.
Maison Hiltiti in Lorraine's Ballon des Vosges Regional Park, France
5 bedrooms + dormitory (sleeps 16); from €430 per night direct 
Atelier Ordinaire took inspiration from the shapes and forms of Lorraine's agricultural architecture to design Maison Hiltiti – a minimalist chalet in the Vosges mountains. Maison Hiltiti comprises three volumes, clad in larch to blend with its wooded hillside plot. Seemingly random windows dot its facade, framing specific views of Lake Géradmer.
A sauna and utility rooms occupy the first floor, with living spaces stacked above, all finished with cross-laminated timber interiors. From floors and ceilings to fixtures and cabinetry, everything is made from pale wood with the exception of the bathroom and some tiling in the bathroom, and modern furniture continues the sleek, minimalist mountain vibe. Five bedrooms – each with its own en-suite bathroom – and a six-person dormitory fill the third volume.
Ferme Fougere in Saint-Gervais-Les-Bains, French Alps
6 bedrooms (sleeps 16); from €1,351 per night via Le Collectionist
Modern rustic; that's the trappings of converted farmhouse Ferme Fougere which lies in the foothills of Saint-Gervais-Les-Bains in the French Alps. The mountain chalet takes over a dilapidated cheese farm, which has swapped rustic plaid for polished concrete and natural finishes. There's still plenty of timber on offer – albeit with a sleek twist. The original timber staircase is intact while modern additions, including a granite block island in the kitchen, and organic coloured furnishings, feel plucked straight from a city loft.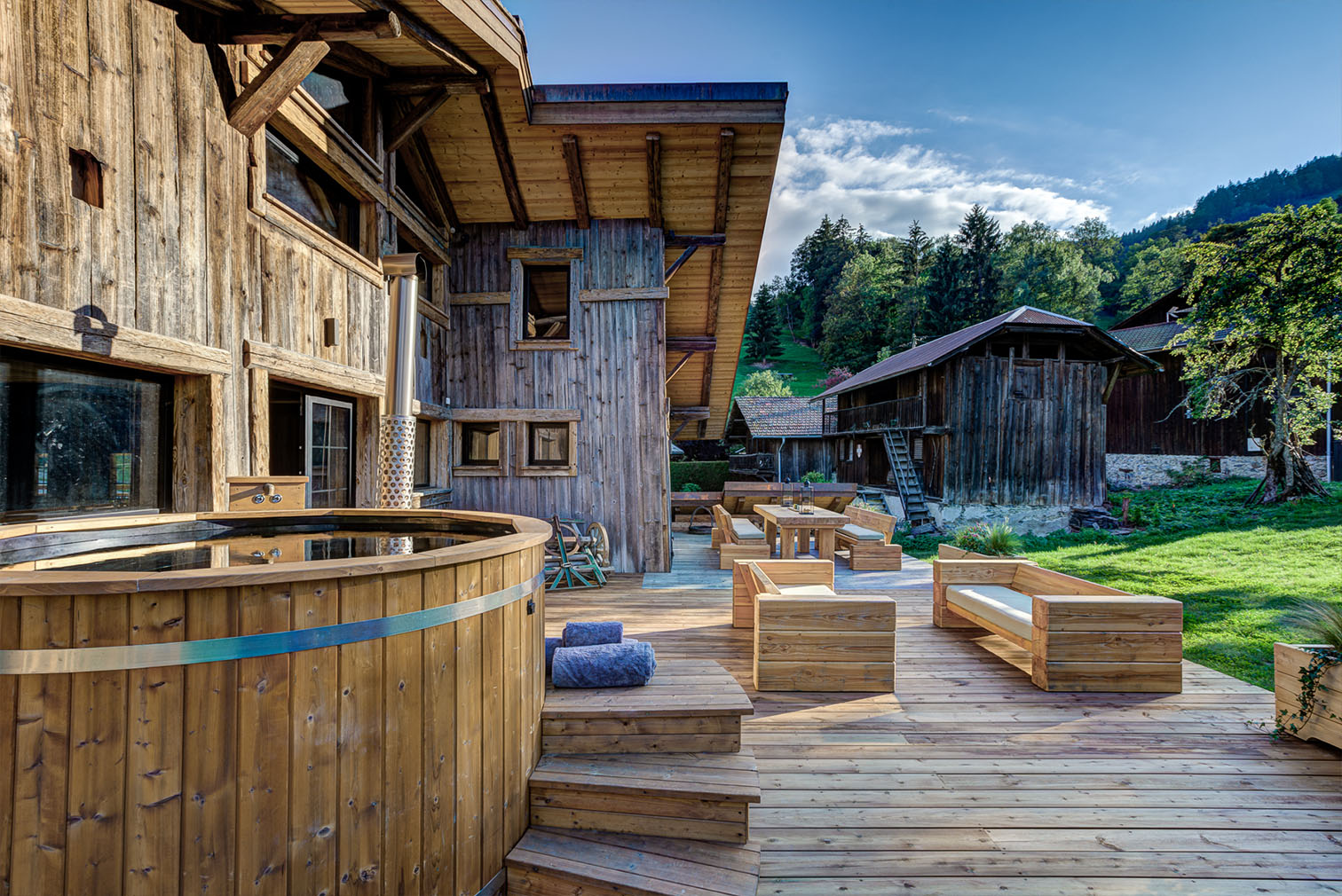 Views of Mont Blanc can be spied from windows across the French chalet, which also comes with its own Norwegian wood-fired hot tub in which to soak after a long day on the slopes. Take a closer look.