In a gallery above an ancient temple dedicated to the Roman god Mithras, 28 vessels dangle from the ceiling. They've been collected over the past year by British artist Oliver Beer, creator of immersive installations that highlight objects and ambient sound. Each Jasperware vase and commemorative coronation cup – all originating in Britain, or Albion as it was once known – has a story. When moulded together, they tell a longer narrative of the nation's history of craft.
The oldest ceramic amphora, at 2,000 years, comes from Beer's home county of Kent. One weighty spirit jug was produced in the same factory where Charles Dickens worked as child. The most contemporary are by father and daughter ceramicists Chris Bramble and Freya Bramble-Carter. 'It's really nice for me to have the end of this story as one of the passing down of this material-making culture,' says Beer.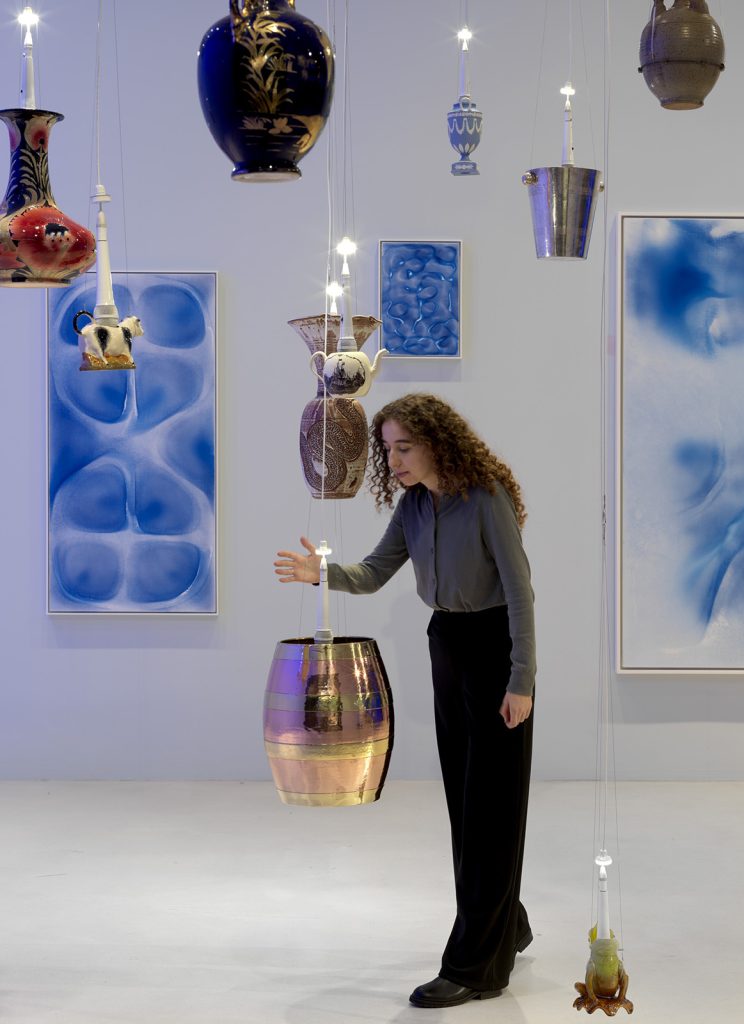 Welcome to Albion Waves, a small but powerful exhibition at the London Mithraeum's Bloomberg Space until July. Bathed in Delft-blue light and hanging at different heights, the vessels are beautiful to look at individually and as a collective whole. Yet there's more to their display than pure linear storytelling. Beer has equipped each hanging piece with a microphone and motion sensor, so when a visitor passes through, the muffled whispers that naturally emanate from such objects (think of a conch shell held to your ear) are piped through speakers into the space. The amplified sounds resemble the moans produced by a moistened finger on the rim of a wine glass.
The effect is that of a conversation, however eerie it might sound. The items on display converse with the viewer, converse with one another and converse with the pottery fragments on permanent display down the hall – discovered while excavating the 3.2-acre Bloomberg building a decade ago. Beer, who studied music alongside visual art and film, goes so far as to say they sing. 'There's a fundamental relationship between form and music,' he says. 'Music has physical form.'
There's even more to see, in a suite of canvases Beer has crafted by dispersing powdered blue pigment with the force of sound waves from his vessels. The patterns created by the pulsating 'music' resemble grey matter and rippling water. Beer devised a special way of adhering the pigment to the canvas, but won't reveal it. He prefers to let his work speak for itself.