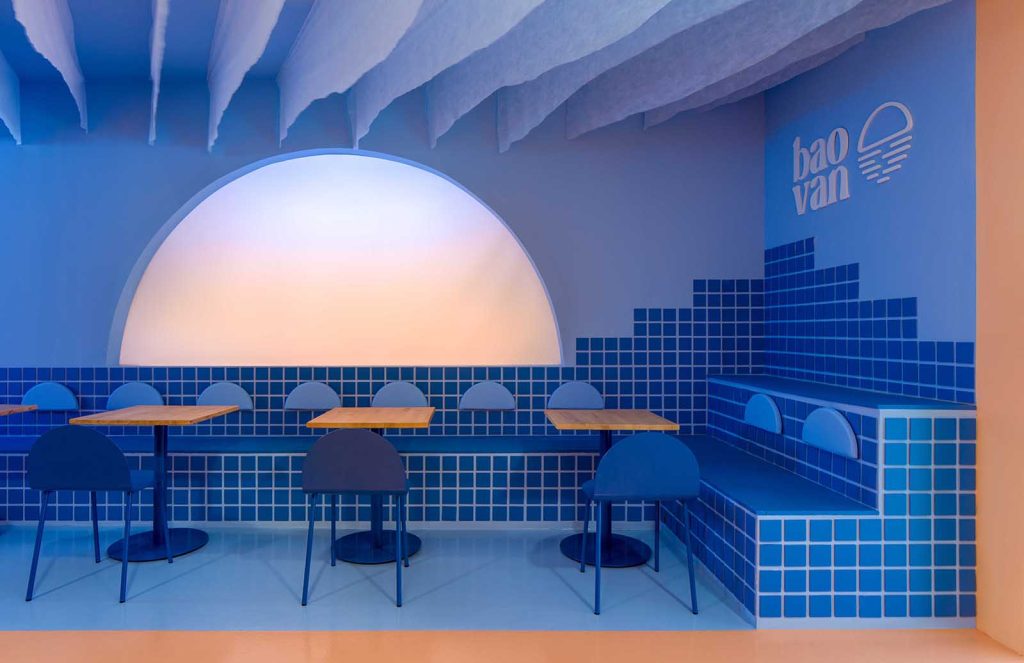 Valencia restaurant Baovan brings that end-of-day glow indoors, with a light installation that mimics the experience of watching the sunset from the beach.
Clap Studio designed the space – located on Carrer del Pintor Salvador Abril – using deep blues and sandy pinks to evoke trips to the seaside. The effect is emphasised by curving fabric ceiling strips, which resemble the crests of waves.
Although the restaurant – which serves bao buns stuffed with shrimp, pulled pork and duck – is windowless, a strategically placed lighting installation keeps away the gloom. The half-moon-shaped piece is designed to cycle through the many colours of the sunset, mimicking the natural rhythm of the sun. Its form is echoed by chairs and cushions which are also shaped like a crescent.
For a more 'underwater' experience, diners can head to the tropical green section of the restaurant, which is hung with long ropes resembling fronds of seaweed.
Valencia is currently the 2022 World Design Capital – see more things to explore in the city.
Carrer del Pintor Salvador Abril, 22, 46005 València, Valencia, Spain