It's said that all modern cars 'look the same' as they vie to maximise mileage and aerodynamic efficiency. Not so with this one-of-a-kind motor car, fabricated out of wood and up for auction next month.
The Hustler DIY kit car was designed in the 1970s by William Towns (who also created the Aston Martin Lagonda). However, fewer than 400 were ever built, and most were constructed in fibreglass. Retired woodwork teacher and former Rolls-Royce engineer John Brazier turned to a more familiar material when creating his six-wheeler. He made the body and its interiors out of wood, right down to the steering wheel and gear knobs.
'It's like something from Thunderbirds', says auctioneer Andrew Stowe, who's handling the sale of the unique automobile at Auctioneum's fine art, antiques and classic cars sale in Bath on 1 September 2023.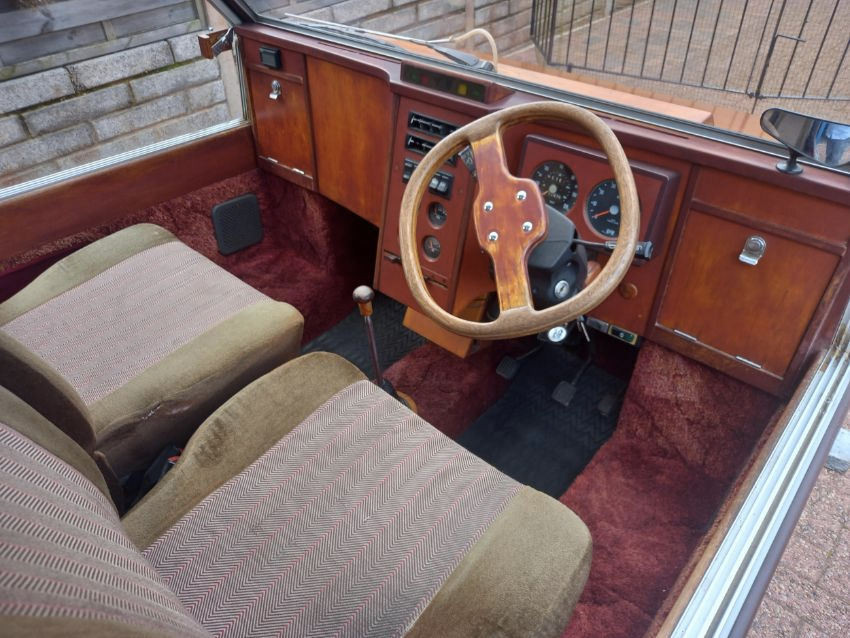 The Guardian says its huge glass windows and buggy-like frame means locals nickname it 'The Popemobile'.
Brazier, who worked on the supersonic jet plane Concorde in the 1960s, built the car with water-resistant ash plywood and has a 1.3l Austin Allegro engine under the bonnet, Mini wheel subframes and seats for eight people. He completed the car in 1988, using it as the family car for 13 years and telling the newspaper it can do 'well over 60mph'.
The Hustler is expected to fetch between £2,000-£3,000  at auction and guarantees to be a conversation piece for whoever buys it.