The Modern House is offering a rare opportunity to own a London mews house with approved plans for a complete internal remodel by architect Felix von Bechtolsheim. The current house unfolds across 81 square metres; after the remodel it would extended to nearly 110 square metres across three floors.
The plans would add a lower ground floor and reconfigure the existing footprint to introduce an east-facing courtyard.
The mews is a quiet cobbled street within the Bayswater Conservation Area, with façades of London stock brick and deep windows. In spring wisteria blooms run along the terrace.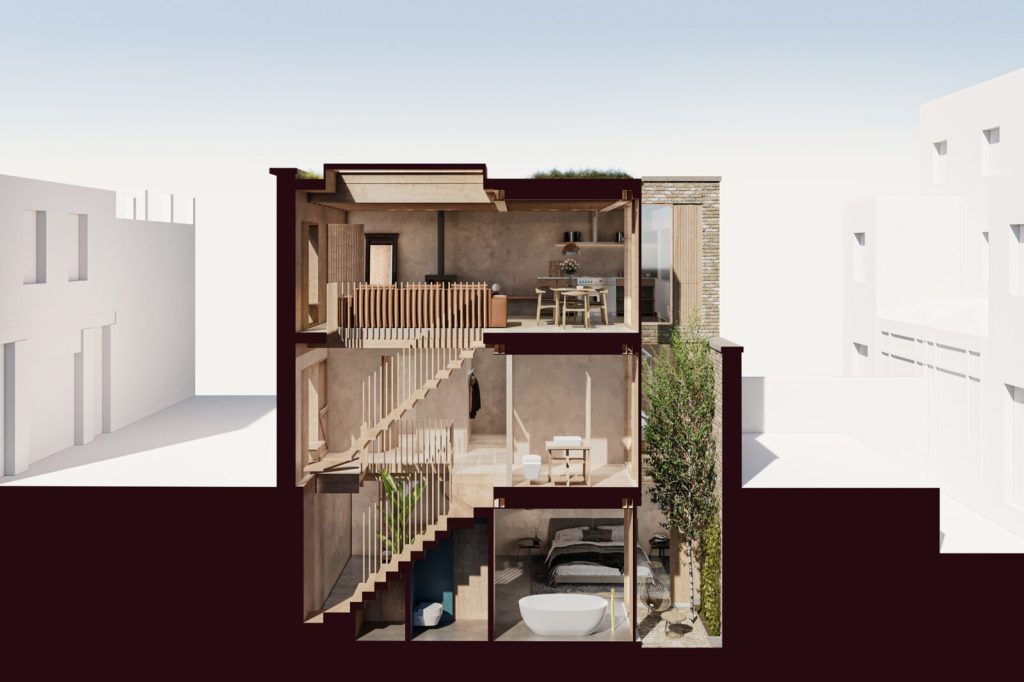 The proposed plans would transformation the space into a three-storey home anchored by an inset courtyard carrying light throughout the property. Materials like birch-ply and polished concrete establish a textured palette that will run seamlessly through the house. A bespoke stairwell, bound by thin wooden louvres, will snake through the house beside the courtyard, rising to the open-plan kitchen and living room on the first floor.
Wood-framed windows, partially screened with bespoke shutters, will provide a balance of natural light, ventilation and privacy.
The ground floor would house a double and single bedroom flanking a coat room. The lower-ground has been envisaged as a suite with an expansive double bedroom overlooking the rear courtyard and a dressing room leading to a bathroom.
Just a few streets away from Hyde Park and Portobello Road, the property is currently on the market for £1.35 million.