Be transported to a tropical rainforest with a fairytale twist at Amsterdam's Secret Garden, where Nikkei dining meets mixology.
Local studio TooManyAgencies has designed lush, maximalist interiors for the townhouse eatery and bar on Amsterdam's Canal Ring, owned by club impresarios Mike and Roy Poppe. Its layered look emulates a forest canopy and mixes glowing hot hues with rich chintz, leopard prints with plush seating. The effect is a cross between a Victorian collector's home and a decadent nightclub.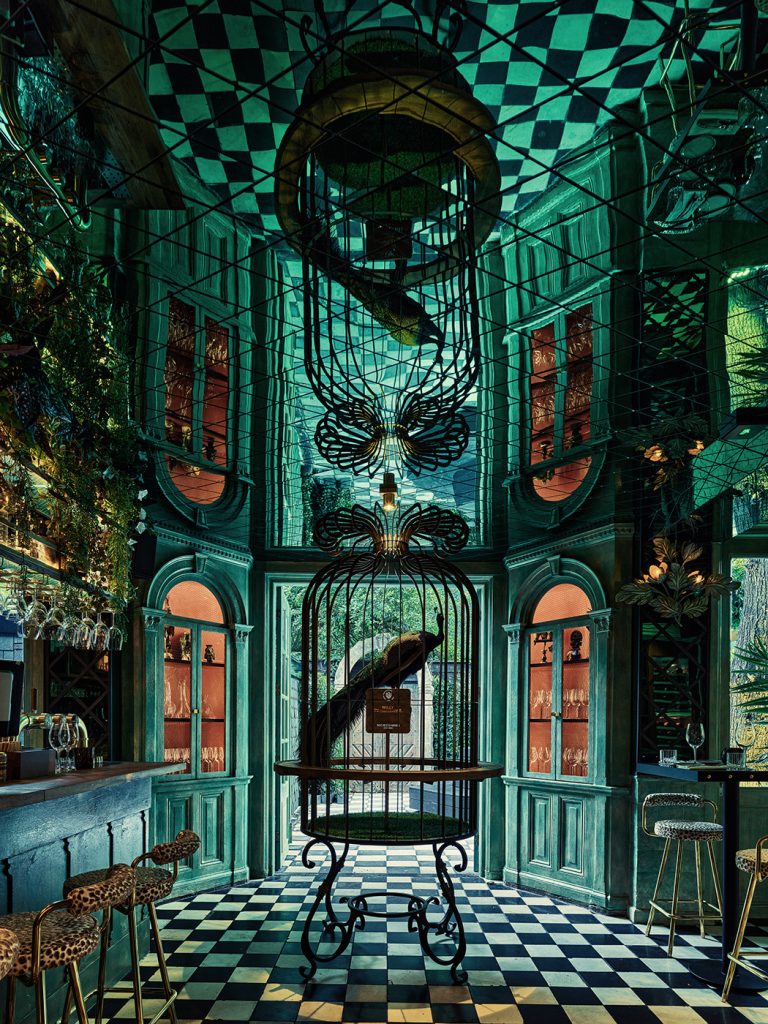 The main bar is back-lit with cut-metal leaf motifs interspersed with hanging plants. Botanical and bird murals line the walls while the curvy bar canopy is topped with glass and moulded metal, resembling a fish tank. The adjoining bar has chequerboard flooring and a caged stuffed peacock, surreally reflected in the mirrored ceiling. In the women's loos, one cubicle contains two toilets.
Over in the orangery-style restaurant, delicately crafted Japanese-Peruvian flavours are served in surroundings with upholstered bespoke seating and glossy tables. Along its main wall is a large, illuminated cabinet filled with Peruvian trinkets – finding them involved a six-month search. Rows of glass doors with greenery-festooned arches and a framed-glass ceiling enclose the cosy space.
All rooms led to the aforementioned secret garden, an Italian-style courtyard with shell-like wrought-iron seating, a pergola and mirrored trellis walls. The vibrant look matches the menu, which offers showstoppers like Japanese Wagyu with king bolete mushrooms and pickles, and grilled half lobster with corn crème, garlic and sea lavender. The cocktail list includes a Toyko mule and Mezcal Paloma.
Reguliersdwarsstraat 38-40, 1017 BM Amsterdam.