There's a lyricality to the design of this 1935 art deco home by architect Peter Harland, commissioned by famed British composer Arthur Bliss as his family's country retreat.
Pen Pits sits on the border of Somerset, Wiltshire and Dorset and hosted the Blises and their influential group of friends, which included writers, artists and other musicians. It's had just three owners in its lifetime and has been exquisitely preserved through the decades by its careful custodians.
The 'service' areas of the main 2,640 sq ft house – namely the kitchen, pantry and utilities – are set within the north side of the property. At the same time, the living room and shared spaces have a southern aspect, looking onto the gardens. The dining room has curved windows to take in the views and opens directly onto a large terrace.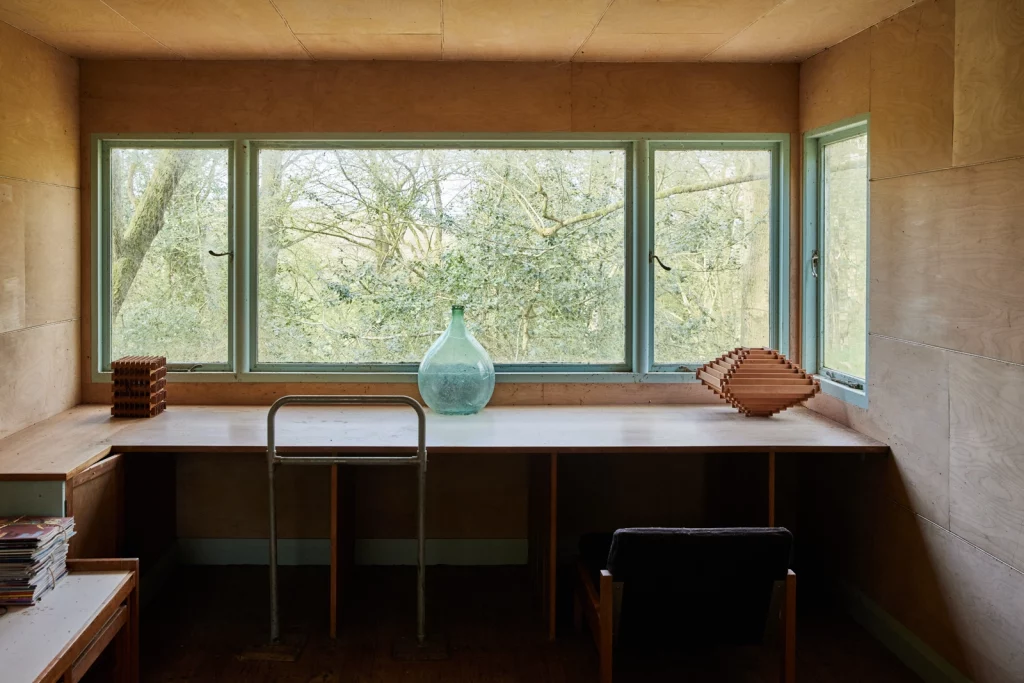 Its sunken living room has full-length windows overlooking the gardens, towering ceilings, and a colossal red brick fireplace with a working fire.
Breaking away from the monochrome art deco archetype, rooms across the Somerset property embrace colour through bold blocking that's of its time but also on trend – think inky blues, reds and grassy green pops of colour. Brick fireplaces, cabinetry, doors and lighting fixtures are original too.
Unusually, the property holds not one but two Historic England designations – the second being Bliss's woodland music room, which is located just 90 metres north of the main house.
And though it feels like a world unto itself, the house is seven miles south of Bruton, famous for its art galleries and restaurants. Stourhead is even closer.
While asking for £2.95m, the Grade -II* listed Somerset property will need some modernising, says agent The Modern House. However, you get a lot of bang for your buck: it's enveloped by 25 acres of woodlands and gardens. It also includes a four-bedroom guest cottage with gardens west of the main house (with a separate driveway).