Architecture has always been a powerful way of helping worshippers connect with their faith – with churches and cathedrals often extravagant manifestations of these beliefs. While opulent interiors and intricate exteriors have traditionally been de rigueur for houses of prayer, contemporary architects are helping to push forward a new visual language for religion.
We've picked seven churches that are designed to exalt the soul and soothe the spirit in an increasingly secular age.
Church of St Wenceslas by Atelier Stepan, Sazovice, Czech Republic
'I believe there is something or better Somebody behind the material world. In Sazovice I tried to find it through the volume and defined space,' says architect Marek Jan Štěpán, of his cylindrical Church of St Wenceslas. The rotunda harnesses the power of the circle as a 'divine symbol', rather than the 'worldly rectangle', and has a strictly minimal interior. Churchgoers looking to bask in the grace of god can experience a direct connection, through a pyramid-shaped aperture in the ceiling that bathes worshippers in light.
Church of Santa Monica, by Vicens + Ramos, Madrid, Spain
Vicens + Ramos took a sculptural approach to this bright orange house of prayer in Madrid. Constructed from Corten steel, and dotted with windows of different shapes and sizes, the Church of Santa Monica wouldn't look out of place on a sci-fi film set. The studio describes it as 'an explosion, frozen in an instant after detonation', with its irregular exterior jutting out at all angles and creating shafts of light inside the building.
Reading Between the Lines, by Gijs van Vaerenbergh, Limburg, Belgium
This barely-there chapel by Belgian studio Gijs van Vaerenbergh questions just how tangible a church needs to be. Although it has the classic cross and spire structure, the 10m-high building melts away when seen from certain angles – becoming almost transparent, despite its substantial 30 tons of steel and 2,000 columns.
Autobahn Church by Schneider Schumacher, Siegerland, Germany
Schneider Schumacher's Autobahn Church is an architectural version of the white church symbol found on German road signs. Located on one of the country's busiest motorways, this house of prayer is designed for those that want to practice their faith on the go. Once inside, worshippers are wrapped in wooden lattice work and warm natural light. 'The exterior is abstract; the interior is warm, friendly, magical and sacred, transporting you to a different world,' architect Michael Schumacher told Dezeen.
St Luke the Evangelist Catholic Church by Neumann Monson Architects, Iowa, United States
Neumann Monson Architects didn't need to reach for the heavens with this long, low Iowa church, choosing instead to blend agrarian architectural vernacular with typical church features – including east-facing, gothic arched windows. 'The building honours Catholic traditions through the use of light, procession, form, and materiality,' explains the studio. Church-goers are surrounded by weathering steel and local limestone, with walls designed to 'embrace the congregation' and fill the space with daylight.
St Moritz by John Pawson, Augsburg, Germany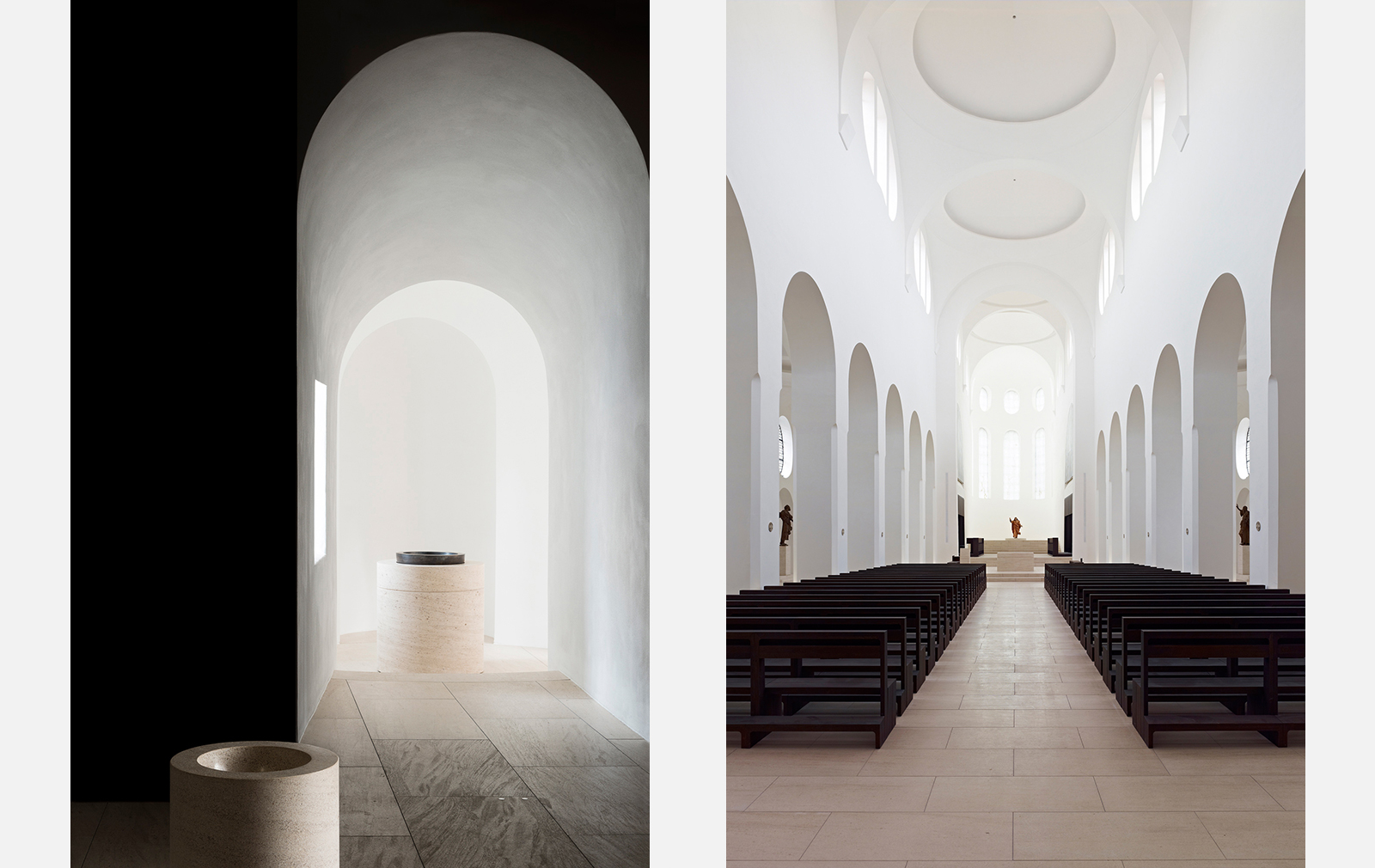 St Moritz has weathered a thousand years of history, including surviving fire and wartime bombs. John Pawson's minimalist reinvention brought its church back to life, using translucent white stone over windows to bathe the space in what the architect calls 'a haze of diffused luminescence'. Its bright white interior is punctuated by dark wooden pews, and effortlessly incorporates its existing historic elements.
Church of Seed by O Studio Architects, Guangzhou, China
This stark concrete structure blends the natural and handmade, retaining the marks of the bamboo formworks used to construct it and designed to resemble the curving form of a seed. Its roof terrace allows church-goers to look out across the nearby mountains, while inside the congregation sits on bamboo furniture constructed by local farmers.
Read next: 
The dark allure of France's subterranean churches
Bavaria's surprisingly beautiful church organs