More than 50 years past its post-war heyday, Modernism tops the list of sought-after architectural styles. But living in a Modernist landmark often comes with a price tag to match.
We've unearthed four apartments for sale inside Modernist landmarks, all designed by 20th-century titans. Each home stays true to its roots – and won't completely break the bank…
Habitat 67 in Montreal by Moshe Safdie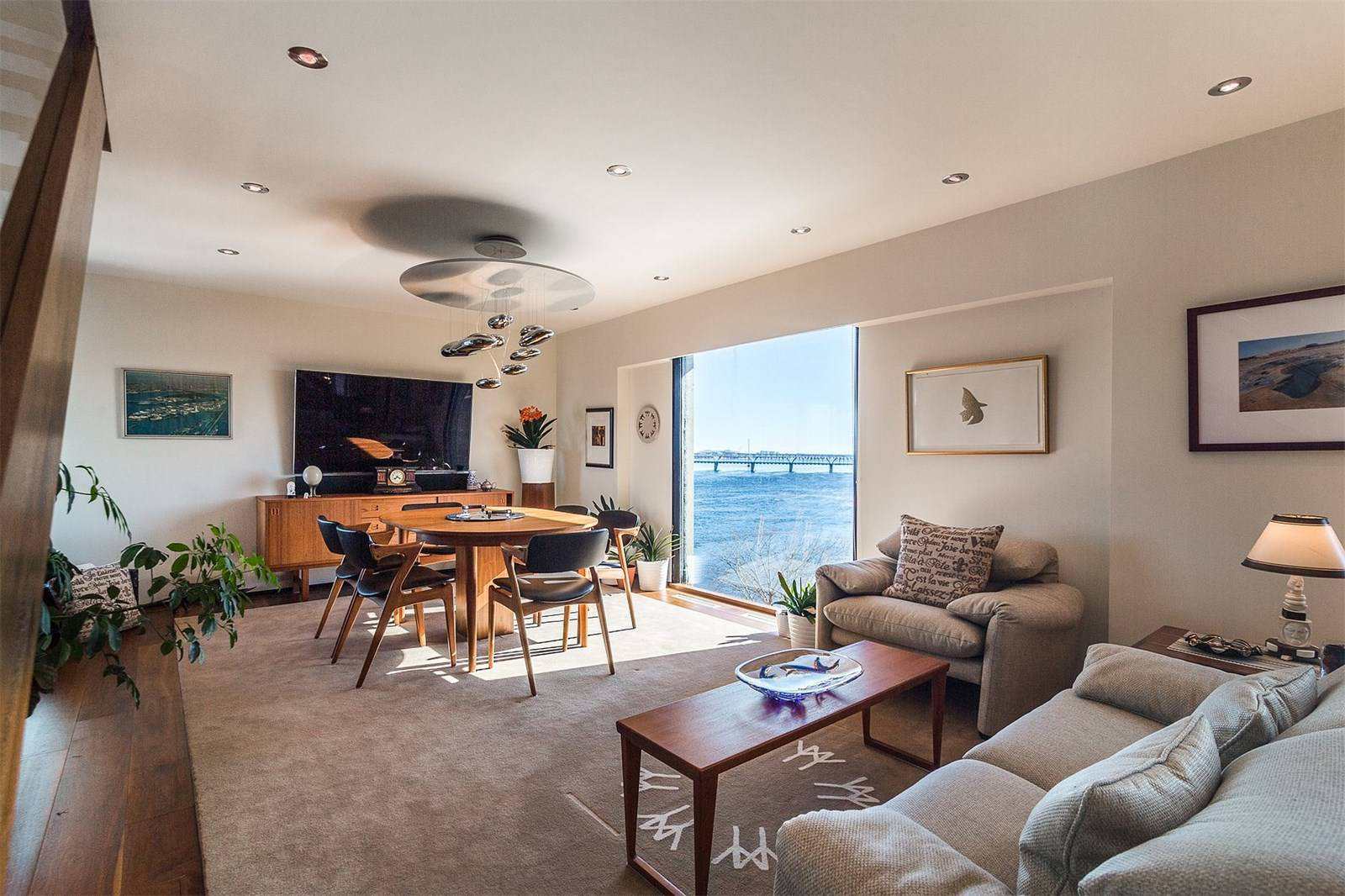 2 bedrooms; $710,000 CAD via Sotheby's International Realty
Moshe Safdie's seminal Habitat 67 celebrated its 50th birthday last year, but there's nary a wrinkle to be seen inside this duplex penthouse. The 1,248 sq Montreal property has undergone an extensive nip and tuck that pays homage to the original interiors.
The lower floor houses open-plan living spaces with views over the St Lawrence river, while a timber staircase leads up to the master and second bedrooms. Concrete finishes give way to crisp white walls and dark wooden floors inside the apartment, on the market for $710,000 CAD.
'Cité Radieuse' apartment in Marseille by Le Corbusier
5 bedrooms; €598,000 Architecture de Collection
'Cité Radieuse' was Le Corbusier's first Unité d'Habitation and was given UNESCO World Heritage status in 2016. The mixed-use complex – known for its colourful Mondrian-like facade – holds homes, shops and even a rooftop gallery. This three-bedroom bolthole maintains Le Corbusier's original vision and comes with midcentury fixtures and cabinetry – including a Charlotte Perriand-designed kitchen.
The real star of the show however is the apartment's double-height living room; its tall windows frame views over Marseille towards the sea.
Lafayette Park condo in Detroit by Mies van der Rohe
3 bedrooms; $599,900 via O'Connor Realty
If Le Corbusier is known for his uncompromising concrete volumes, Mies van der Rohe is the master of steel and glass. Lafayette Park, which unfurls over 78-acres close to downtown Detroit, is the largest collection of Mies buildings in the world and was completed in 1959. The Modernist complex has weathered the political and economic storms that have ravaged Detroit over the last 40 years and it remains a sought-after development that's aged gracefully.
This three-bedroom courtyard condominium is a mix of old and new: the kitchen's been updated but the bathroom tiles and fixtures across the 1,450 sq ft Detroit property are original.
Isokon penthouse in London by Wells Coates
1 bedroom; £950,000 via The Modern House
With its Streamline Moderne curves and brilliant white facade, the Isokon building by Canadian architect Wells Coates earned comparisons to a cruise liner when it was completed in 1934. Its crowning glory is the small but perfectly preserved penthouse apartment, which belonged to furniture designer Jack and Molly Pritchard – the duo who commissioned the entire apartment block.
Its large open-plan living room gobbles up most of the interior space. It leads to a very small kitchen and much more generously sized roof terrace, with far reaching views across London. The time-capsule space has been totally restored and comes decked in birch-veneer that adds to its cabin-like feel.