Rescued from the clutches of some dubious 1970s trends, this 136-year-old home in The Berkshires is now a colourful country retreat with a maximalist kick.
Warm Welcome Great Barrington's owners Patricia Azze and Jorge Azze faced a major renovation project with the property, which is located in the southern Berkshires, not far from Butternut Ski Mountain. Although the realtor tried to sell them the 'Vegas-feel' master bedroom, with its open concept layout and toilet located steps from the bed, it was clear the home needed a serious overhaul.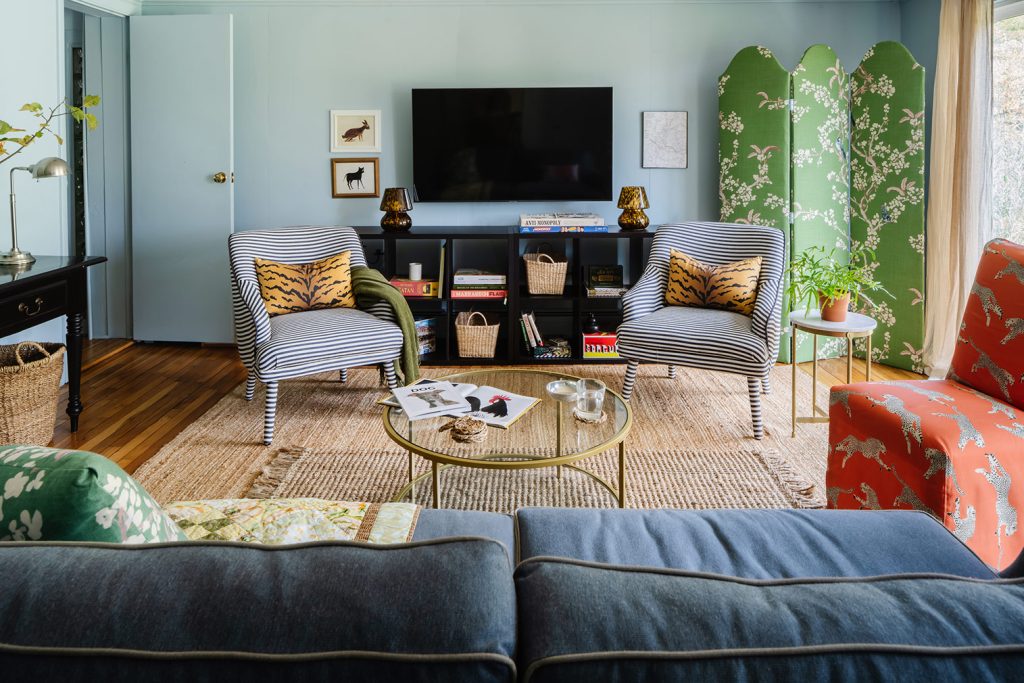 Some of its other historic decor also needed attention. 'The overall condition of the house was good, but, to be blunt, it was ugly,' says Patricia Azze, who's a brand consultant and copywriter.
'The home was built in 1886 and had clearly undergone patchwork additions, the current state was very 70s, there were different coloured carpets in every bedroom.'
Despite the design challenges, the Azzes were drawn to the home's location, three hours north of New York City and two west of Boston. The Berkshires has a well-established theatre and arts scene and offered them the 'peaceful, beautiful natural landscape and easy access to a big city' they were after.
The pair set about reassembling the holiday home and untangling later renovations and additions. Some features, such as the wonky wood beams on the staircase, were obvious keepers, while others, such as the 70s carpets, had to go. A closed-off kitchen extension is now a bistro area, and a new set of sliding doors opens the living space up to the surrounding protected wetlands.
Azze channelled the 'artsy, farm-focused vibe' of the region while injecting colour and fun into the interiors. This is evident in Warm Welcome's rich palette, which includes teal blue in the kitchen, pale blue in the dining room, and a 'Kermit green' in one bedroom, which she says attracted a few naysayers at first. Azze sourced furniture from nearby vintage markets, choosing objects with 'a little bit of patina'.
'Martinis for everyone' is how she describes Warm Welcome Great Barrington's overall aesthetic.
The pair hopes the property will become a family getaway, or a creative retreat – there are three desks in the home, one of which has already hosted a novelist. There's space for 10 people to stay, with a living room, den, reading nook, patio and fire pit for guests to spread themselves out. The house is rentable via Airbnb, starting at $650 per night, with a minimum three-night stay. Or get the best rate by booking directly on their website.
Got your own project or property to share? Drop us an email: submissions@thespaces.com