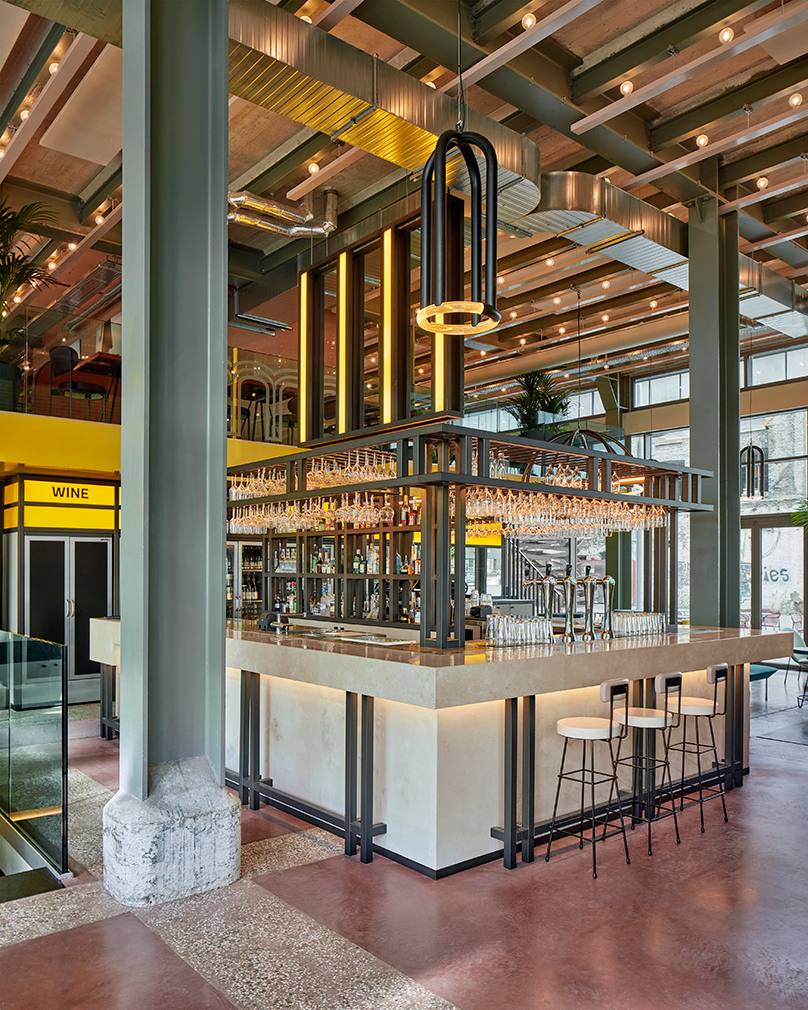 Dutch practice Studio Modijefsky has taken inspiration from ceramic production to design new Maastricht restaurant The Commons.
The kaleidoscopic eatery is the latest addition to The Student Hotel, which takes over the 1912 Eiffel Building – part of the city's colossal former Sphinx ceramics factory.
'The space itself was big and open, with a glass facade on three sides but nothing else,' says Studio Modijefsky founder Esther Stam. 'The furniture needed to shape the space, so we custom-made a lot of fixed furniture.'
The Commons is set over three levels and pays homage to the site's industrial roots: a dark bar takes centre stage on the ground floor and is flanked by a pair of steel staircases. Along with steel railings and two huge birdcage-like metal chandeliers, they reference the fabric of the building and are a dark contrast to its paintbox colour scheme, itself inspired by the process of ceramic making in the factory.
Pastel shades dominate the basement level – a reference to the beginning of pottery process – with raw and pale shades of blue, soft pink, yellow and blue used across furniture and walls.
Stam adds: 'They called this building the "horizontal skyscraper", so we thought it'd be funny to have a skyscraper feature inside the [restaurant]. We made elevator day beds that hang from the ceiling in each space, and each has a different colour and shape.'
These daybeds have been suspended from metal rails to create informal chill-out zones. In the basement, the seating is reminiscent of a block of clay that's been cut up into segments.
Ceramic references continue via burnt orange floor tiles that nod to the firing process, while The Commons' ground floor features glossier finishes inspired by glazing.
The mezzanine level is drenched in the most intense colours, with tables referencing the shape of a potter's wheel.
Food at The Commons is as eclectic as the decor, including international small plates and cocktails.
The Student Hotel is part of the Sphinx Factory's adaptive reuse as a new culture hub, including the transformation of the former sanitary ware factory's power station into a cinema by JHK Architecten and Verlaan & Bouwstra Architecten.
Read next: 11 bars in exceptional spaces