Soho House has long been the darling of the media crowd, so it's fitting that its newest outpost should open inside London's storied BBC Television Centre, for 60 years the powerhouse of UK broadcasting.
White City House is the group's 19th house, and its largest in the city to date. The private members club occupies the top three floors of the new building which adjoins the Television Centre's Grade II-listed Helios building, designed by Graham Dawbarn, with 45 hotel rooms tucked into the iconic structure's second and third floors.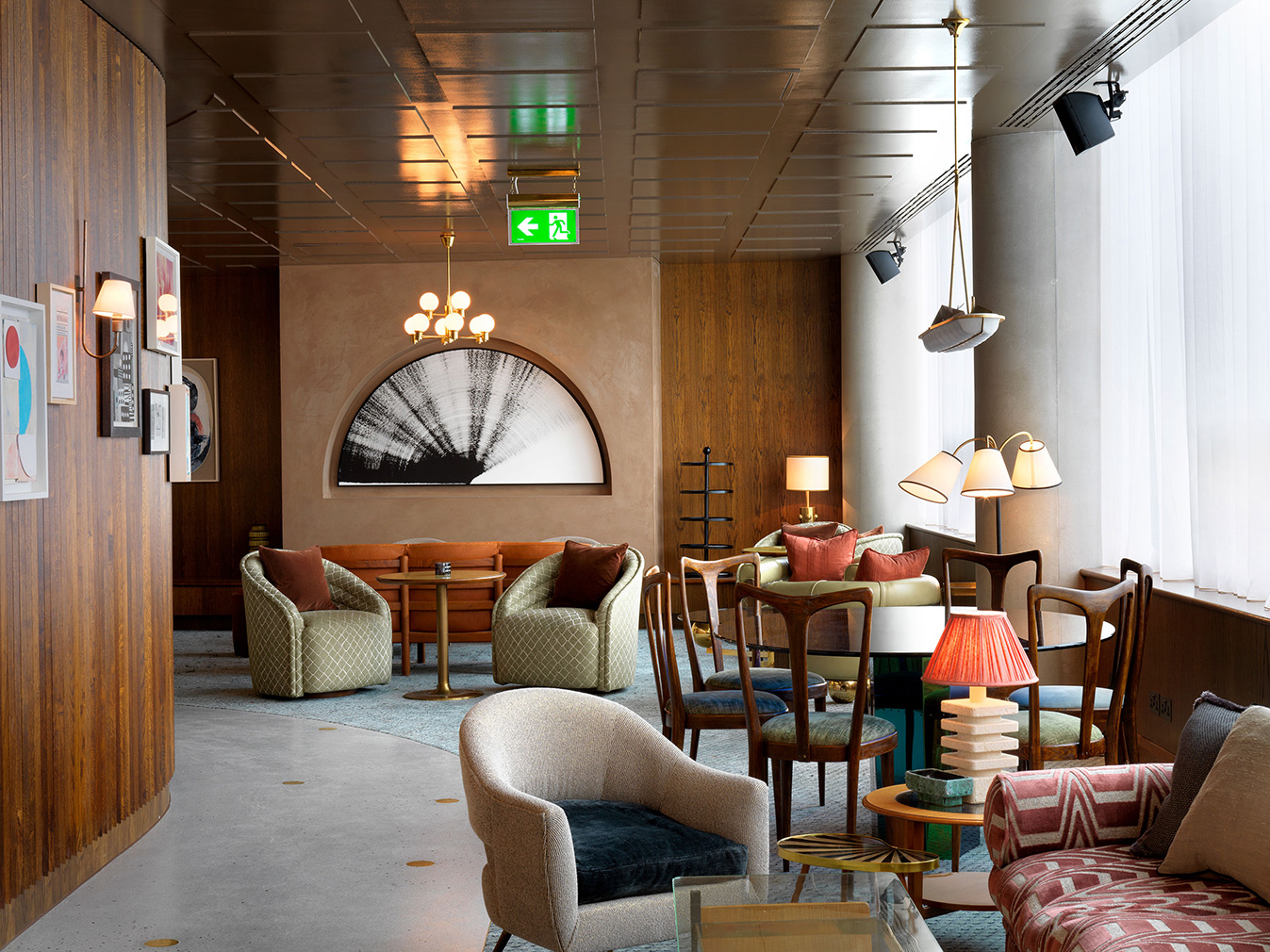 Soho House design director Linda Boronkay took design cues from the doughnut-shaped building to conjure a sense of history inside the new structure, wrapping its lounge areas and hotel corridors in midcentury-style fluted timber walls inspired by the original BBC reception.
'It was very different as usually we have the heritage aspect of a building, but this was a fairly blank canvas,' she told Wallpaper*. 'So we had to work hard to create atmosphere in the space, ensuring that every floor feels different, while retaining the Soho House ethos.'
Blue banquettes and red leather chairs with brass legs emphasise the 1960s vibe in the lounge, while subtle details hark back to the site's broadcasting heritage via a test-card rug and terrazzo flooring. This continues in its two-screen Electric Cinema, outfitted with geometric carpets, velvet walls and armchairs, with signage in the bar is inspired by the BBC studios.
A wooden staircase plunges through the heart of the building, leading up to the rooftop bar and pool. Here there's a breezy LA feel thanks to pale woods, floral 60s prints and bursts of greenery from planters around the group's signature pool.
The rooftop terrace peers out over White City's vast tracts of commercial space, including the nearby Westfield shopping mall, offering a different take on the London skyline.
Back in the Helios building, hotel suites peek out on to the mixed-use complex central courtyard and range from tiny to large. Rooms are outfitted with midcentury tables, Modernist minibars, concrete beams and tiles inspired by historic BBC designs.
A 24,000 sq ft supersized gym has been installed at the base of the Helios building – but not everything is reserved for members. White City House's ground floor is open to the public, housing restaurant and bar The Allis which offers a bite-sized taste of the midcentury delights found elsewhere.
White City House, Television Centre, 101 Wood Lane, London, W12 7FR
Read next: London's BBC Television centre emerges from its epic £1bn revamp