Sydney's iconic Paramount House has been revitalised with the opening of a new boutique hotel. The 29 rooms fill the upper floors of the heritage-listed building — formerly the Australian HQ of Paramount Picture Studios – which has been reborn a cultural hub.
Property investor Ping Jin Ng purchased the Functionalist-style 1940s building and has brought it back to life over a nine-year period with the help of architects Fox Johnston. For this new phase, Melbourne-based architecture firm Breathe was tasked with overseeing the four-year hotel project.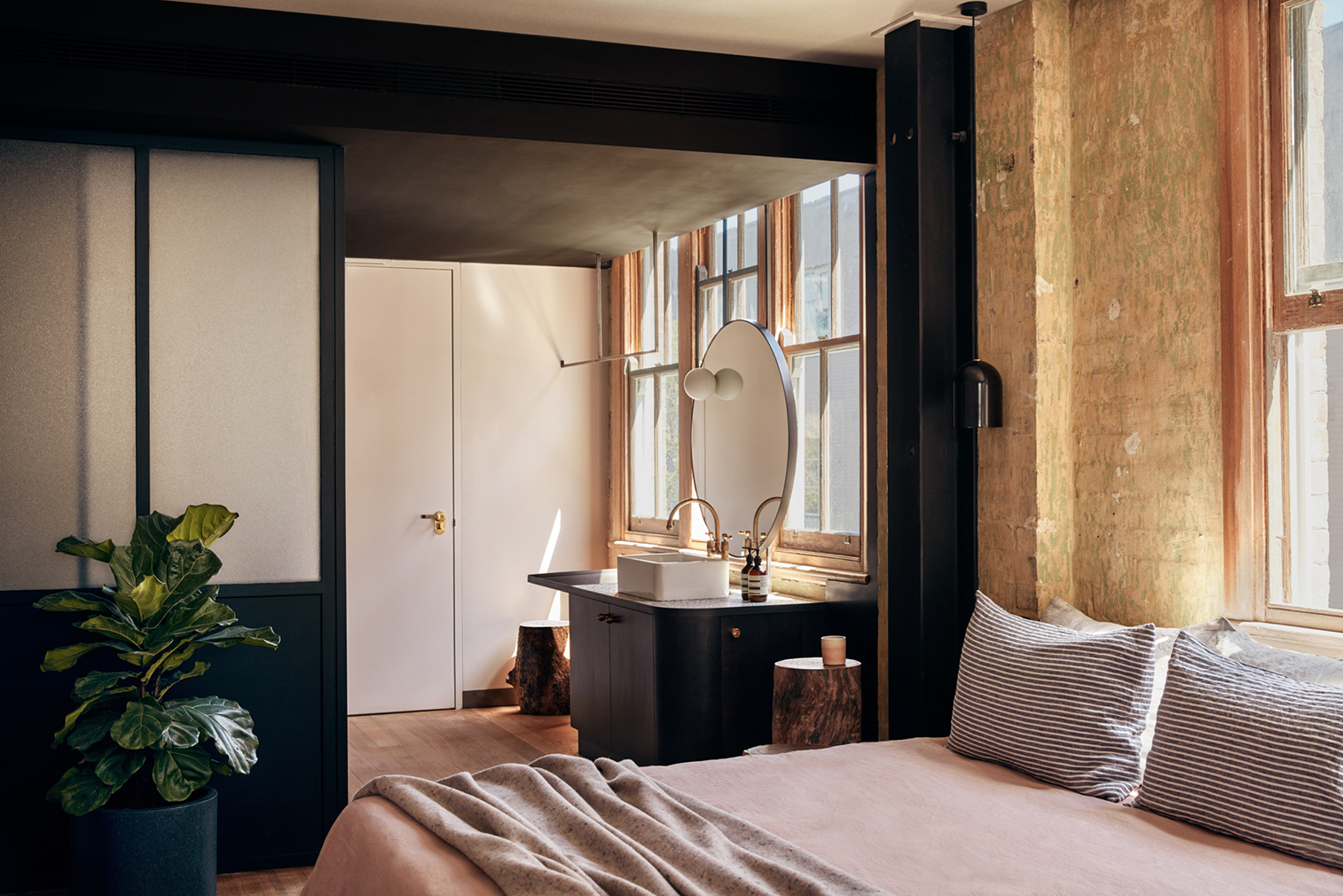 A two-storey extension was added to connect Paramount House with the previously vacant building next door — formerly a film storage warehouse for Paramount Picture Studios. The two buildings are adjoined by a Herringbone-patterned copper-clad screen, which wraps around the roof to create a unique façade. The hotel's rooms are located within the upper floors of the newly connected buildings, with the lobby based on the ground floor.
Paramount House Hotel is the first offering from Mark Dundon, Russell Beard and Ping Jin Ng — the team behind Sydney café favourites Reuben Hills and Bondi Hall. Aiming to connect travellers to the Surry Hills neighbourhood, the hotel celebrates local suppliers and taps into the existing community. The resident café and micro-roastery Paramount Coffee Project leads into the open hotel lobby, creating a communal space for both locals and guests.
Rooms range from the Everyday to the Mack Daddy suite, complete with four light-drenched spaces. Interiors are thoughtfully considered from terrazzo-tiled bathrooms and timber floors, to Japanese-style wooden bathes in several of the rooms. Furnishings from a host of Australian makers reflect the local-centric ethos including Aesop amenities, Selijak merino blankets and curated artwork from nearby China Heights gallery.
'The hotel rooms have been designed with Surry Hills and Sydney references; whether it be a breakout outdoor space, a reminder of past architecture in the design, or local products,' says Paramount House Hotel co-owner, Mark Dundon.
There's an abundance of greenery, and most rooms have a private terrace that looks out to the vibrant streets below.
To add to the hype, Paramount Recreation Club on the building's rooftop has just opened, with fitness programmes and a healthy kiosk. Poly, a dining concept from the team behind acclaimed Sydney restaurant Ester is also set to open in June.
The hotel joins The Office Space co-working space, The Locals Market initiative, Paramount Coffee Project, and the Golden Age Cinema inside Paramount house. The restored 56-seat cinema — where films were screened back in the Paramount Pictures days — is an obvious nod to the building's Hollywood past, and in the lobby, original film vaults have been retained as service ducts.
Read next: 11 spectacular new hotels opening this year