David Hockney is undeniably one of the most influential artists of our time, and the octogenarian shows no signs of slowing down. He's celebrating twin shows this spring, at Cambridge's Fitzwilliam Museum and at the Salts Mill in his home town of Bradford, that explore his obsession with space and time and use of technology.
Hockney is well known for his early uptake of film and digital cameras and, more recently, the iPad. He adheres to a tradition of creatives experimenting with optical devices that goes back to Ingres' camera lucida and Canaletto's camera obscura.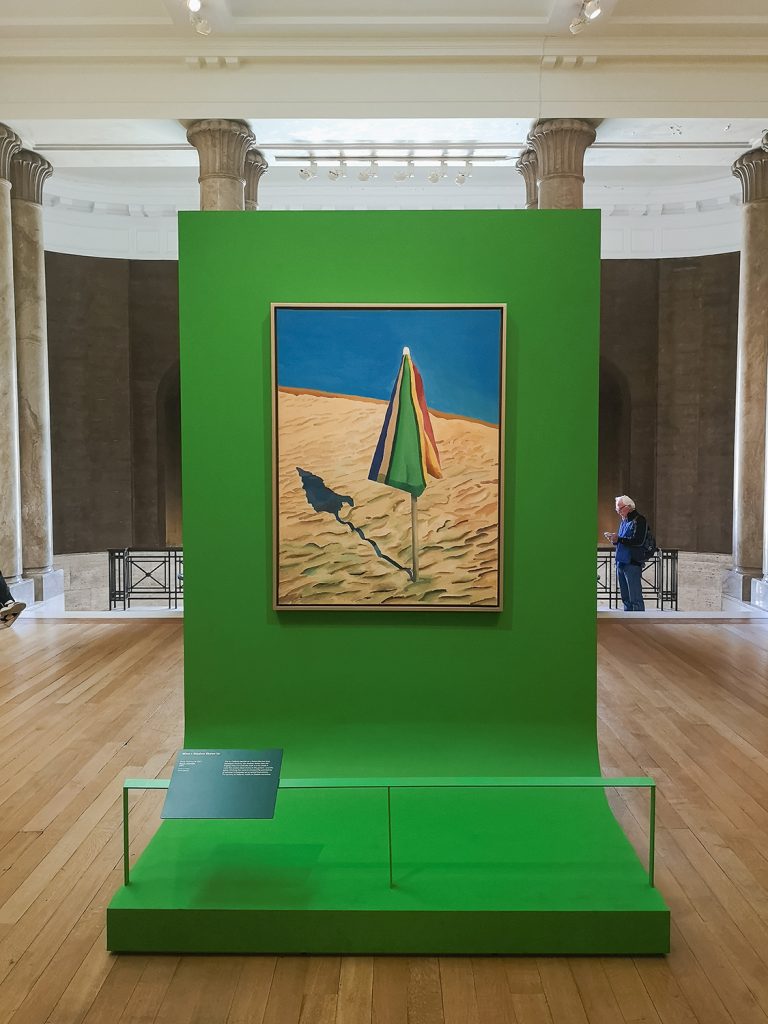 Hockney's Eye at the Fitzwilliams Museum puts Hockney's drawings, paintings and digital artworks in a series of provocative encounters with paintings by Monet, Constable and Andy Warhol, as well as the museum's own collection of works spanning the last 500 years.
Meanwhile, at Salts Mill – a vast Victorian palace of industry in the UNESCO World Heritage Site of Saltaire – some 220 of Hockney's digital iPad drawings are joined together to create a 295-ft-long landscape.
With 'A Year in Normandie', Hockney captures the changing seasons through 2020's lockdown. The digital images are stitched together using a specially adapted version of Hockney's favourite app and printed onto paper, mounted to a specially built wall inside Salts Mill's rarely open, timber-beamed attic space.
The vision of Sir Titus Salt, Salts Mill was the biggest factory in the world upon its completion in 1853, producing up to 30,000 yards of cloth every day. It was at the cutting edge of British textile manufacturing, but it stood empty by the mid-1980s when the industry had all but disappeared.
In 1987, Jonathan Silver bought the place and filled it with paintings by his friend and fellow Bradfordian, David Hockney. Overflowing vases of Casablanca lilies and booming opera arias filled the halls where factory workers had once toiled.
Silver and Hockney's vision of regeneration through the arts was considered fanciful back then. But, as history shows, filling a dinosaur of a building with contemporary art as the exciting backdrop for tech startups, designers, and other artists is a successful approach reproduced around the world today.
Silver died in 1997, aged just 47, but Salts continues to flourish, housing four galleries of Hockney's artworks – all free to enter.
It's worth noting that Hockney's Normandy frieze was almost four decades in the making itself. The artist traces its genesis back to 1983 when he first laid eyes upon a 30-metre-long Chinese scroll at the Metropolitan Museum of Art, displayed for this viewing pleasure in a private room. It was, as Hockney told the BBC, 'one of the most exciting days of my life.'
'Hockney's Eye: The Art and Technology of Depiction' runs until 20 August 2022 at The Fitzwilliam Museum, Cambridge
'David Hockney: A Year in Normandie' runs until 18 September 2022 at Salts Mill, Saltaire, West Yorkshire