To celebrate World Book Day, we've rounded up some of the world's most beautiful libraries.
As well as housing globally significant collections, these libraries span the Medieval period to the present, from Santiago to Stuttgart. Get cosy and join us on an armchair tour of these architectural marvels.
Oodi library in Helsinki, Finland
ALA Architects designed Helsinki's strikingly modern Oodi public library, conceived as a 'living room' for the Finnish capital. Interiors are ultra-minimalist, with white walls, lofty ceilings and huge expanses of glass along the building's undulating facade. Interestingly, only a third of the library is dedicated to books, with the remainder housing exhibitions, 3D printing workshops, a recording studio, a theatre, a maker and event space, a restaurant and cafe – and a looking point to enjoy views across the city.
IGI Library in Liberec, Czech Republic
Brutalism was the go-to style for many library architects in the 1960s, especially in the UK and North America. However, many have subsequently met the wrecking ball. This freshly completed library in the Czech city of Liberec by Atak Architects offers a new take on Brutalism.
The IGI Library harnesses the beauty of concrete and marries it to an existing historic structure – a former rectory, juxtaposing old with new to a wondrous effect. Books are housed within a four-storey metal-clad extension with exposed concrete inside. Huge circular skylights bathe the interior stairwell in light, while the shelving has been built in light timber to add texture, materiality and lightness to the reading room.
Bibliotheque National de France in Paris, France
France's Bibliotheque Nationale has just emerged from a 15-year-long renovation project by Bruno Gaudin Architectes, which saw the Beaux Arts building modernised with the addition of a new entrance and a visitor trail. Its gemstone space is the famous Oval Room, designed in 1897 by Jean-Louis Pascal and completed in 1932 by Alfred Recoura. It houses over 20,000 volumes on its newly upgraded shelves, including 9,000 comic books, and there are 160 reading spaces secreted in the wing.
The British Library in London, England
Few buildings have caused such a stir as London's British Library by architects Sir Colin St John Wilson and MJ Long. In fact, its construction was called 'the 30 year war' because it took three decades to complete, plagued by construction delays, spiralling costs and funding cuts. But the British Library is among the youngest buildings ever to be Grade I-listed in the UK, and has gained international celebration for its sleek modernist aesthetic and practical design, which follows the principle that a building should reflect its function and the people who use it.
Wilson's red-brick structure also echoes the Victorian streetscape of nearby St Pancras, as well as harnessing ideas of organic architecture (circa Frank Lloyd Wright, Alvar Aalto). Some say the library's ship-like silhouette is also, perhaps, inspired by Wilson's time as a naval lieutenant.
Trinity College Library in Dublin, Ireland
Architect Thomas Burgh's 'magnum opus' is the Old Library at Trinity College in Dublin, constructed between 1712 and 1732 as a temple of literature. Its famous Long Room is a 65-metre-long chamber that houses 200,000 of the library's oldest books. It was expanded in the 1850s after it filled up, and its stacks are dotted with 14 marble busts of great philosophers, writers and men who patronised the college, including satirist Jonathan Swift. The complex is the permanent home to the Brian Boru harp – a national symbol of Ireland – a copy of the 1916 Proclamation of the Irish Republic and the Book of Kells.
Toronto Reference Library, Toronto, Canada
Raymond Moriyama designed this Toronto landmark, which features a 'hanging gardens of Babylon' style atrium with curvilinear balconies. 'I was looking for a new balance in libraries of the traditional values versus freedom,' Moriyama said ahead of its opening in 1978; nearly 50 years later, his vision still looks and feels ahead of its time. The library regularly appears on lists of the city's most iconic buildings, and it's also been immortalised in music videos and films.
Bibliothèque Sainte-Geneviève in Paris, France
Another Beaux-Arts stunner, the Sainte-Geneviève library is located at 10 place du Panthéon, across the square from the Panthéon, and it's every bit a "must-see' Paris landmark as its famous neighbour. SGB was designed by  Henri Labrouste, a graduate of the École des Beaux-Arts, and combines neo-Grecian flourishes with 19th-century engineering, resulting in its most striking feature – the library's reading room.
Its exposed iron frame is said to be the first of its kind, with SGB the first building in Paris to use mass-produced iron beams (a technology developed and popularised by the expansion of railways across Europe). These cast-iron arches are intricately decorated, and the ceiling features fireproof 'vaults' formed from latticework clad in plaster.
John Rylands Research Institute and Library, Manchester, England
Moody and brooding, John Rylands Library in Manchester is among the best examples of late neo-Gothic architecture in Europe. The library is part of the University of Manchester and opened to the public in 1900 after being founded by Enriqueta Augustina Rylands in memory of her late husband, industrialist John Rylands. Manchester was booming off the back of the textile industry at the time, and the library, designed by Basil Champney, looks almost like a cathedral, dressed in rose-coloured Penrith stone. Champney's design had to make the most of an extremely cramped site, and the result is a cleverly 'tiered' design. Its piece-de-resistance is the stained-glass reading room with its ribbed-vault ceiling. clerestory windows and chiselled colums.
Biblitoeca Marciana in Venice, Italy
Biblitoeca Marciana is named after Venice's patron, St Mark, and it is one of the earliest surviving public libraries and repositories for manuscripts in Italy. Built in 1537 to designs by revered sculptor and architect Jacopo Sansovino, the classical Renaissance structure is among the city's most beloved buildings and houses more than one million volumes, 13,000 manuscripts and 2,800 incunables.
George Peabody Library in Baltimore, USA
You hadn't really made it as a Gilded Age industrialist unless your name was plastered across a library (case in point, Andrew Carnegie, who opened dozens of free public libraries across the UK and US.) But The George Peabody Library raised the bar to an entirely new level. Belonging to Johns Hopkins University, it is easily among the era's most beautiful libraries, built-in 1878 to a design by Baltimore architect Edmund G Lind in collaboration with the Peabody Institute's first provost, Dr Nathaniel H Morison. A soaring cathedral-like atrium spans five tiers and houses some 300,000 books.
Tama Art University Library in Tokyo, Japan
From gothic arches to modernist ones at the Hachioji Library at Tama Art University in Tokyo, designed by Toyo Ito. The remarkable Modernist building was completed in 2007 and ranks among Japan's most visited buildings, celebrated for its elegant and functional design, which aims to inspire creativity as much as house books. It also boasts some of the most stunning vistas of the city from its oversized windows.
The Bodleian Library in Oxford, England
The Bodleian Libraries group serves the University of Oxford and houses a collection second only to the British Library in size, with 12 million printed pages in its archive. The buildings date back to the 1300s, offering an architectural overview of the university's development from the Middle Ages to the present. Of particular note are the Old Bodleian Library and the 15th-century Divinity School.
The Chilean National Library in Santiago, Chile
Completed in 1925, The Chilean National Library takes pride of place in central Santiago and was commissioned to mark the centenary of Chilean Independence in 1913. Its design is influenced by French neoclassicism, with imposing columns and arches on its facade while the interior is set over two levels connected by marble staircases. Its famous Chilean Hall is crowned by huge stained-glass windows which bathe the reading room below in a glorious glow. Some of the country's most eminent painters and artists have works on show in the library, including Alfredo Helsby and Arturo Gordon.
Stuttgart City Library, Germany
Yi Architects designed the Stuttgart City Library in Germany in 2011, and the building is an an-all white cube from the outside, with an inverted pyramid at its centre – a monumental room of books spanning five storeys. Ultra-futuristic, the library is a minimalist paradise.
Beyazit State Library in Istabul, Turkey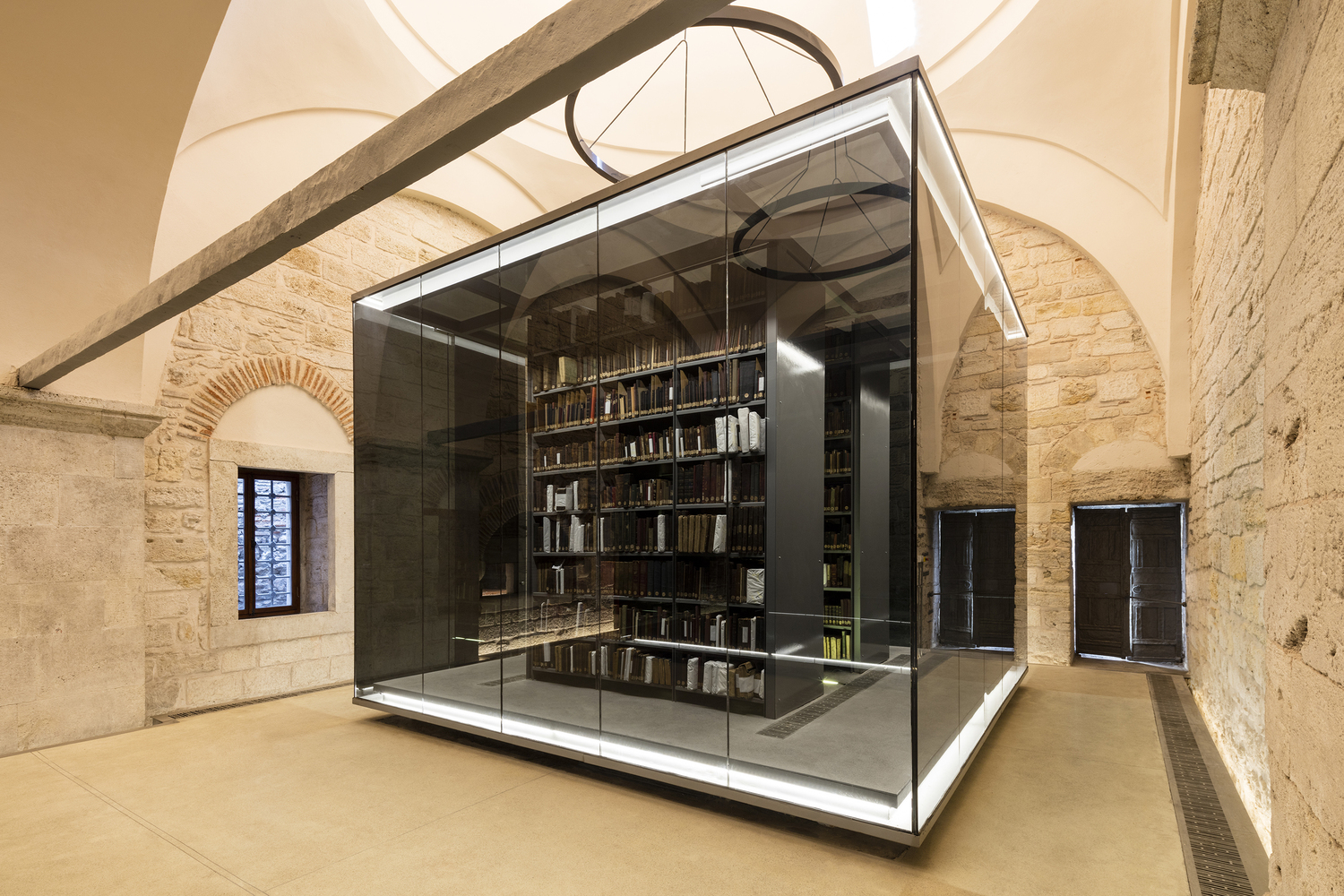 History is on show at the Beyazit State Library in Istanbul, which is located in one of the city's oldest mosques, built by Sultan Beyazıt II in 1506. The building became the State Library in 1884, and in 2015, Tabanlioglu Architects was tasked with restoring the aged structure for a modern age. The practice restored its multi-domed roof and reorganised the interior for modern use.
A transparent, inflatable membrane covers the courtyard, filtering UV light and offering a temperature-controlled environment for the building's precious books. Black glass boxes have also been inserted within the historic stone structure to house archives and collections, juxtaposing old and new.